Coronavirus Live Updates

Here you will find the most recent updates regarding the Coronavirus from the press room of the Cayman Islands Government, Hazard Management & other relevant community info.



The Chief Medical Officer, Dr John Lee, reports 183 COVID-19 tests have been carried out since this was last reported on Tuesday, 18 August. Two were positive.
Two separate travellers arriving in Cayman on different flights have tested positive as part of routine screening on completion of the mandatory isolation period. They will remain in isolation with their travelling parties until they have completed the necessary additional period of isolation.
These two positive cases will change the World Health Organization designation of the Cayman Islands from "No cases" to "Sporadic cases", the latter which is defined as "Countries/ territories/ areas with one or more cases, imported or locally detected".
The total number of people in isolation, either at a government facility or in their homes as required by the Medical Officer of Health, is currently 95.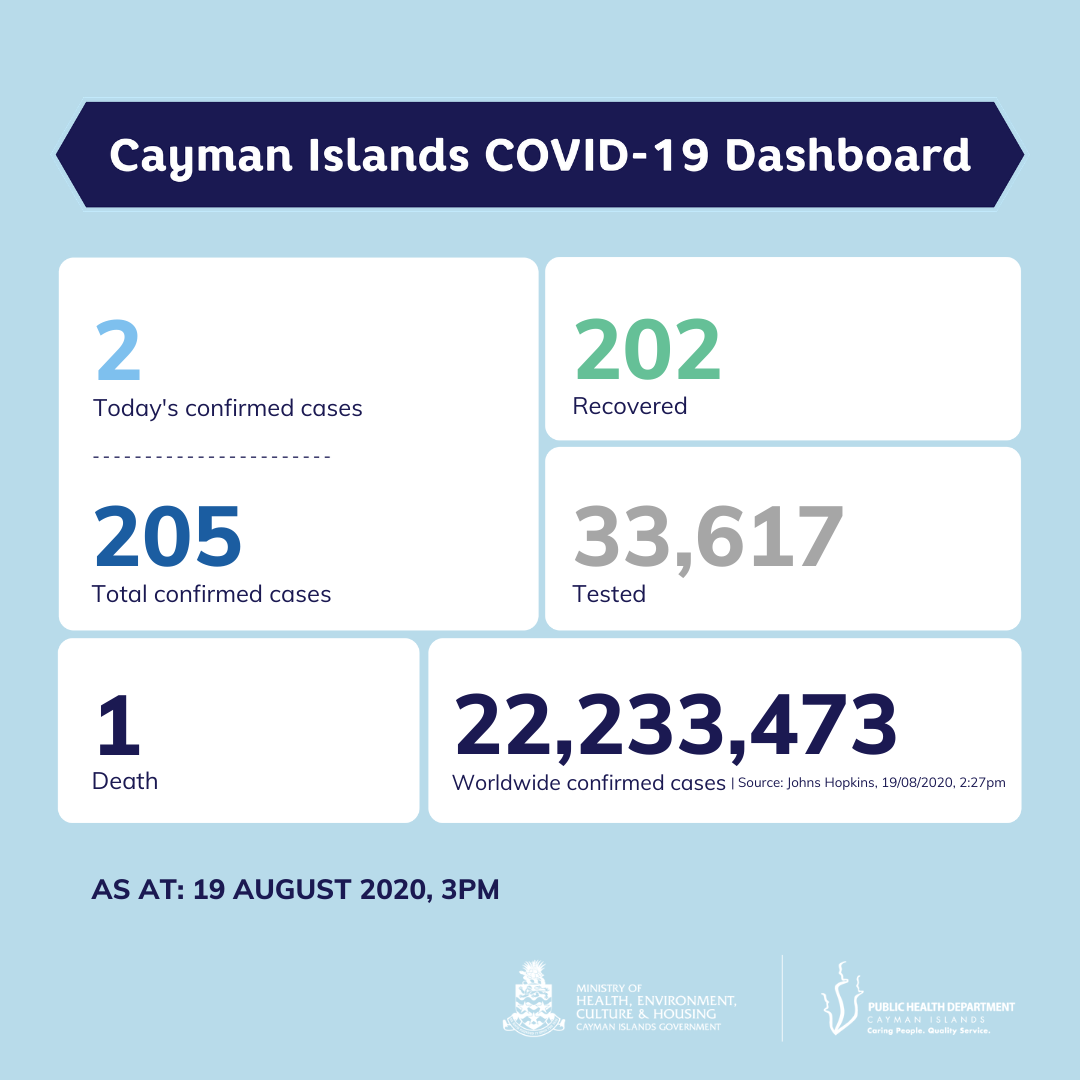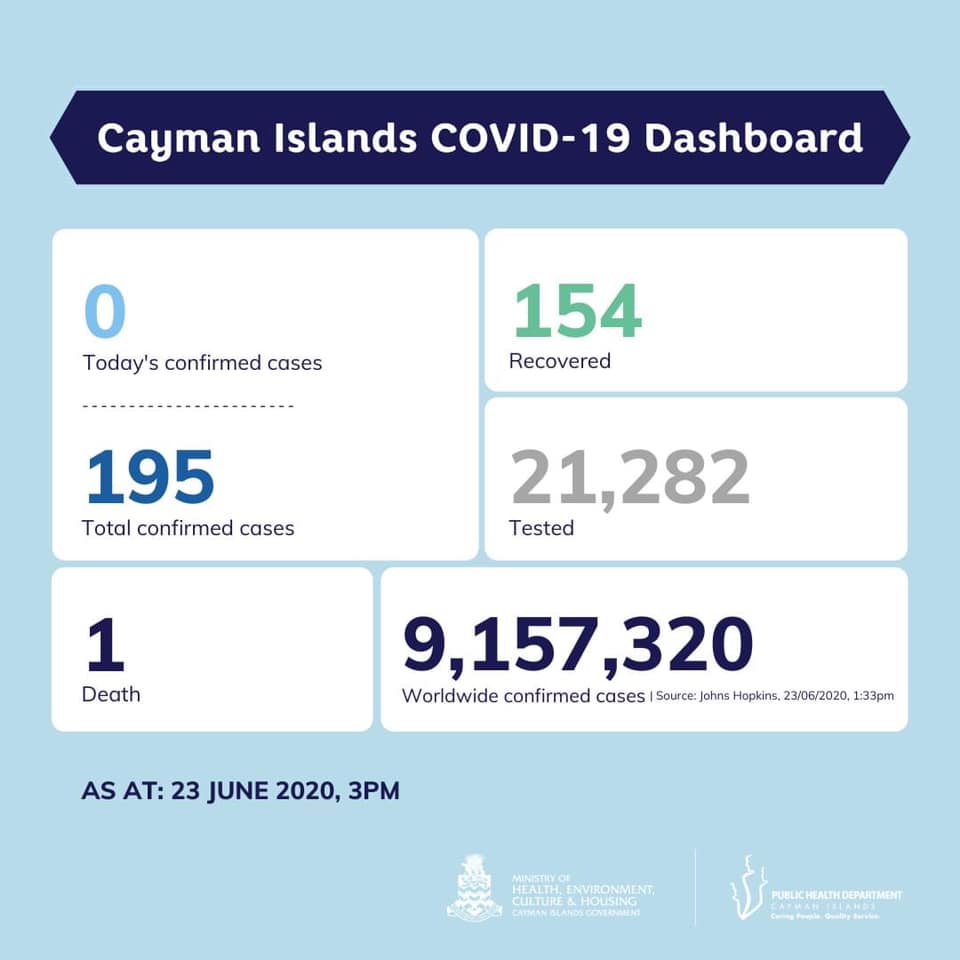 .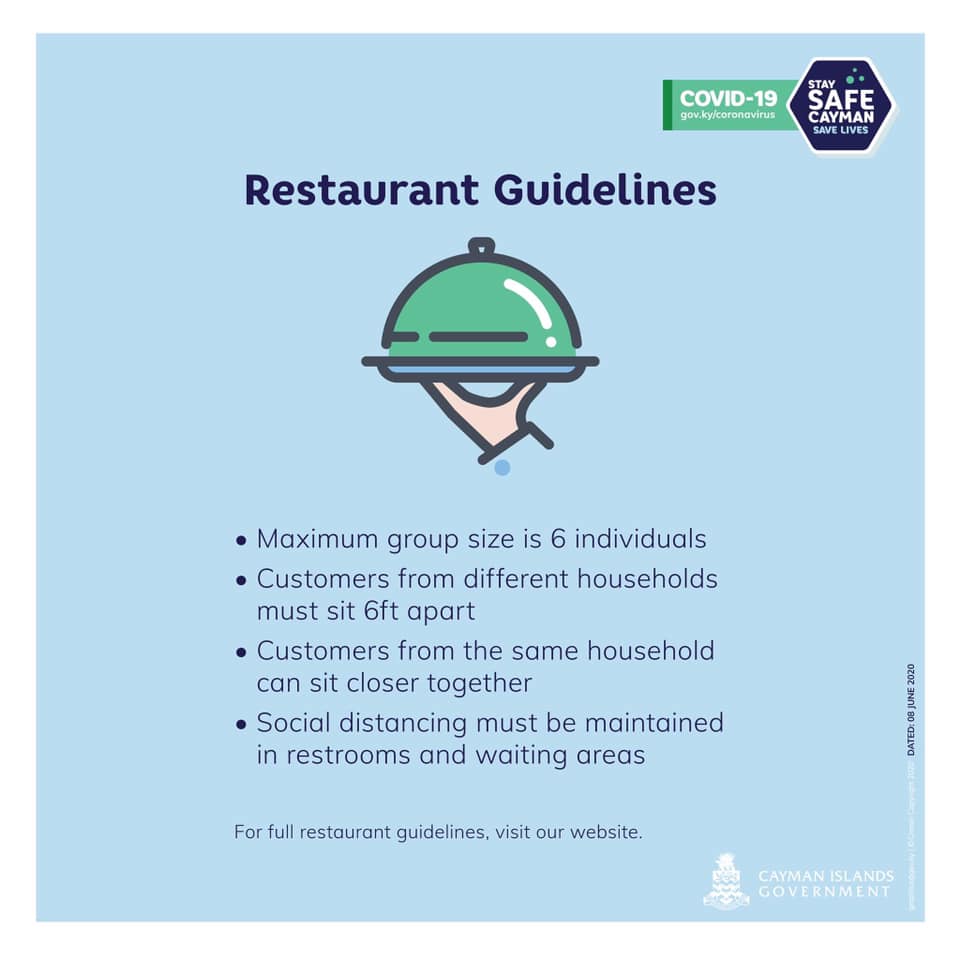 COVID-19 Testing Update 10 June 2020
The Chief Medical Officer, Dr John Lee, reports 649 COVID-19 tests which have been
carried out since yesterday's press conference. There are four positive results assumed to
be locally acquired cases. These people are asymptomatic and were picked up through
screening; contact tracing has started.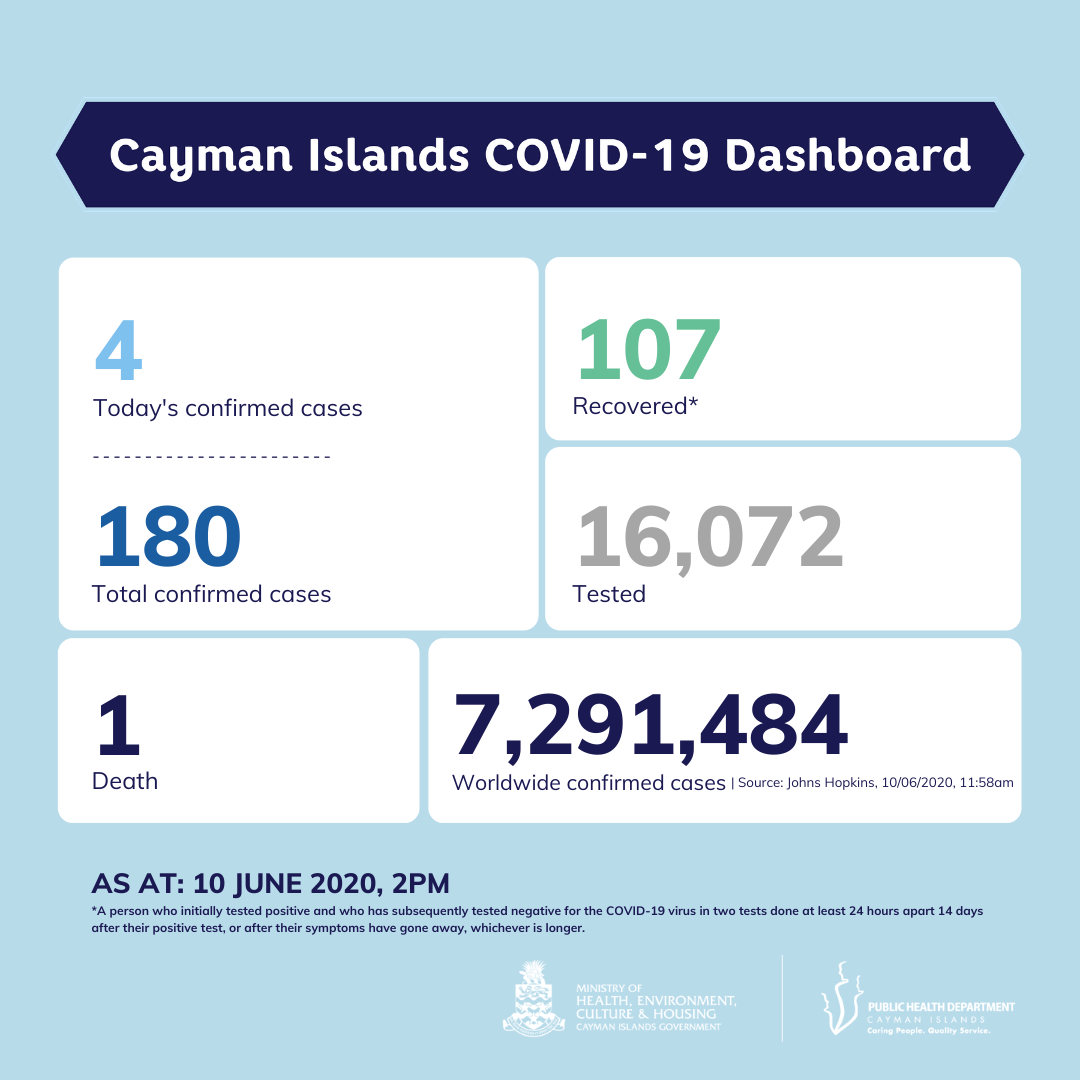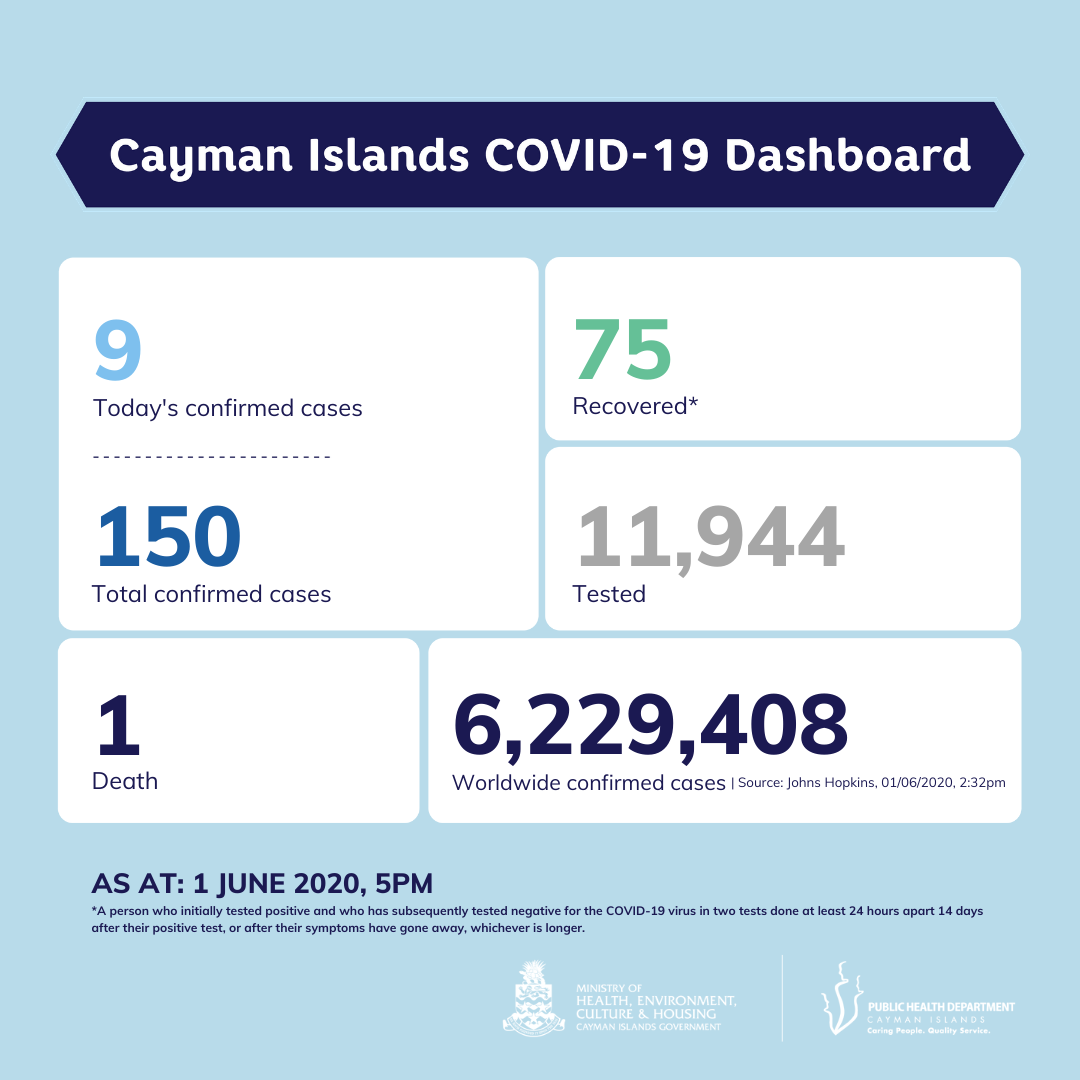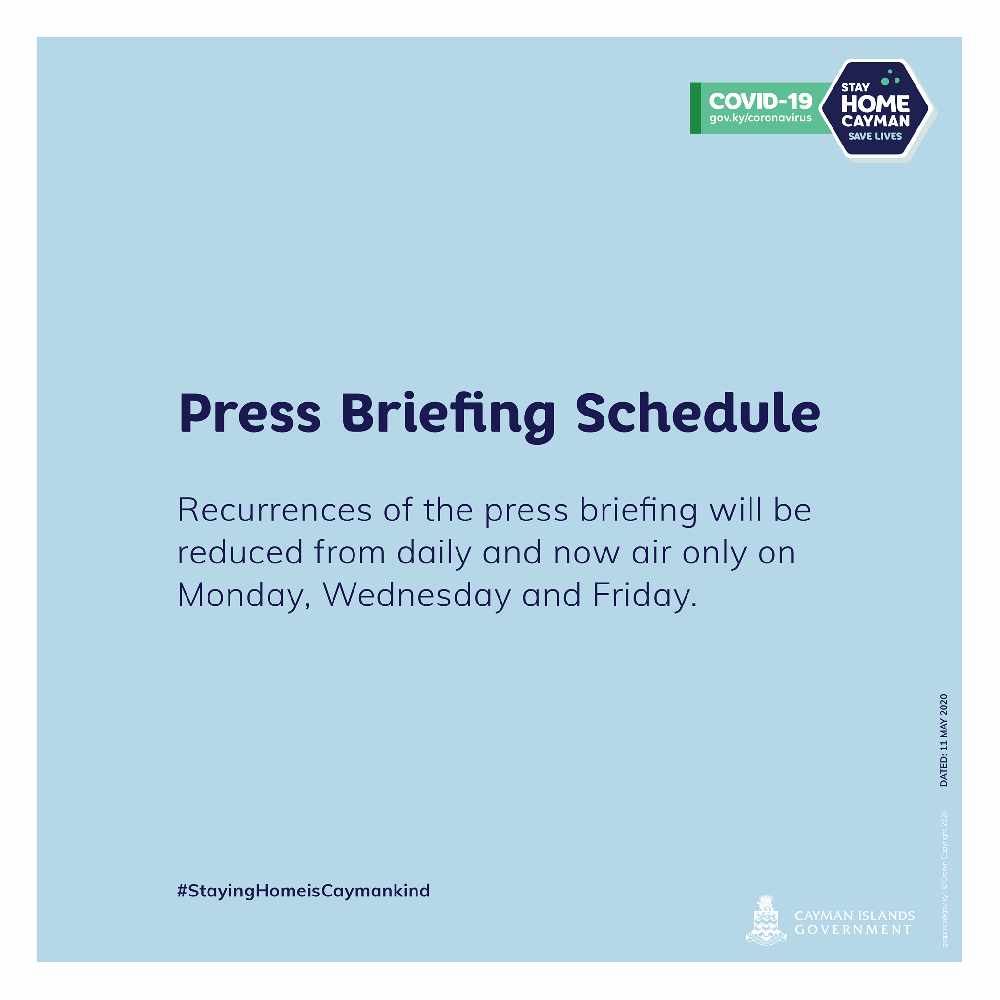 COVID-19 Testing Update 26 May 2020
The Chief Medical Officer, Dr John Lee, reports a further 414 COVID-19 tests which have been completed over the last 24 hours through the screening programme. There are three positive results which likely represent cases that were community acquired. Contact tracing has begun for these.
As a reminder, the last COVID-19 case presenting for clinical management was 27 April. All the positive cases reported since then have been discovered through our wider screening programme. One of these has some symptoms, but this person has not needed hospital care and the symptoms do not seem to be COVID-19 related.
As a reminder, the HSA's PCR laboratory will be having a scheduled maintenance day later this week.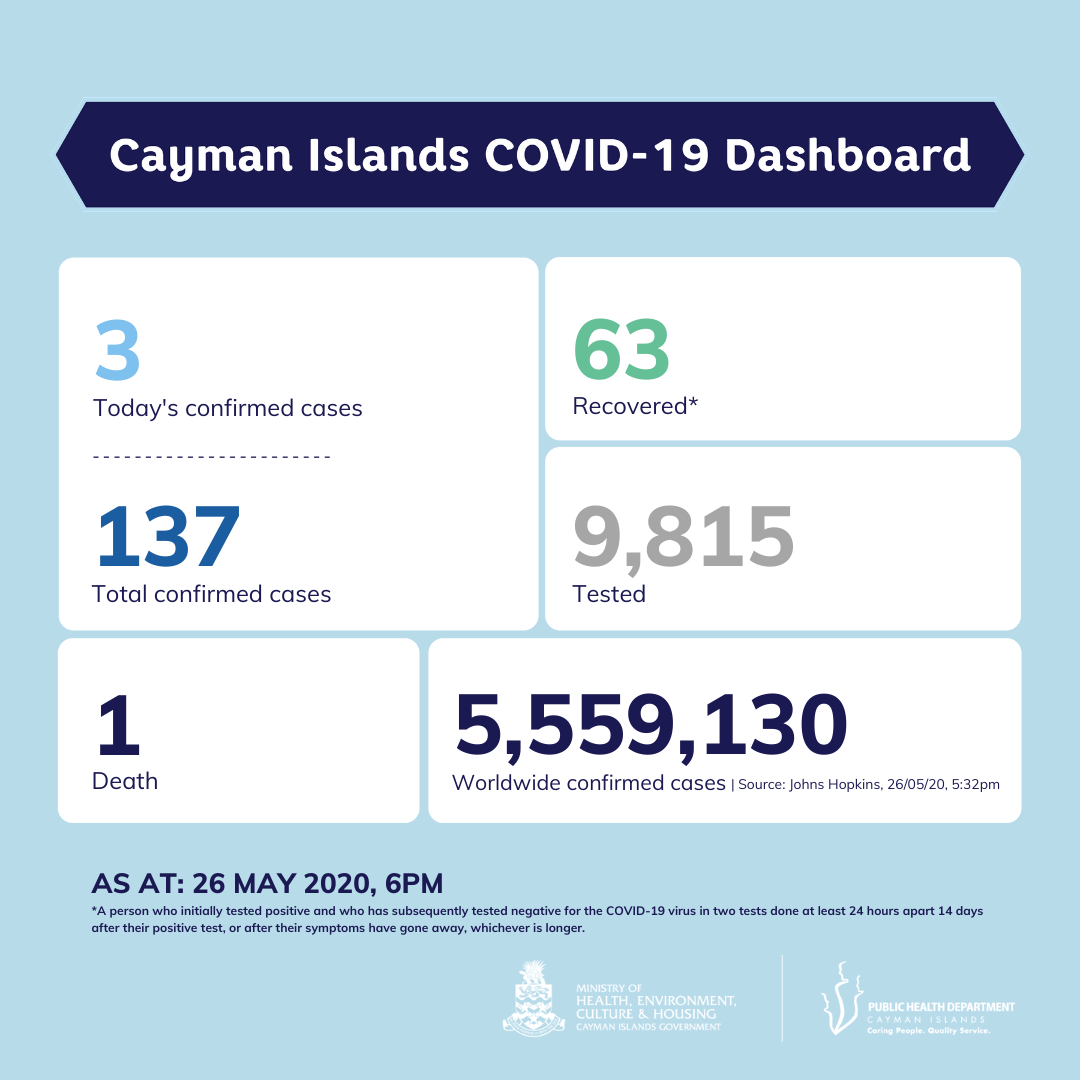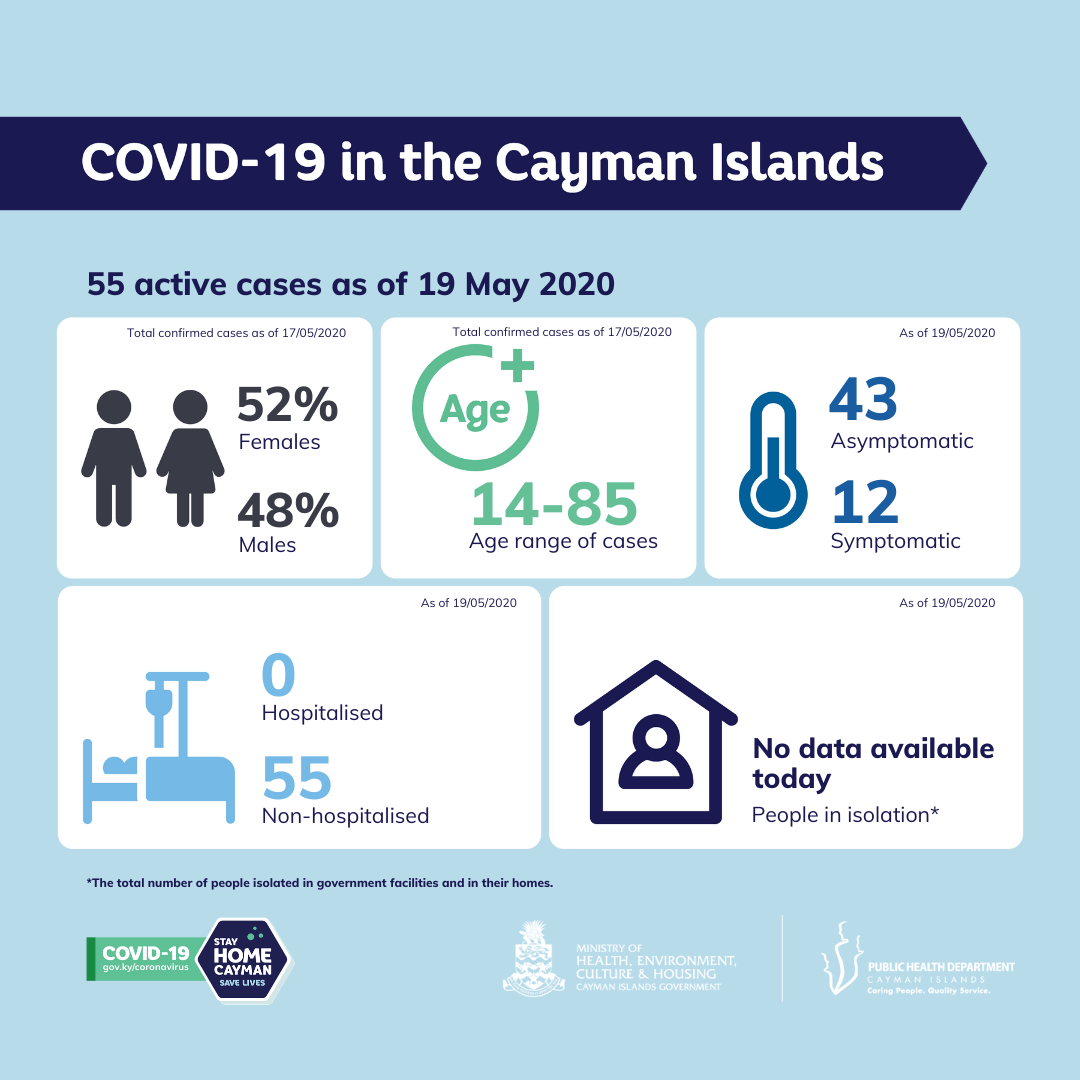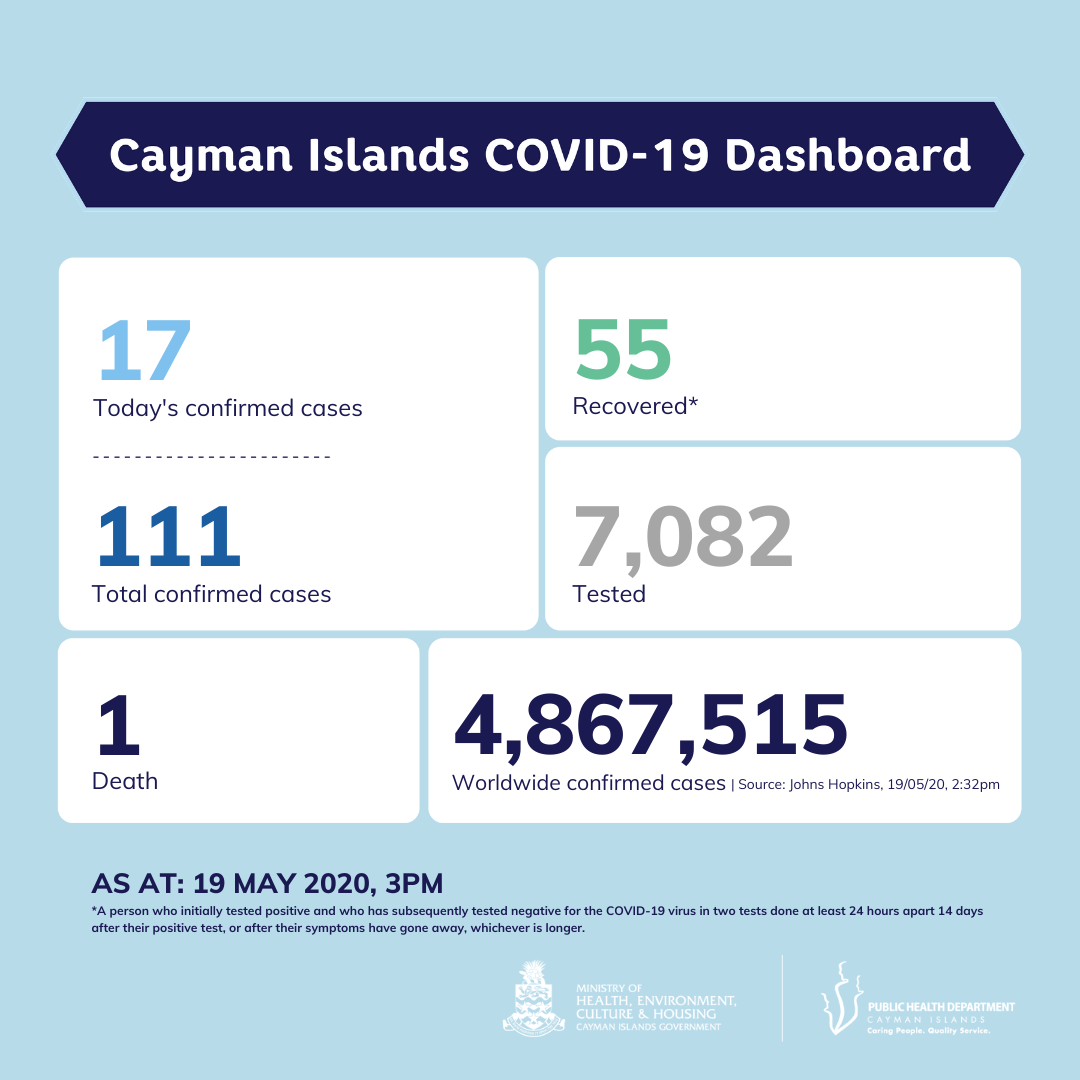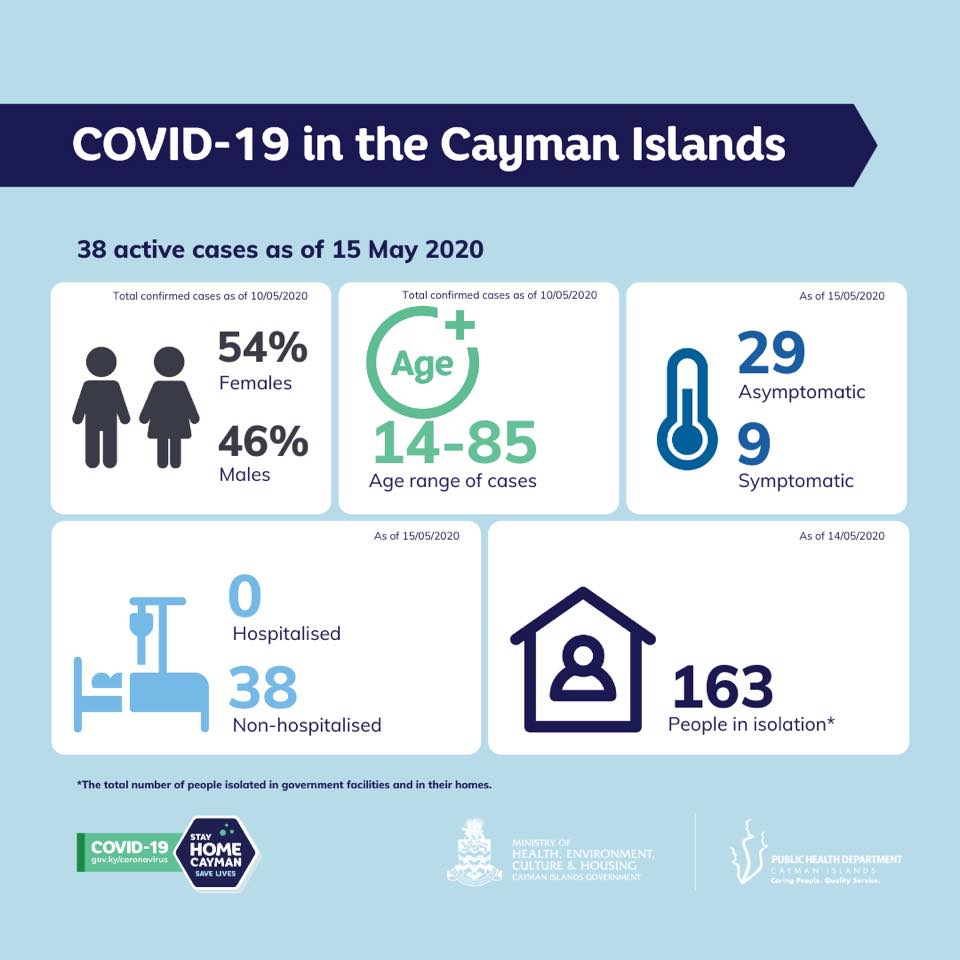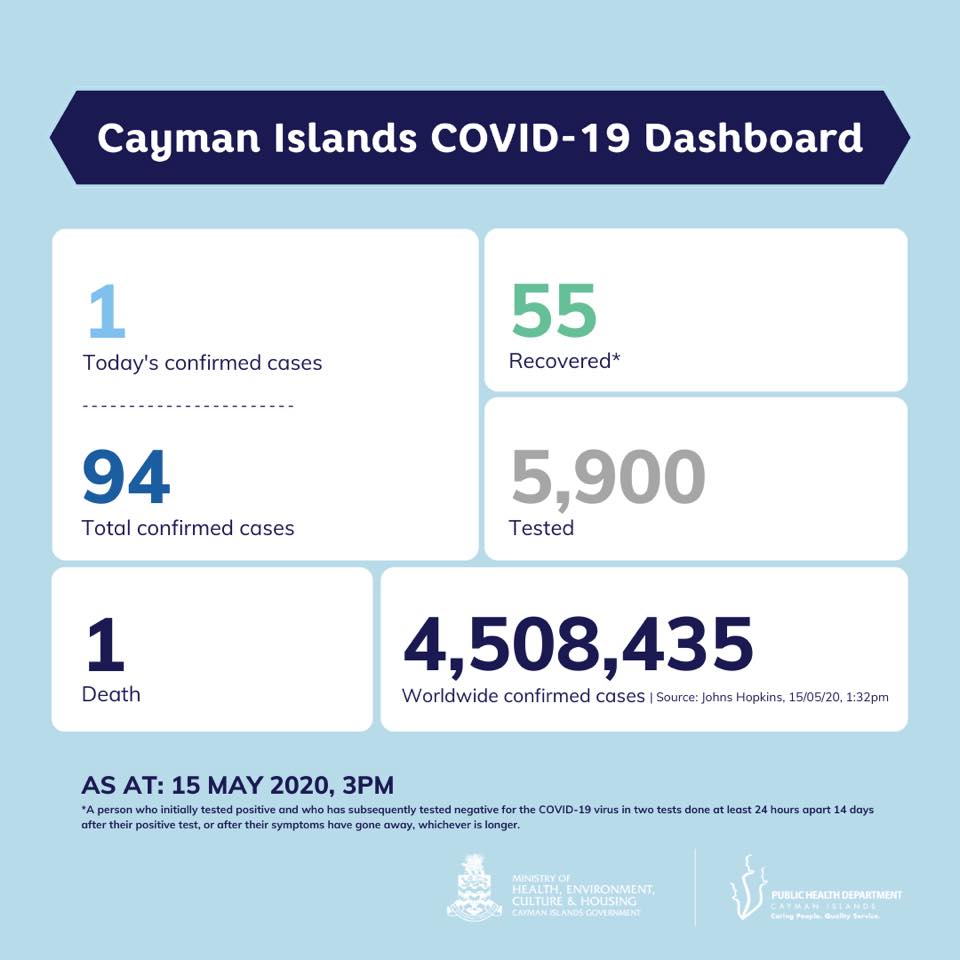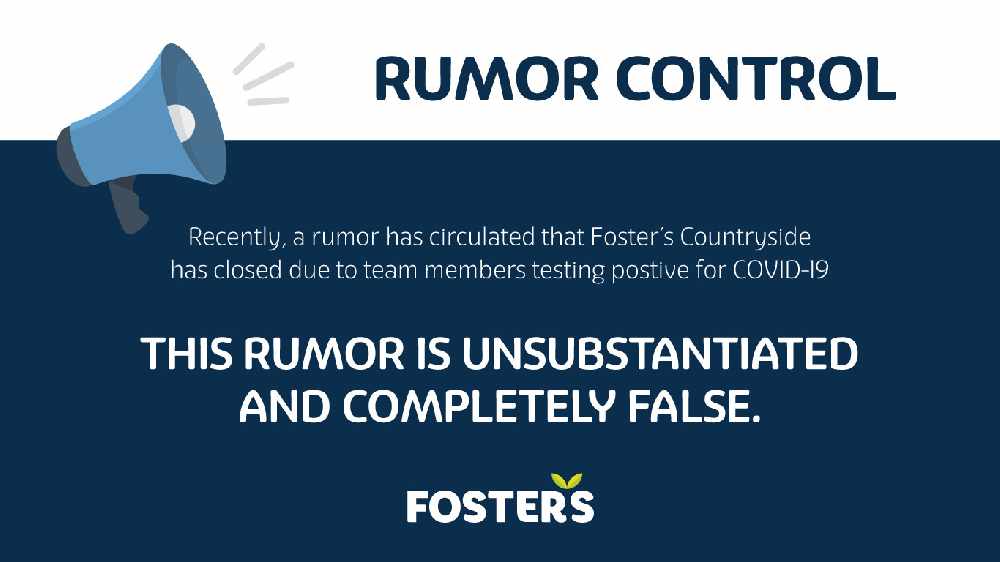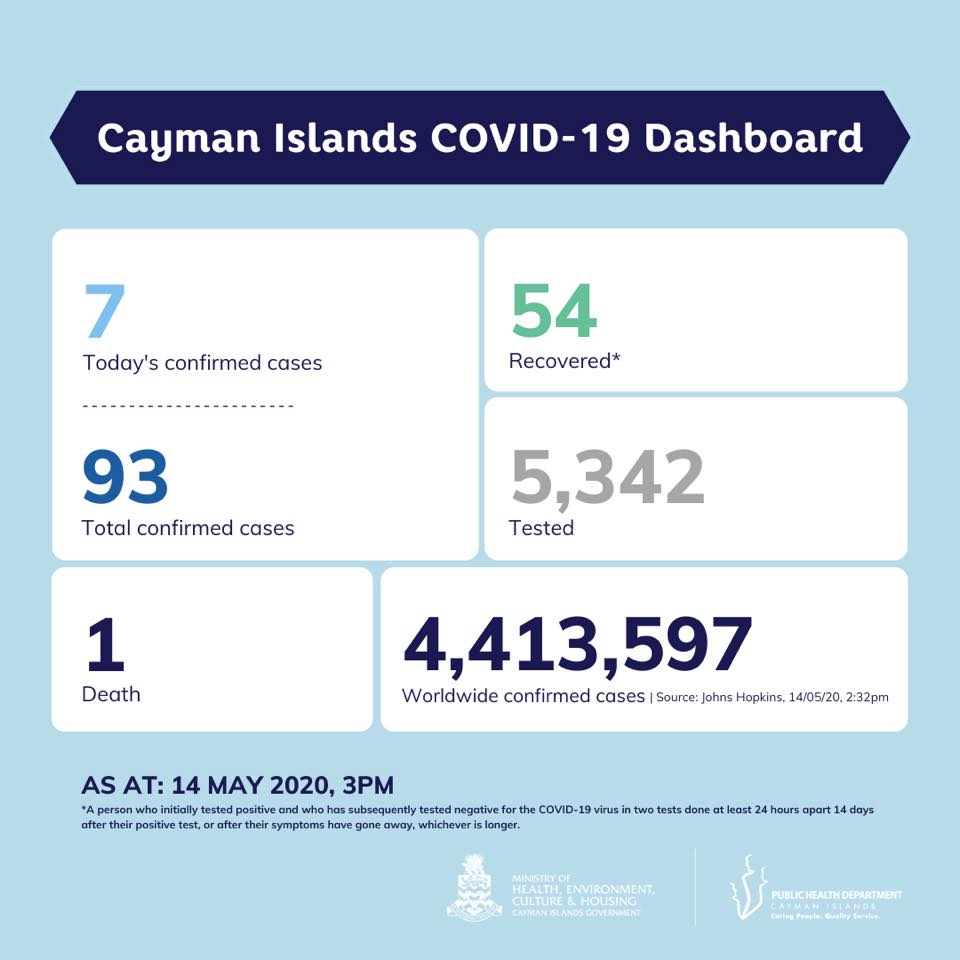 HMCI Director (and frontline worker) Dani Coleman recently got tested for COVID-19 - the result came back negative for Coronavirus. A negative test means you have not got the virus at the time of testing. You can still catch the virus if you are exposed to it.

Posted by HMCI on Thursday, May 14, 2020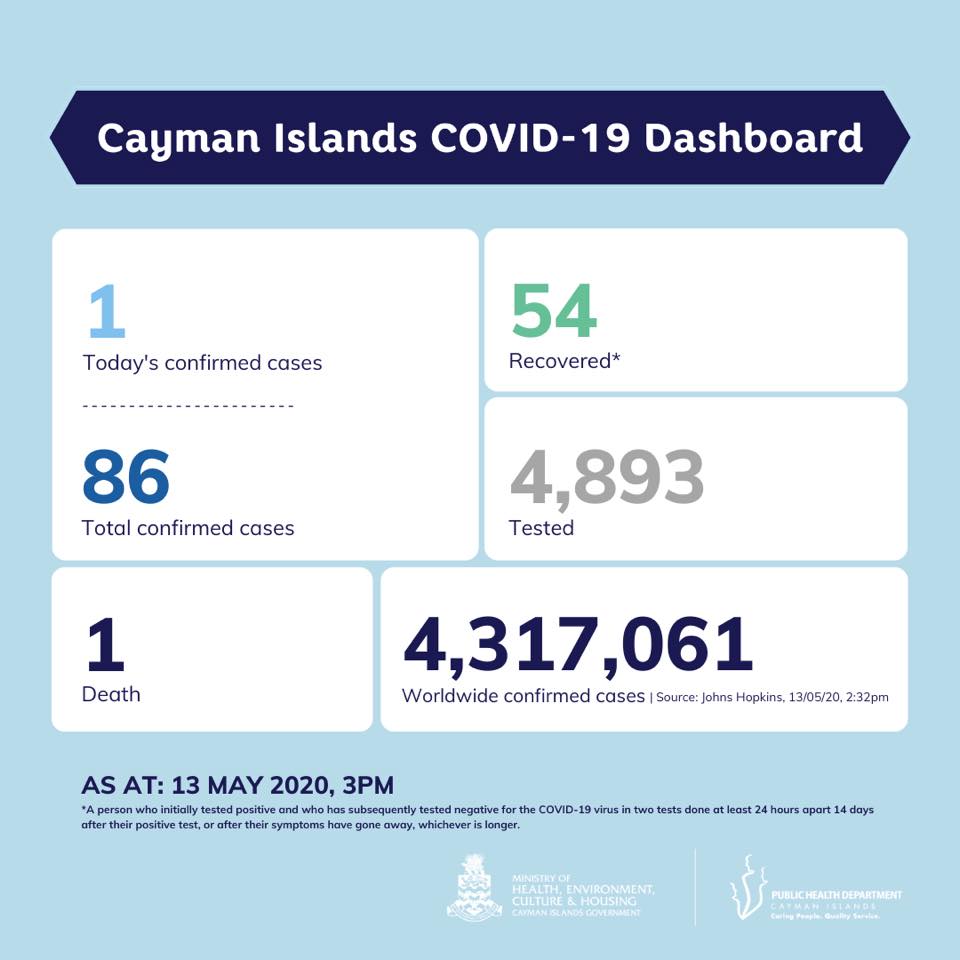 Embed not found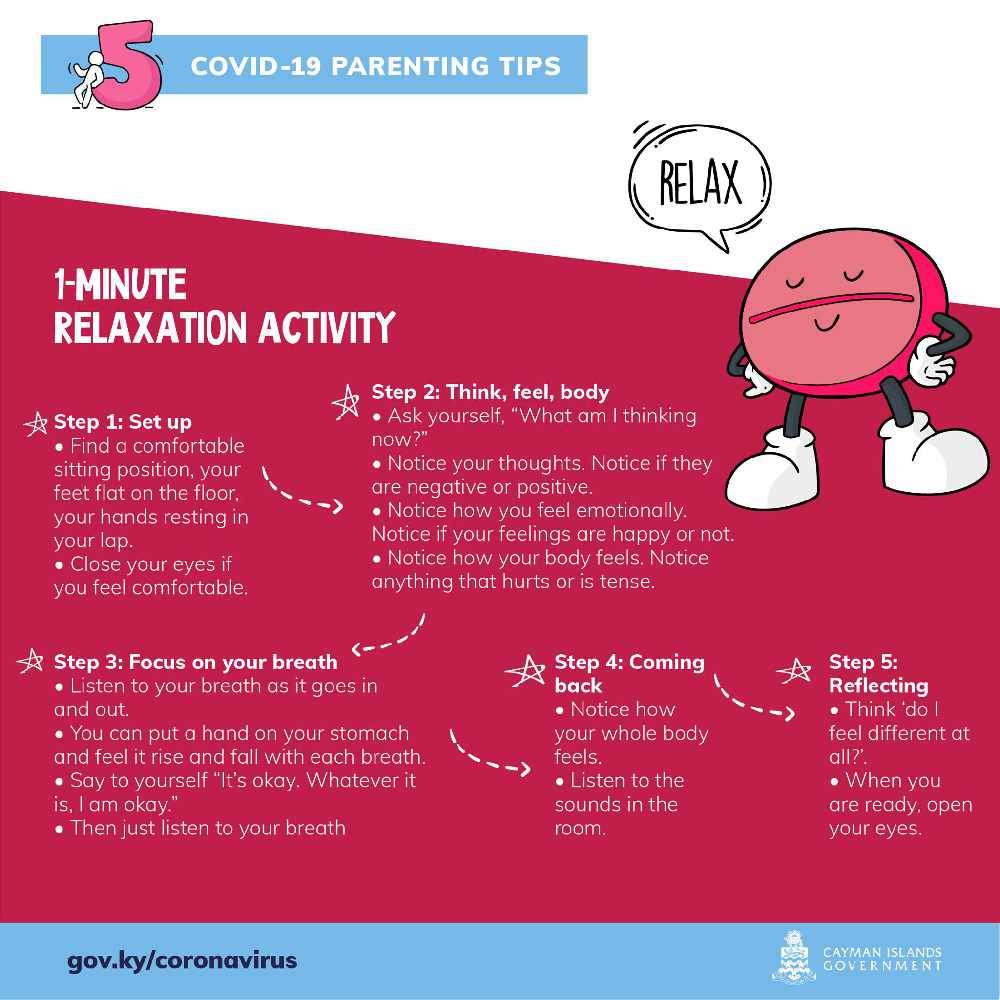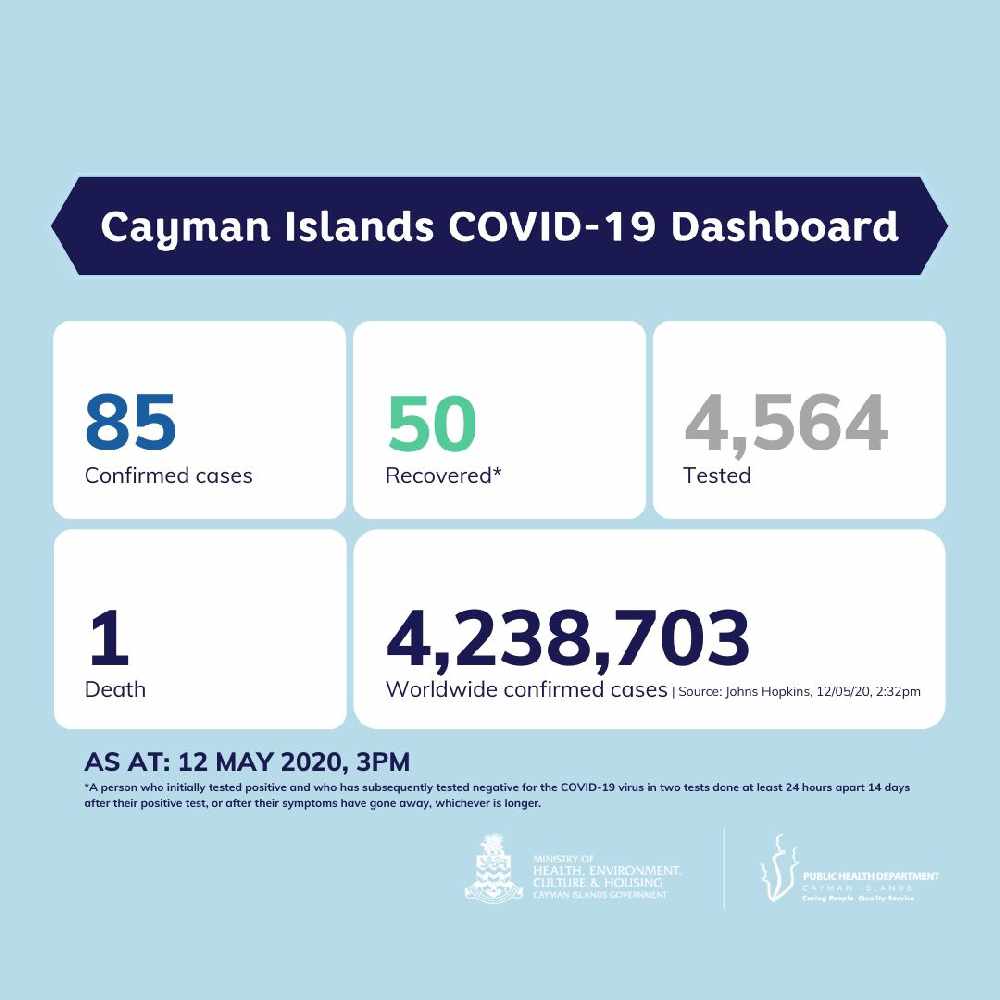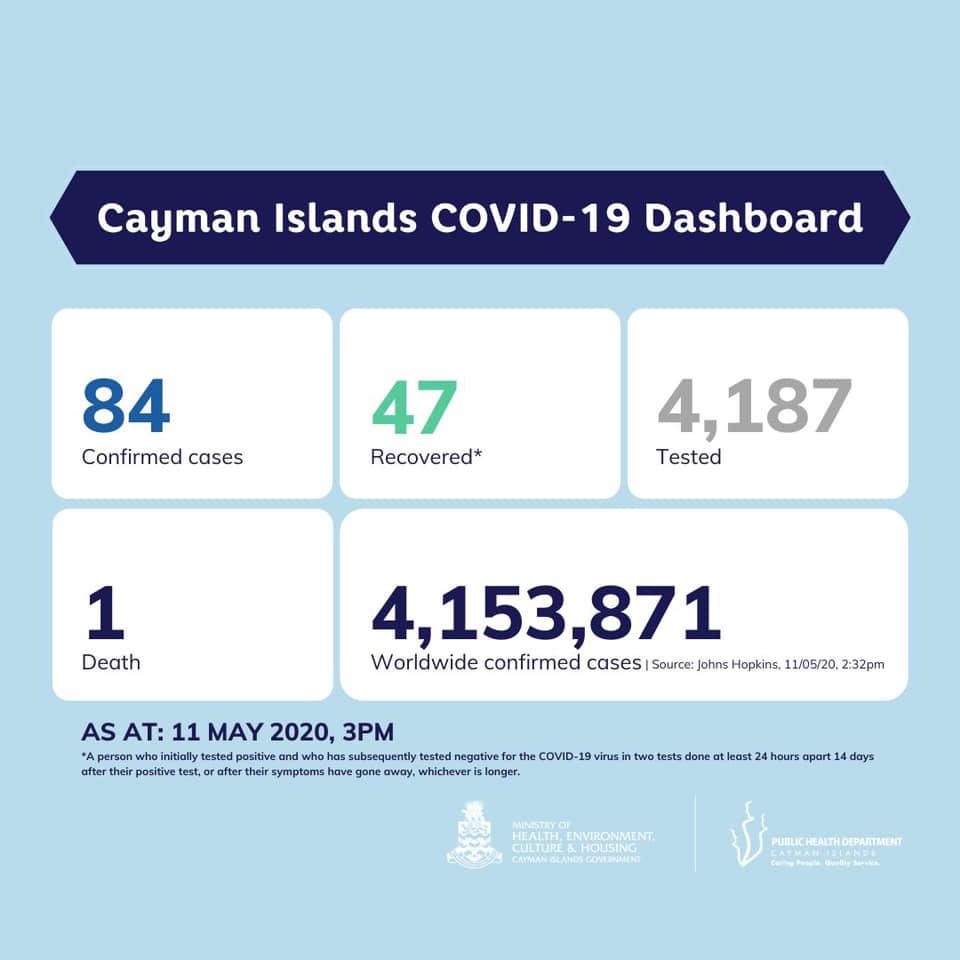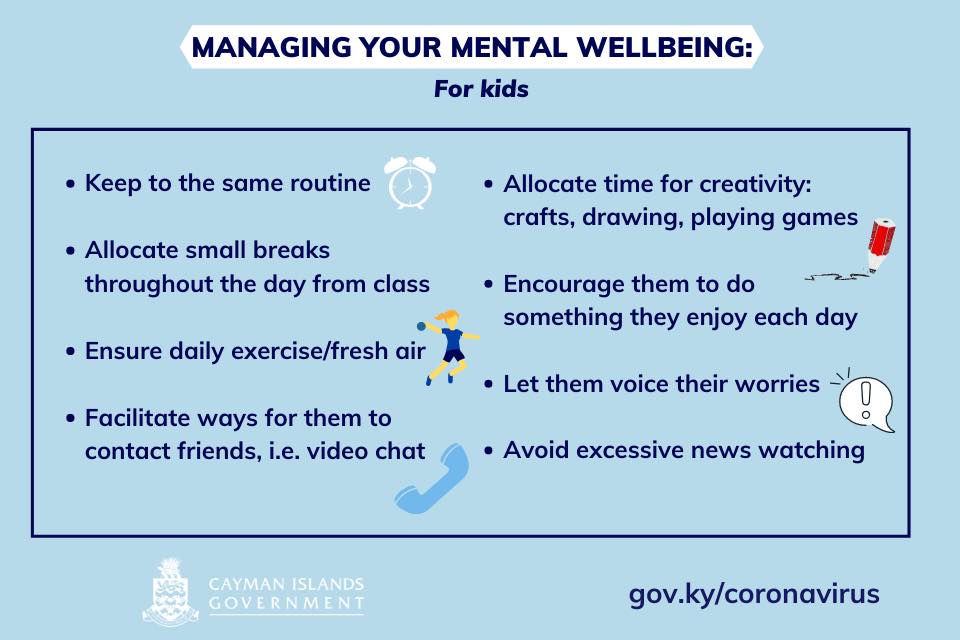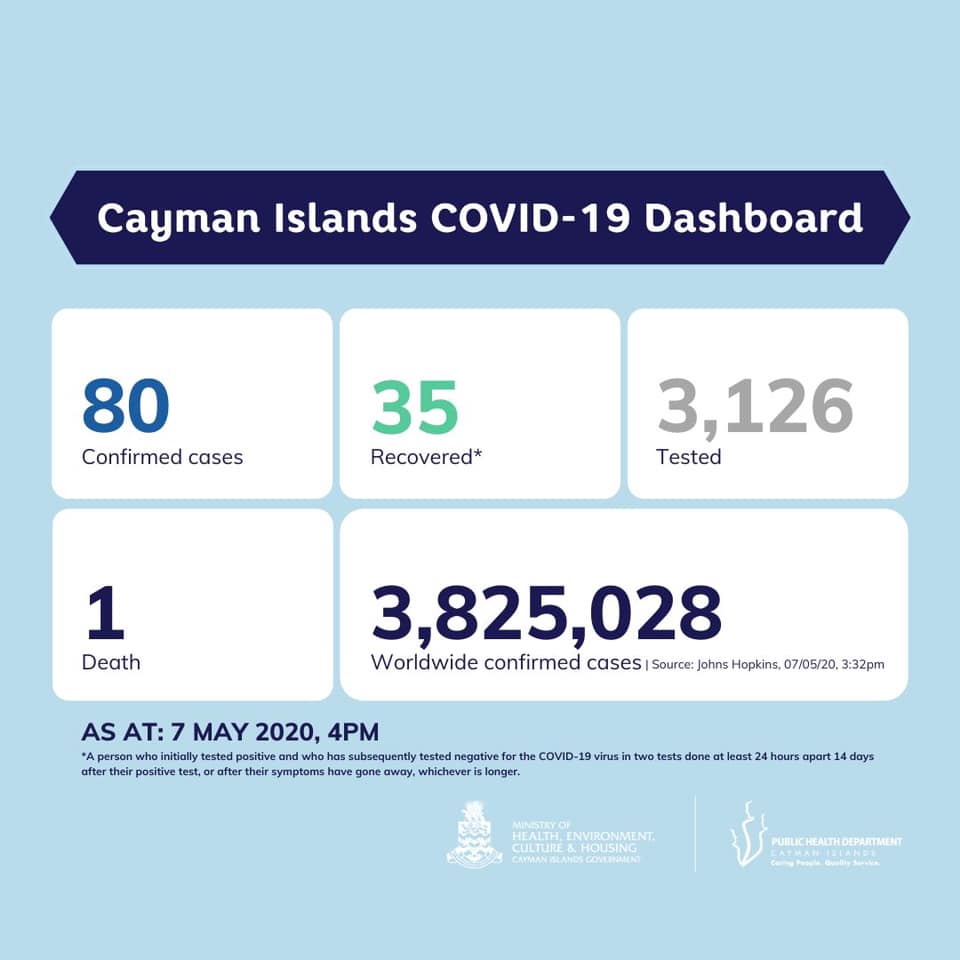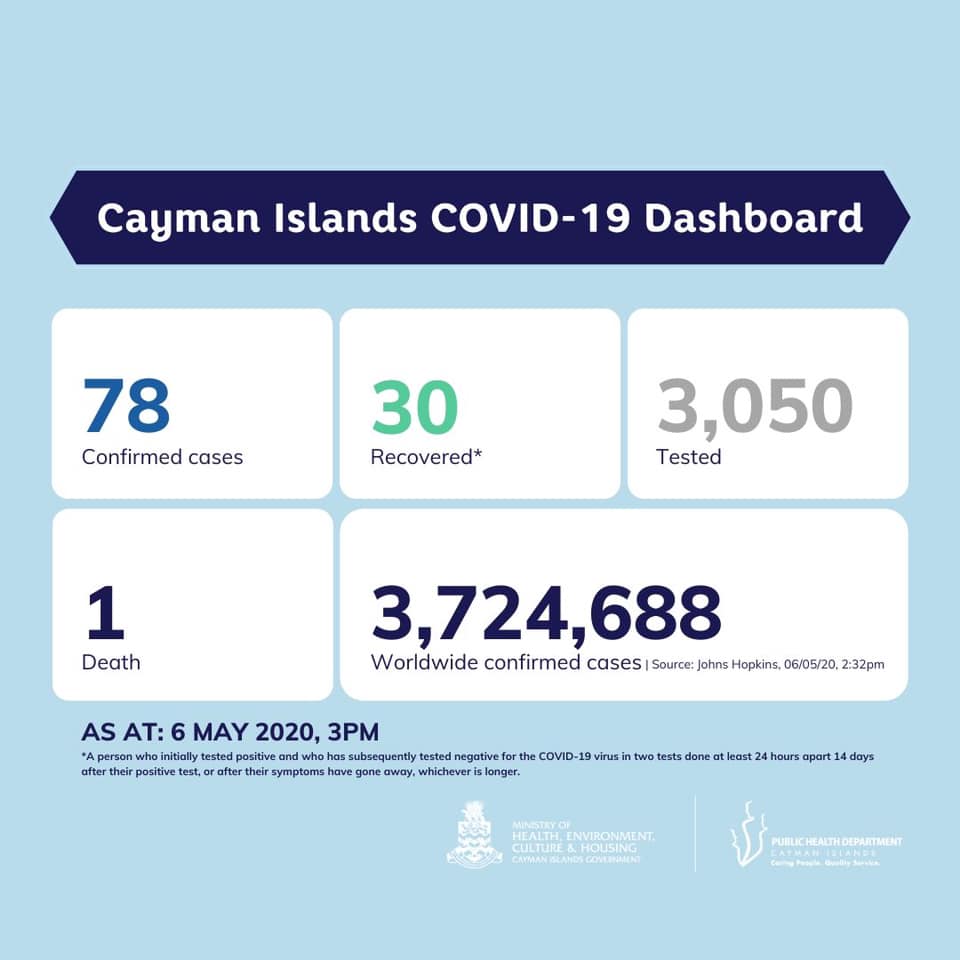 Coronavirus Update Press Briefing May 6 2020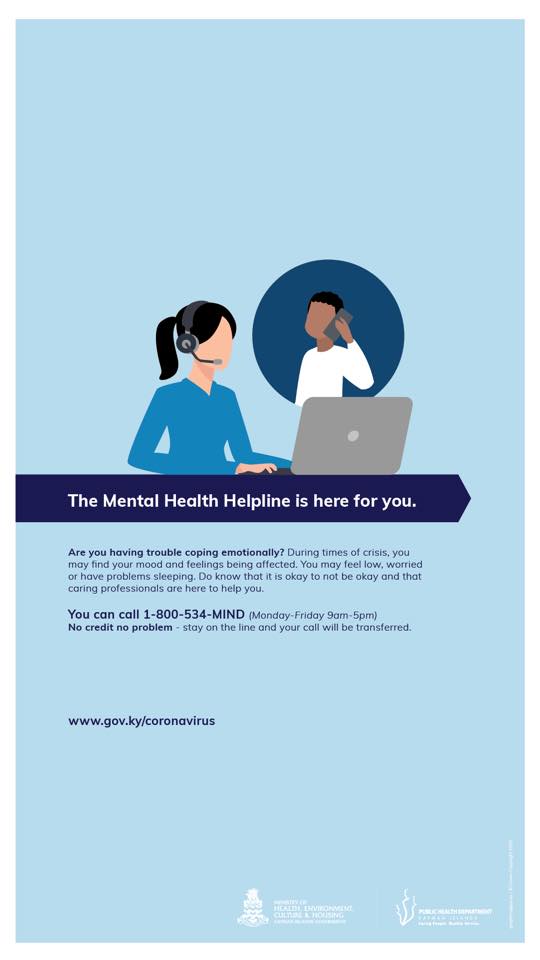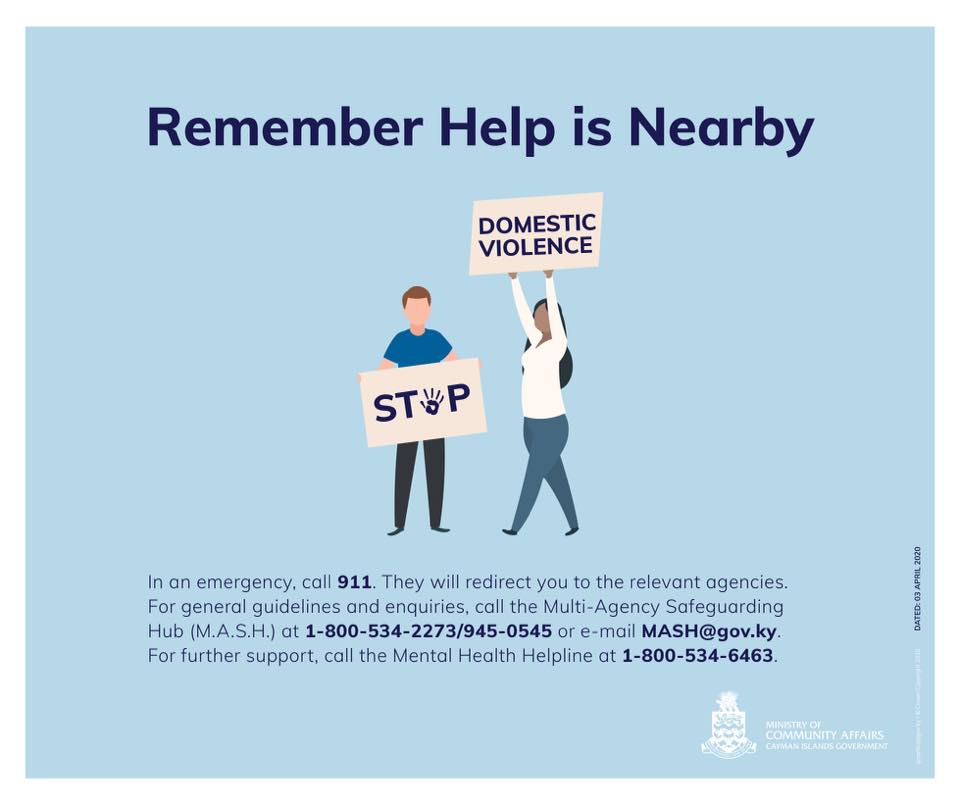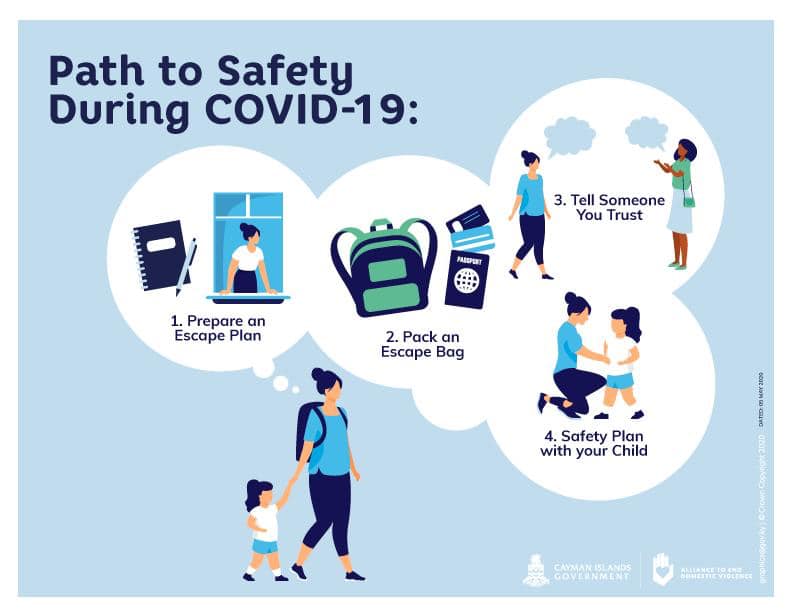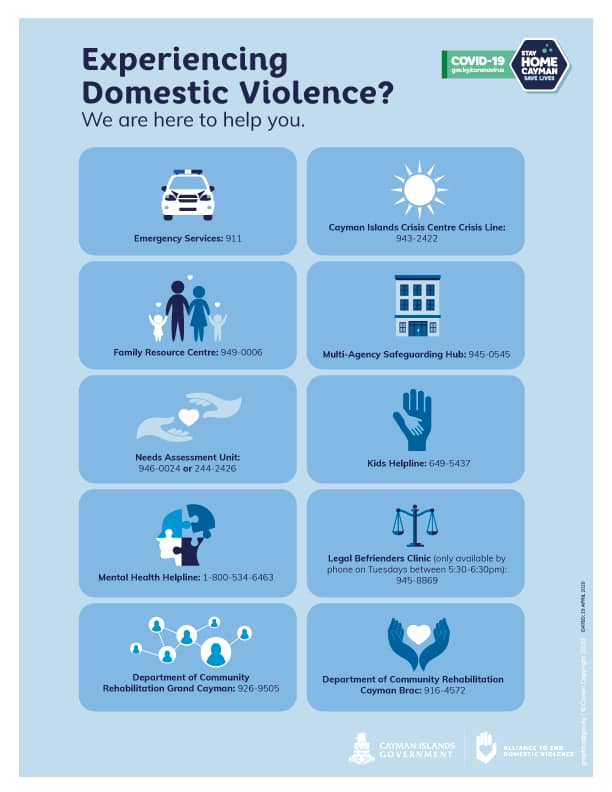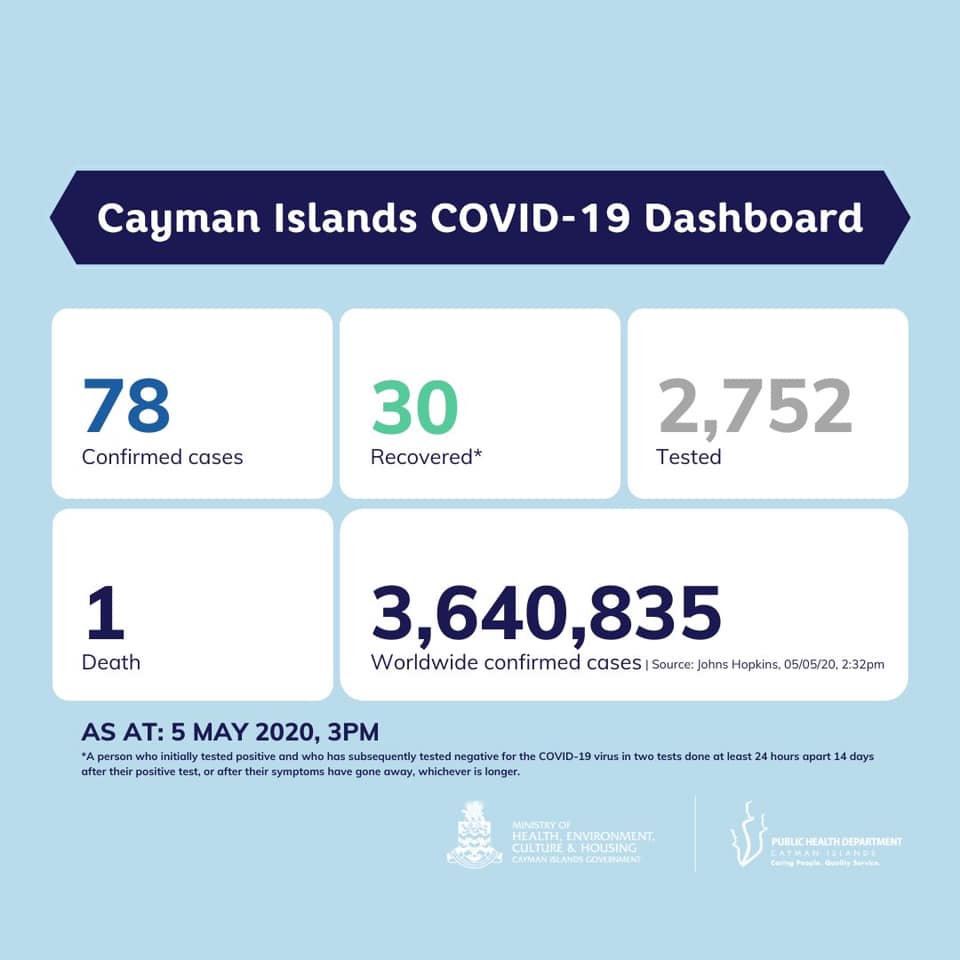 Coronavirus Update Press Briefing May 5 2020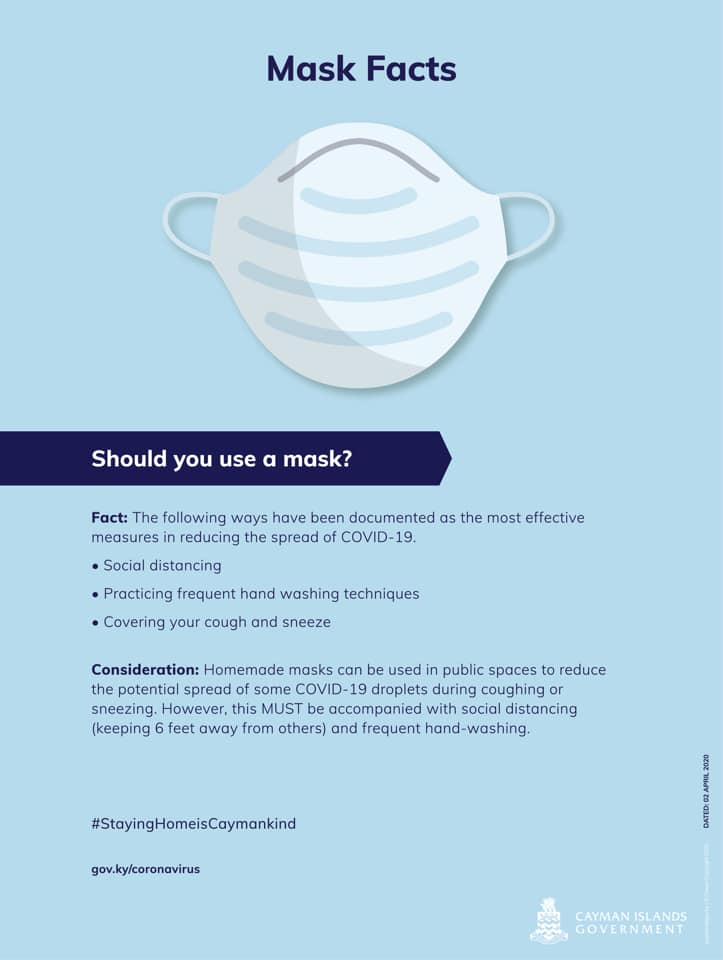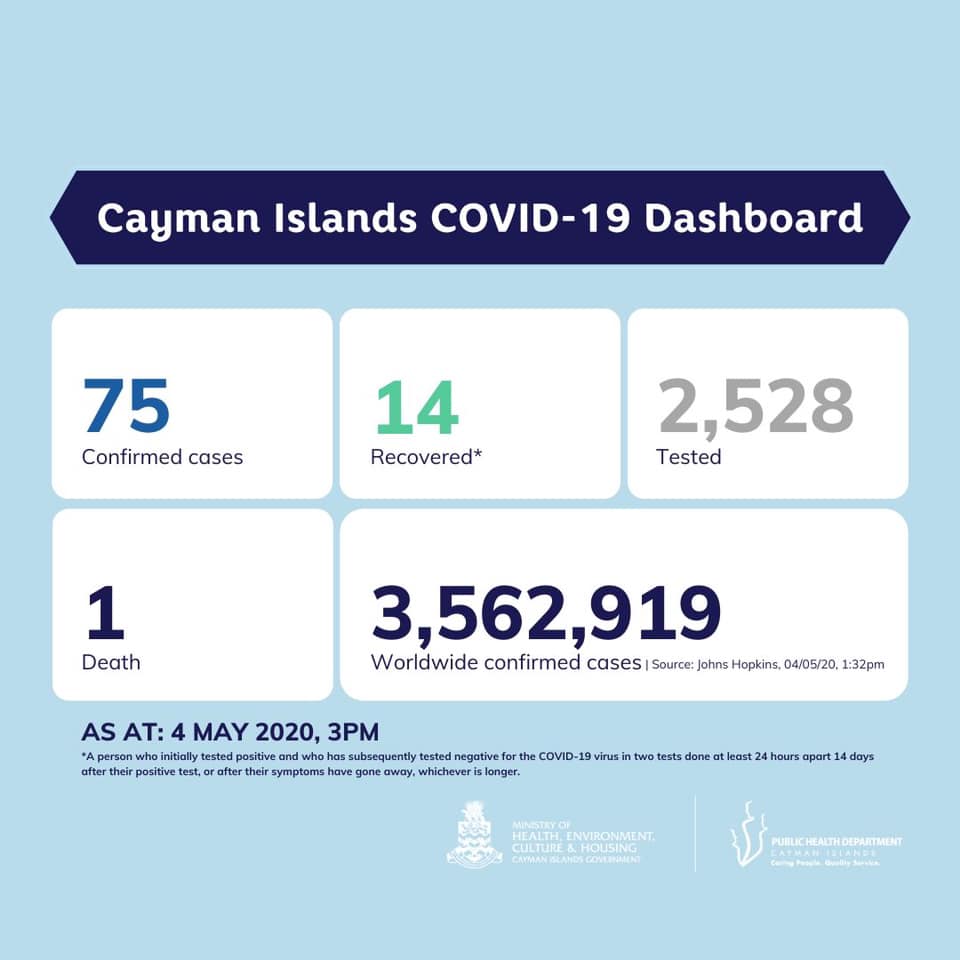 Coronavirus Update Press Briefing May 4 2020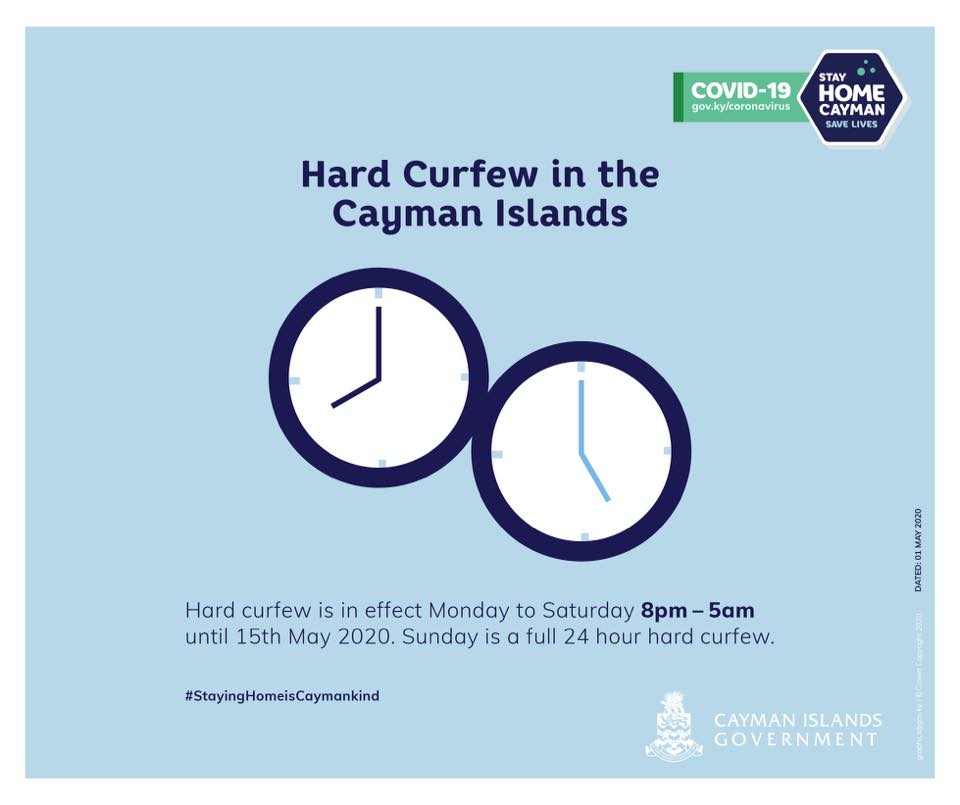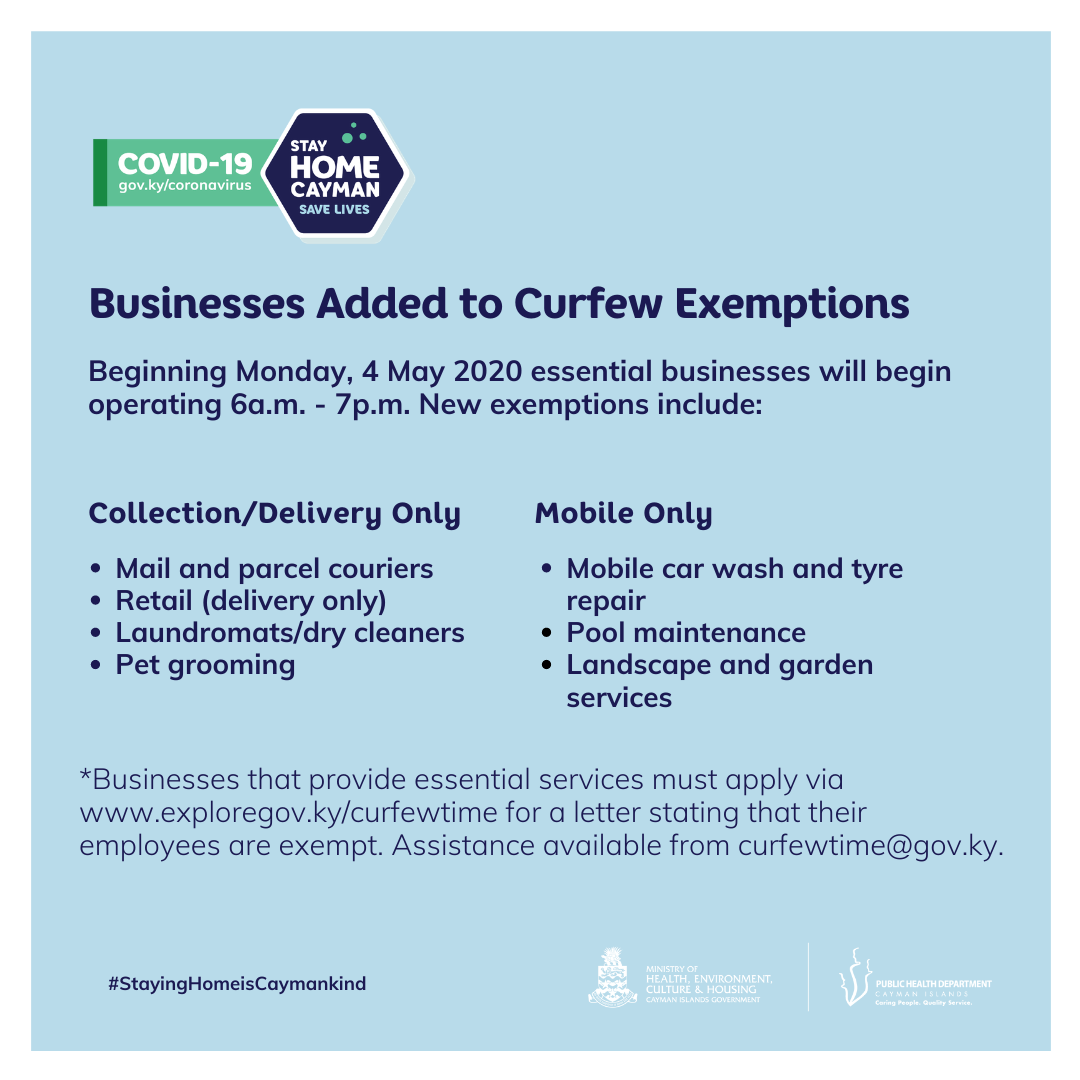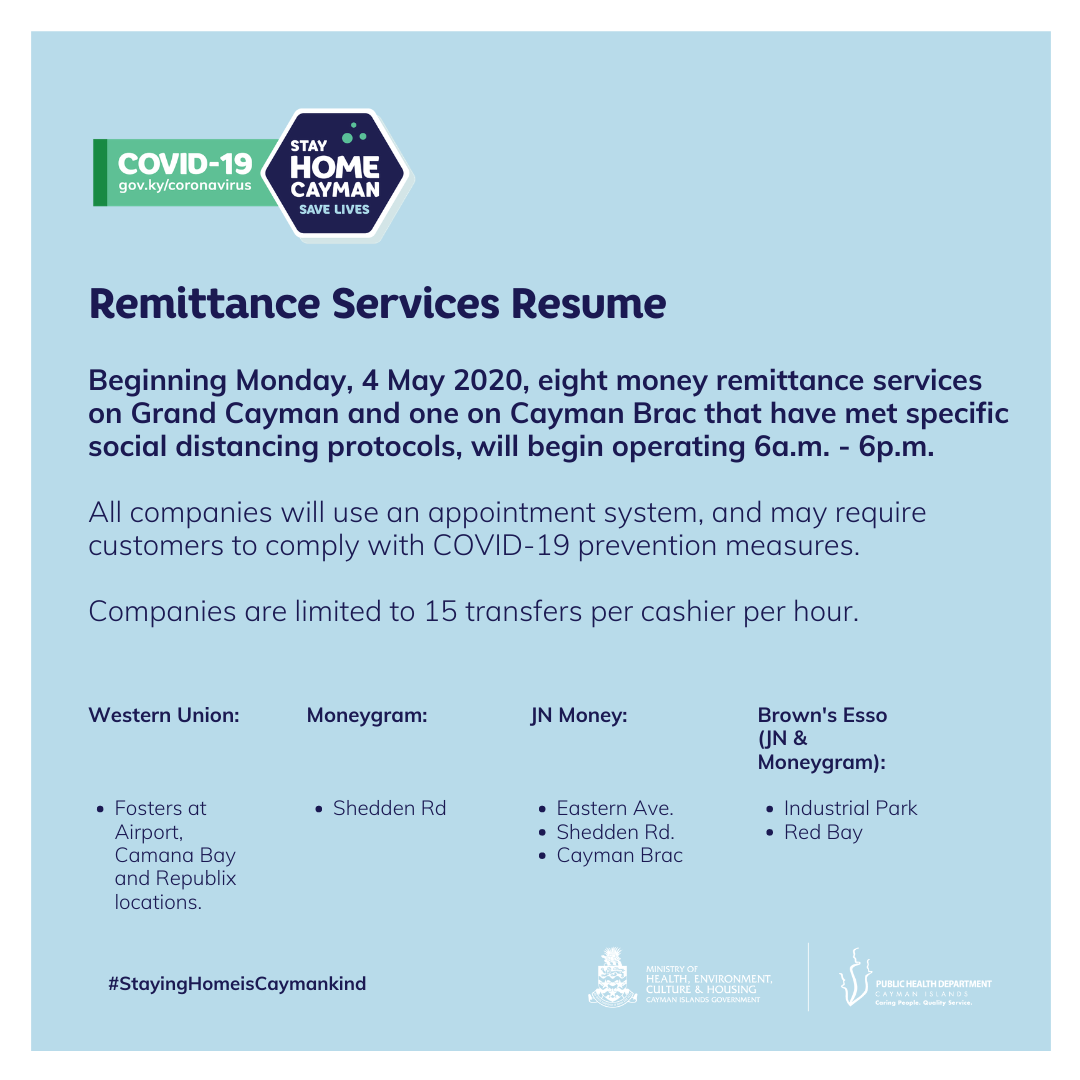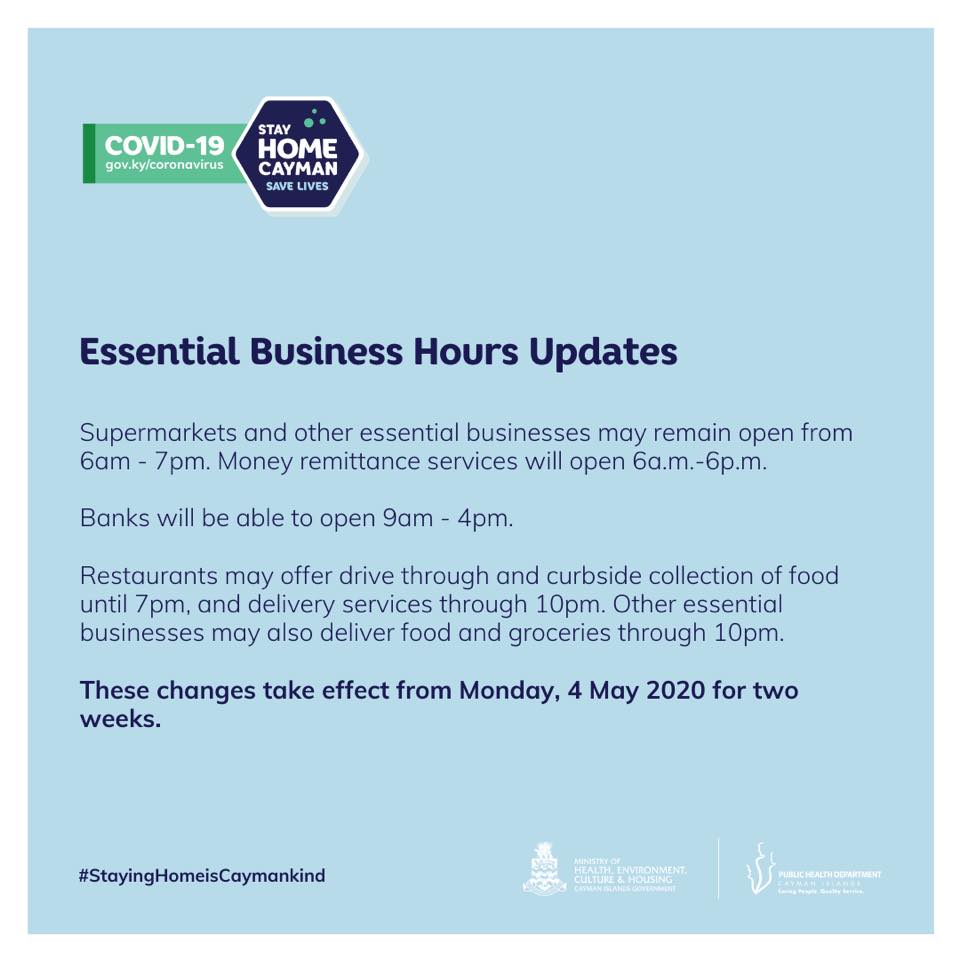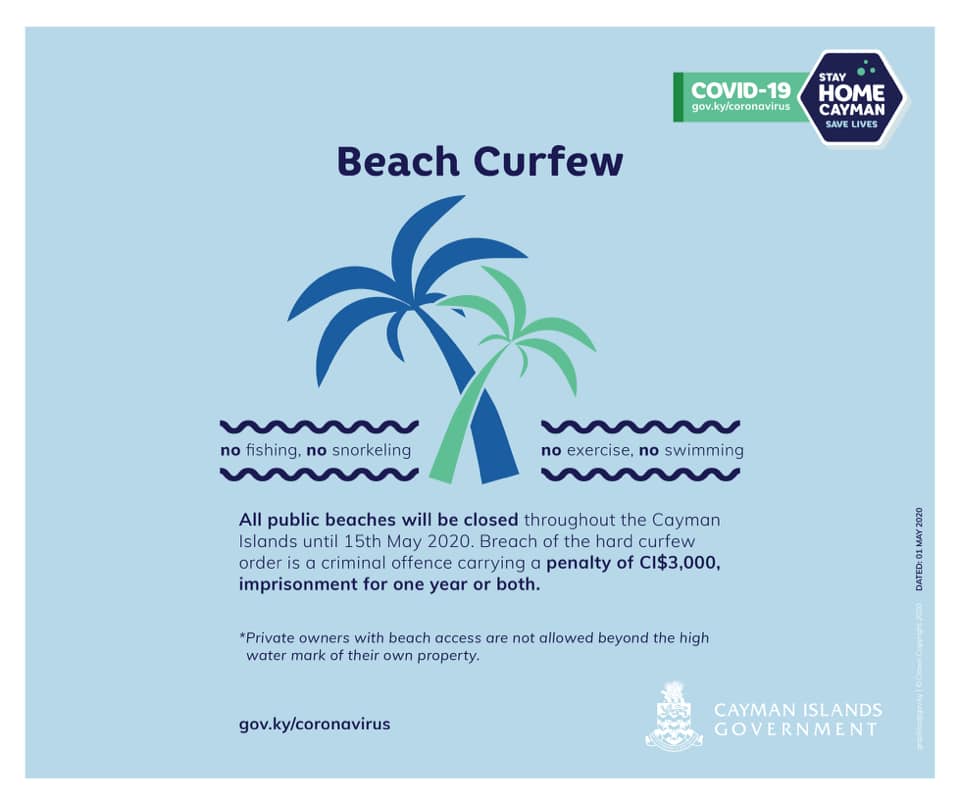 Latest regulations updating shelter in place provisions. (Effective May 4, 2020)
Embed not found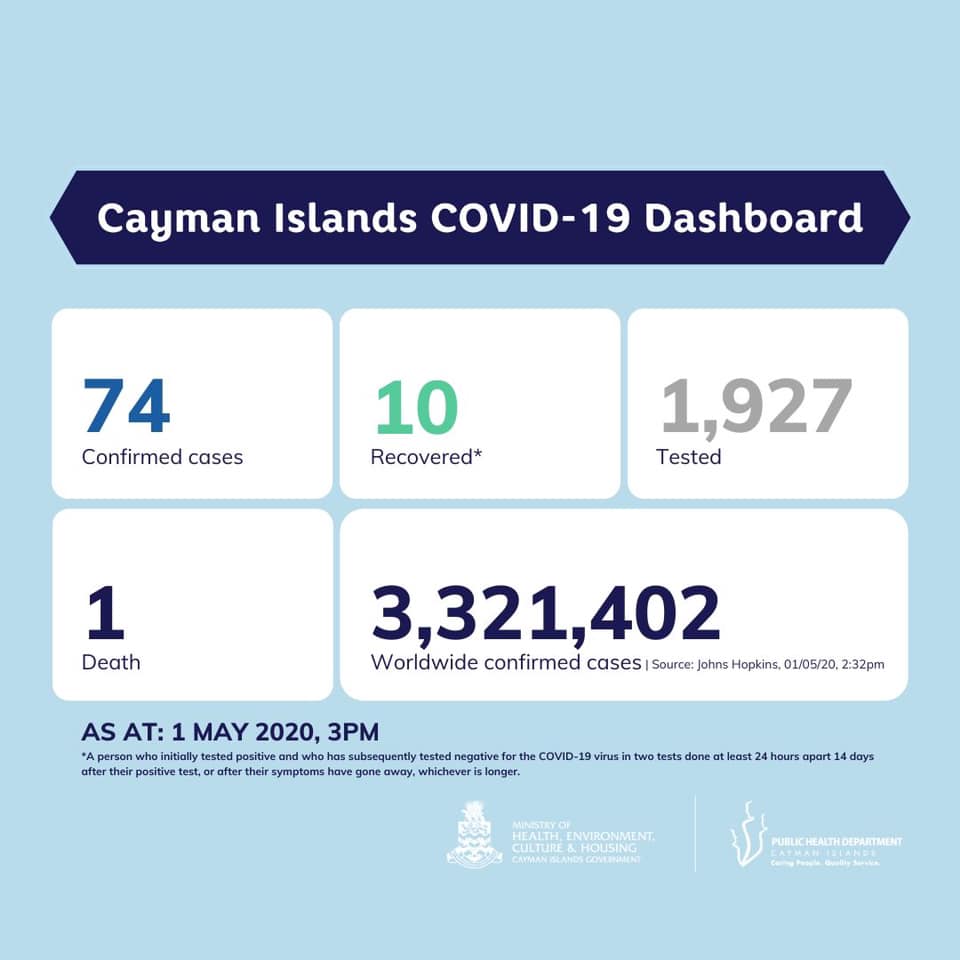 Coronavirus Update Press Briefing May 1 2020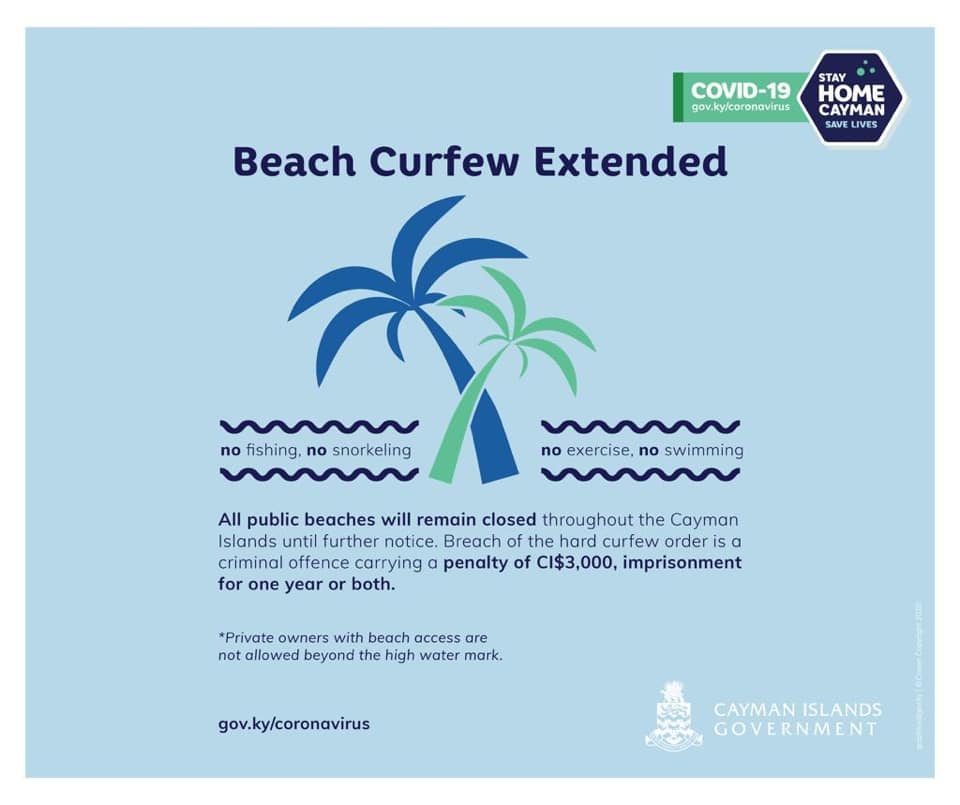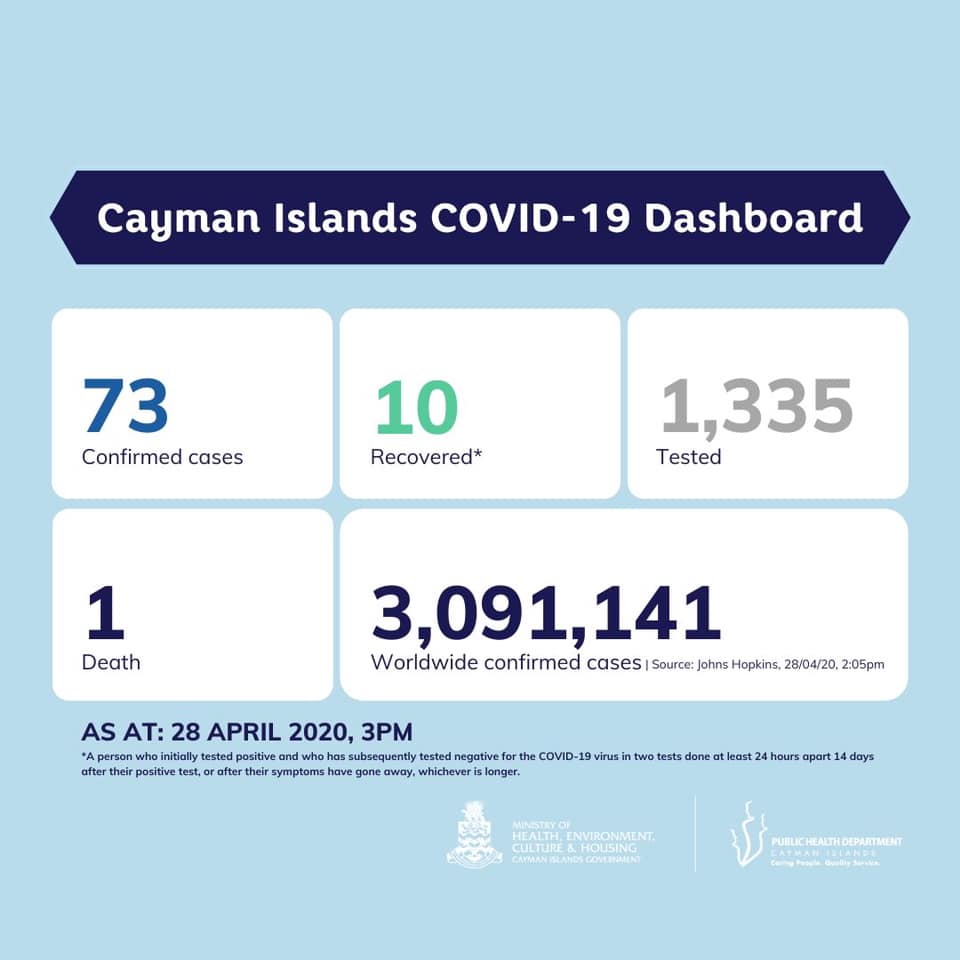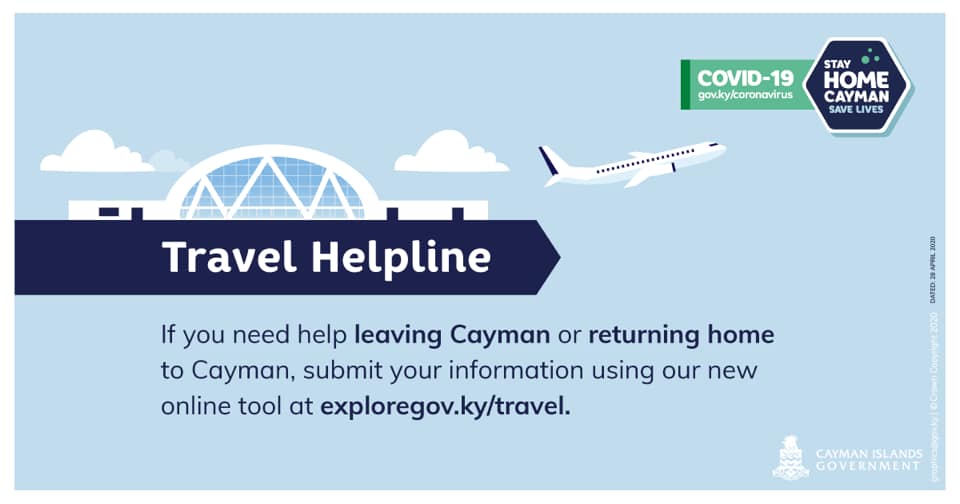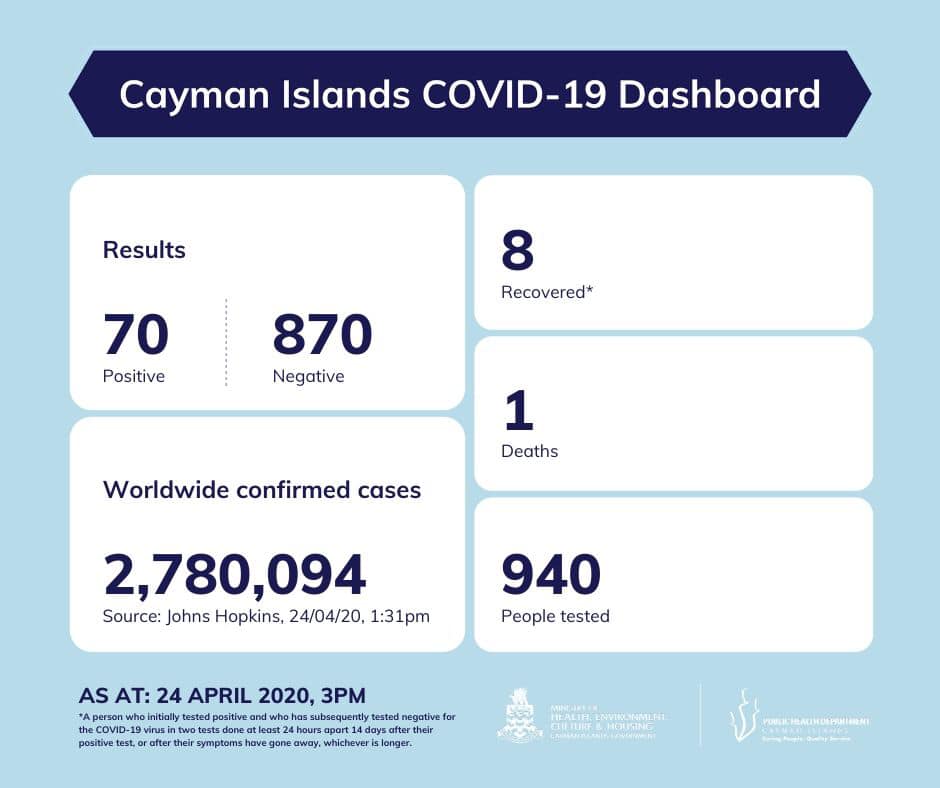 CIFS Remind Public of Bonfire Safety
The Cayman Islands Fire Service (CIFS) wish to remind the public how to stay safe if having a backyard bonfire following increased reports in recent weeks.
As Deputy Chief Fire Officer, Mr. Roy Charlton explains, CIFS believe the increase has been driven by current measures in place to suppress the spread of COVID-19. "We understand that residents may have previously taken their own garden waste to the landfill or had it removed by landscapers and are now looking for alternative options to get rid of it," he said.
"Bonfires can become dangerous if not properly controlled but there are simple steps the public can follow to manage garden waste effectively and stay safe," he continued.
CIFS recommend mulching or composting leaves to then use elsewhere in the garden as a more environmental choice instead of burning.
The public are reminded that burning general waste on private property is prohibited by law.
Smoke from bonfires can impact people's health, particularly for those with existing or underlying respiratory concerns such as asthma or COVID-19. Small children and the elderly are more likely to be impacted by the efforts of smoke.
Residents are reminded at this time to be considerate of surrounding neighbours as smoke may become a nuisance.
Additionally, under windy conditions, a bonfire may become dangerous and difficult to control.
If residents do still choose to light a bonfire, they are advised of the following safety tips.
• Only burn dry material as damp material causes more smoke
• Keep a bucket of water or garden hose nearby in case of emergencies
• Don't leave the bonfire unattended
• Don't use gas or any other fuels to get the fire going as it may get our of control quickly
•Don't burn anything close to your house, shed, fence or under electrical wires and cables
• Don't burn aerosols, tyres, canisters or anything containing foam or paint. Many produce toxic fumes and some containers may explode causing injury
Most importantly, residents should call 911 in the event of an emergency.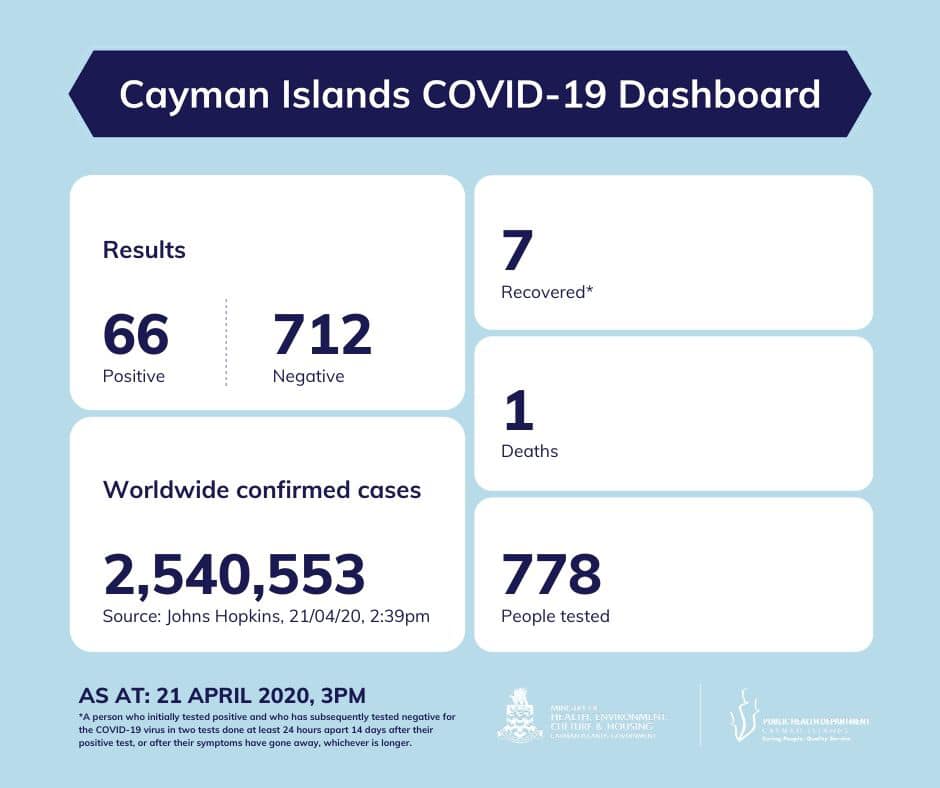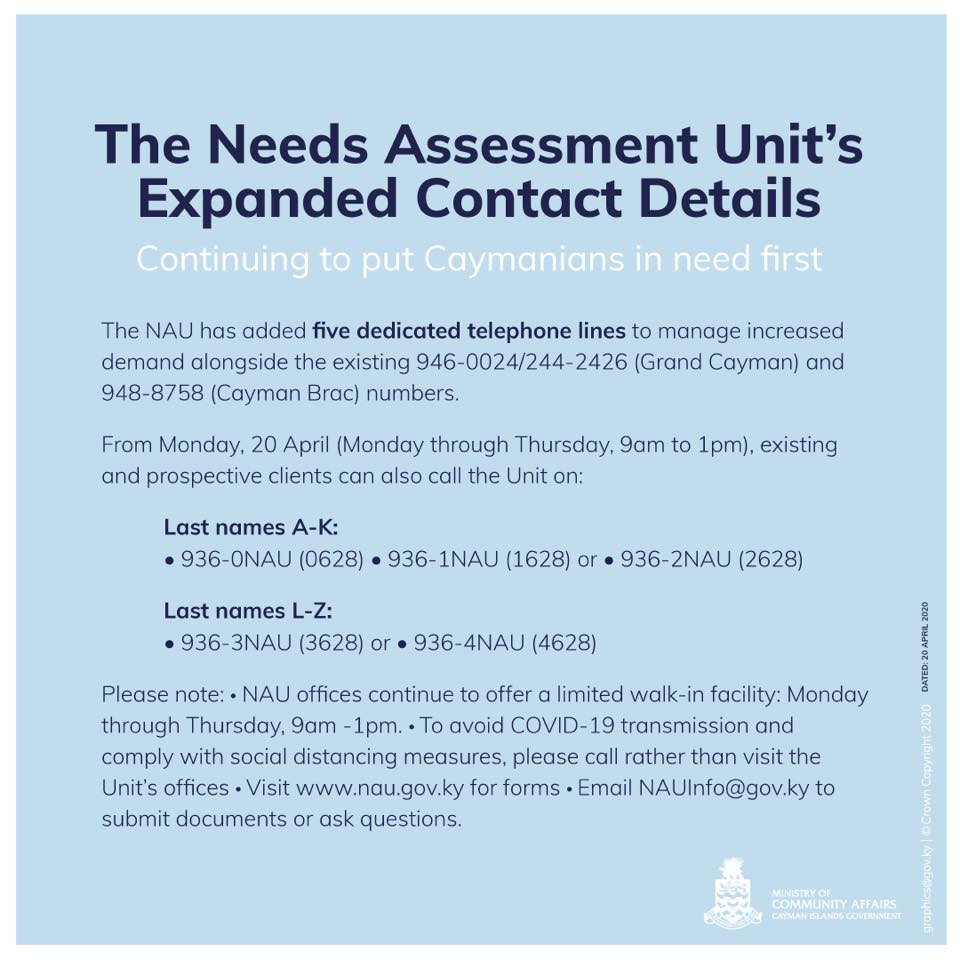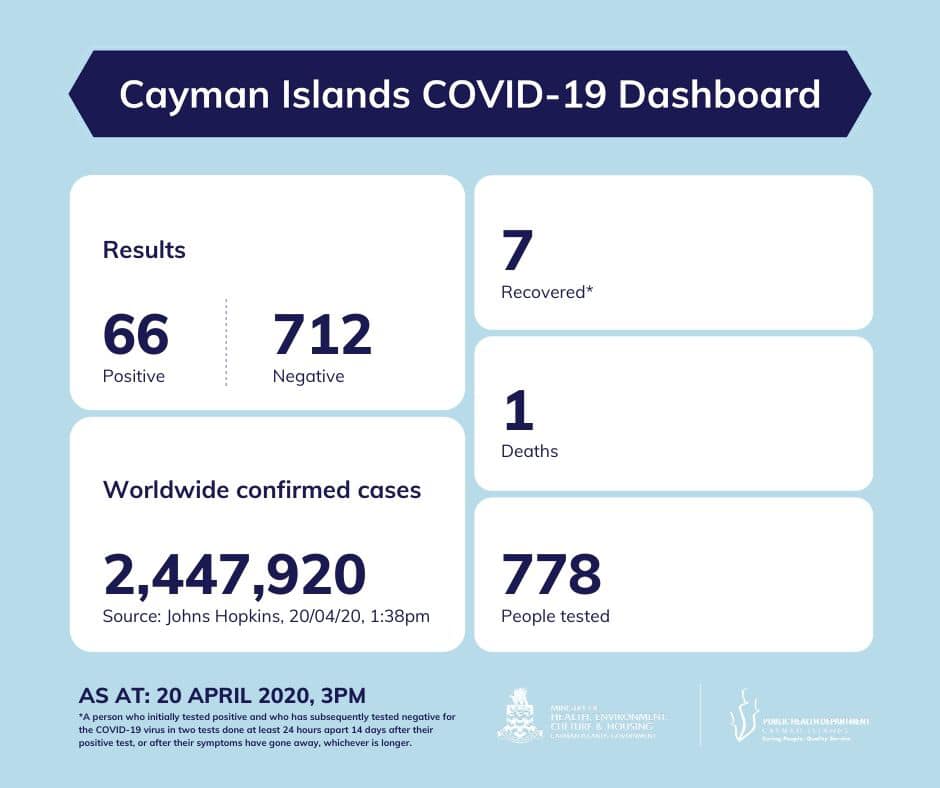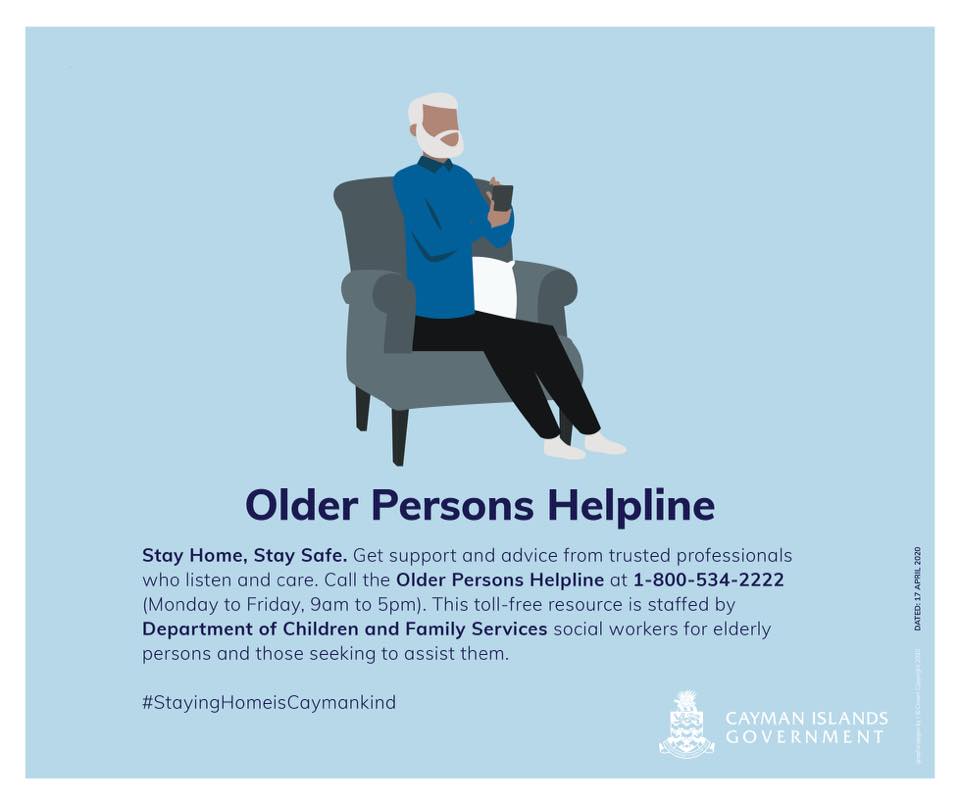 Coronavirus Update Press Briefing April 20 2020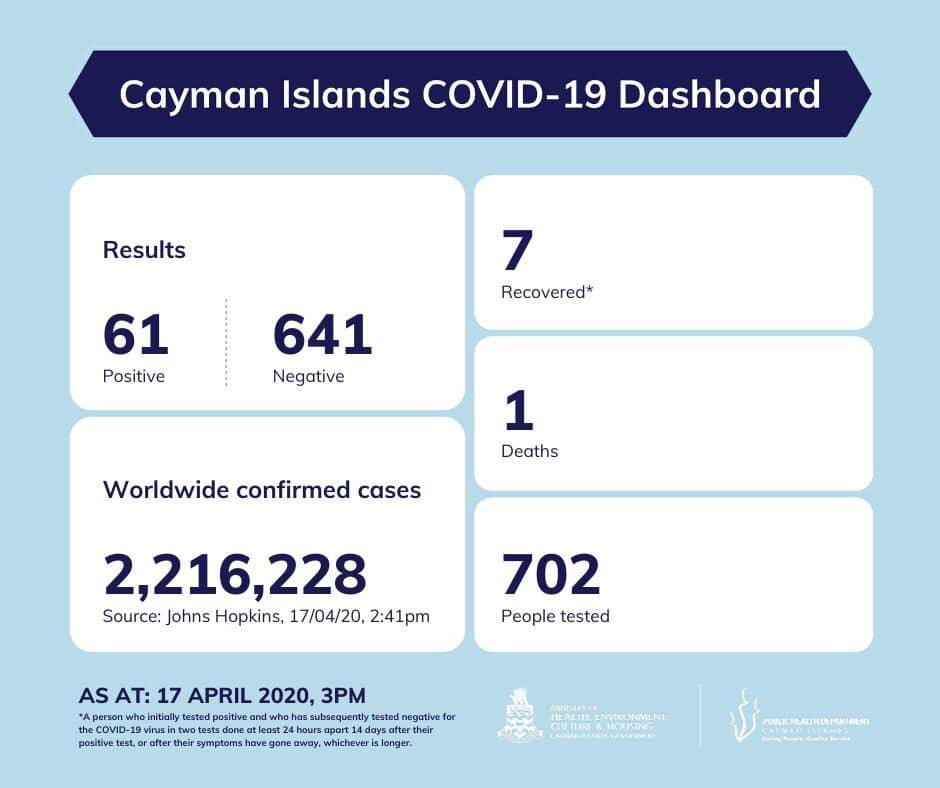 Coronavirus Update Press Briefing April 17 2020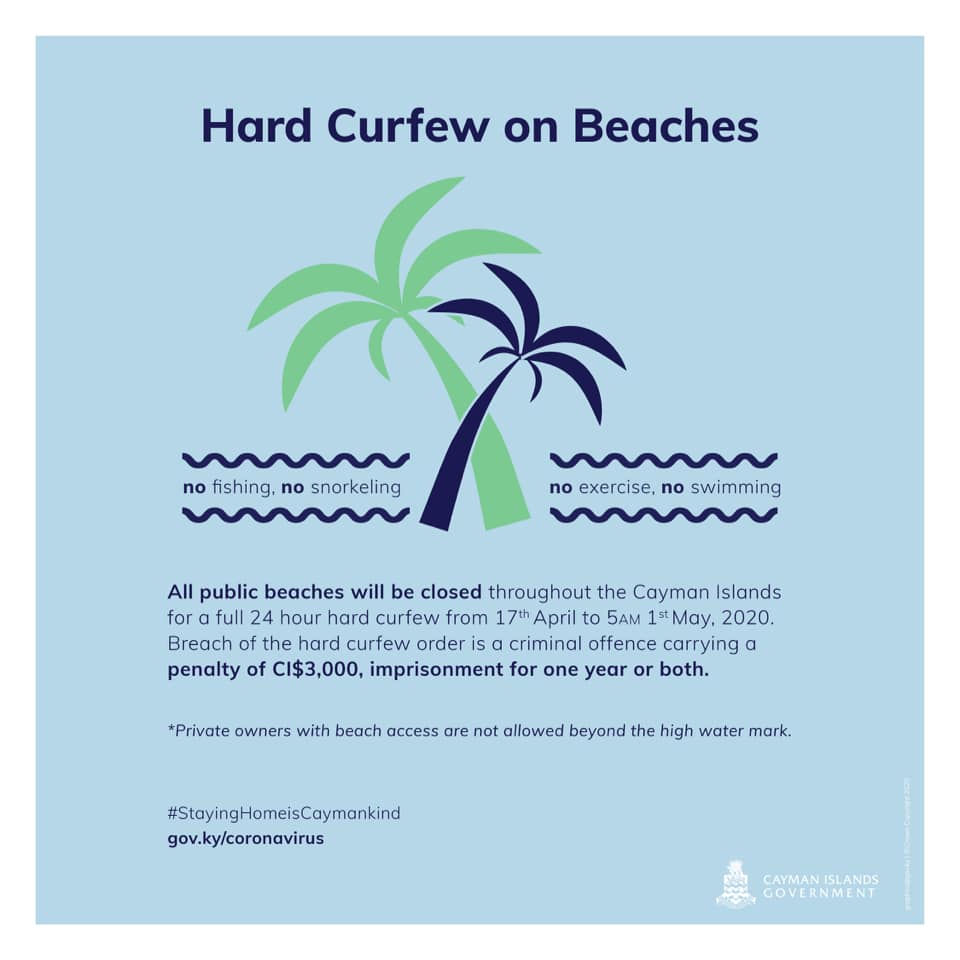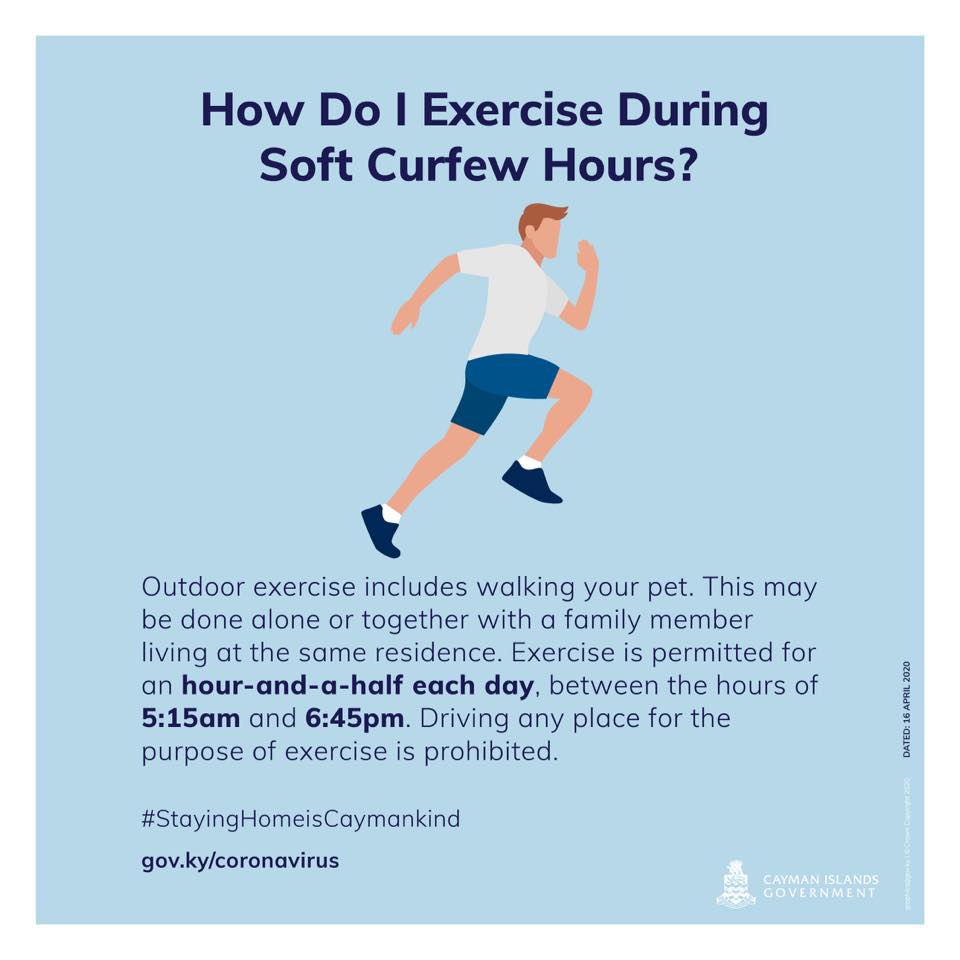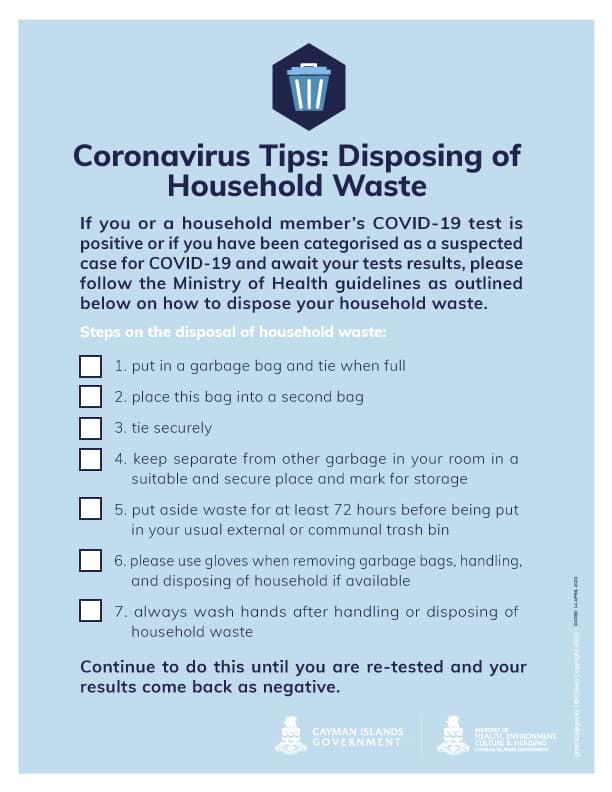 Coronavirus Update Press Briefing April 16 2020




Coronavirus Update Press Briefing April 15 2020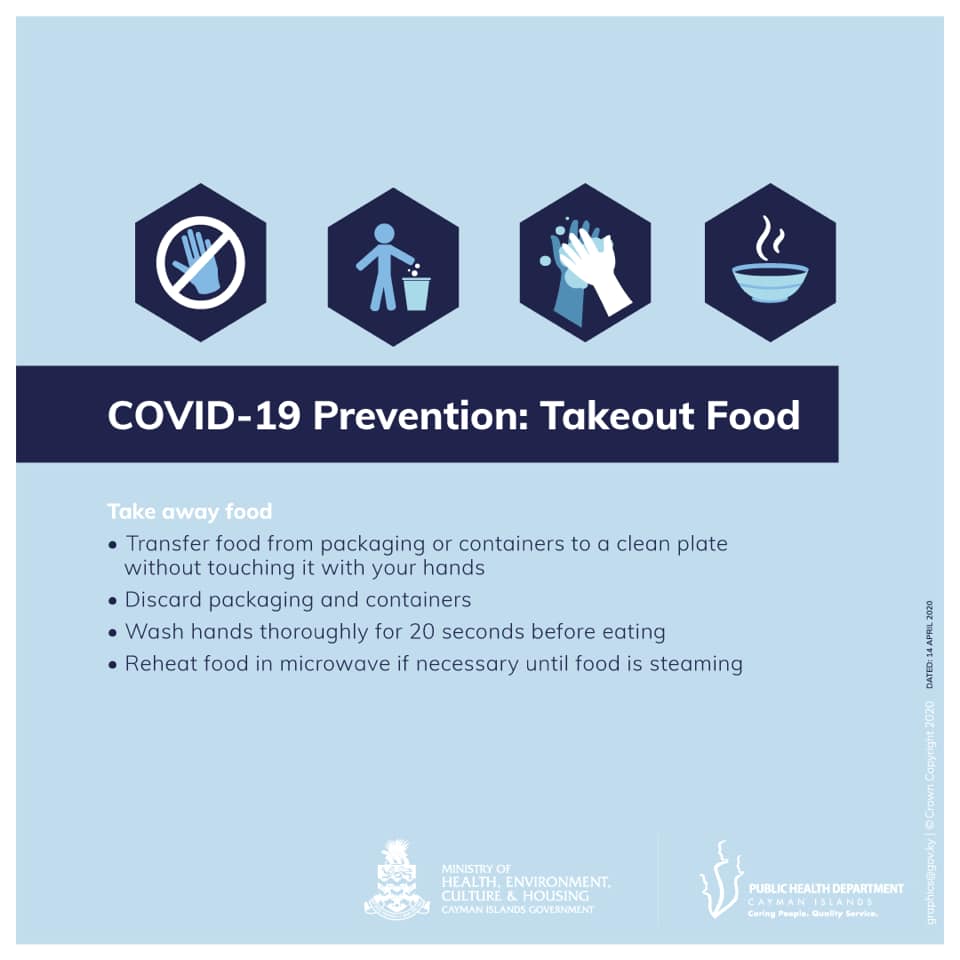 Coronavirus Update Press Briefing April 14 2020

Premier's Statement 13th April 2020
Published 13th April 2020, 6:58pm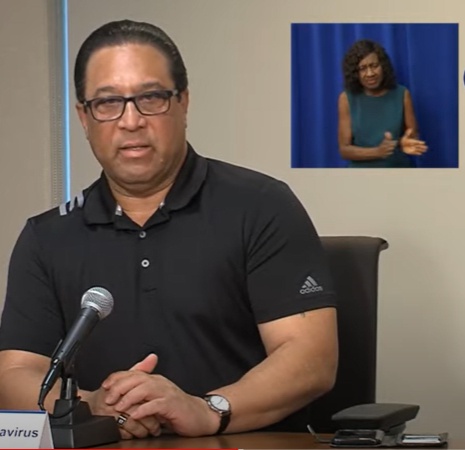 I just want to say a few things based on my following of what's being discussed by some members of the public on social media and elsewhere. Although I've spoken about most of these things before I think they bear some need for reinforcement.
I've seen and heard the criticism by some that the Government doesn't have a plan. Some people say they want to know what the Government's plan is. I say again the Government does have a plan. The plan is aimed at the suppression and the ultimate elimination of the virus within the confines of the Cayman Islands. All of the measures that we have taken so far and the ones that we are still taking are aimed at that ultimate goal.
We are deeply conscious that our actions have grave financial impacts and indeed is causing and will continue to cause major hardship to many, many people, in fact almost everyone that is here. But it is necessary if we are to be able to effectively employ the only known means of containing and attempting to eliminate the virus.
No country in the world has yet succeeded in eliminating it – not even China with all of its great efforts, I've just read some stats that cases are still popping up.
Essentially the most important thing we can do, is to adhere to physical or social distancing - keeping people apart from each other. So everything we are doing is aimed at that.
The other component is testing. Until very recently we haven't had the ability to test widely and we're still not quite there because although we've got more test kits than we need, there are still other aspects of the process that are still being worked through.
Hopefully by next week we will be able to go very aggressively into testing of frontline personnel and just about anybody who we think, or they think, need or warrant being tested. That is the Government's approach to this, suppression and ultimate elimination of the virus within the broad community.
Once we are able to do that we would be able to slowly release most of these restrictions that are currently in place and to allow the local economy to restart in a limited way.
We've seen what is being attempted in many other countries. Spain is now trying slowly to restart its economy. Looking at it with my inexpert eyes, I still think it's very early for them to do that. We've seen though that they are successfully doing it in China.
Cayman of course is a much smaller place and it is almost impossible for us to not have interaction with many, many people regardless of where they come from. This is a very small place and we all tend to congregate in many of the same areas.
Trying to reopen Cayman district by district would be an absolute impossibility, we have to eliminate the disease as far as possible, within each of the islands, and even then unless we absolutely restrict travel between Grand Cayman, Cayman Brac and Little Cayman we're still potentially spreading the virus if it still remains within the local community.
The only way that we can effectively restart this economy is if we are able to effectively stamp out the virus here. Otherwise nobody is going to want to move about these islands doing business, at least no sensible person, with the real risk that the virus is still there and that they might contract it.
It is deeply concerning to me and to us all, when we see and hear some of the very narcissistic comments that are made which contend that essentially we should just let the elderly and the vulnerable people die. Just accept they are causalities in this particular war and we just let them die off and the strong will survive and we can just get on with business.
That is absolutely not the approach of the Government, and it's absolutely not my approach. Whatever measures that we have to employ, that gives every person that lives and breathes here an opportunity to survive this very difficult, very challenging, very dangerous time - we are going to employ.
Though it is with the deepest of regret that we have had to take the decision to close the beaches and access to the water. It is because there continue to be significant numbers of people who are absolutely reckless or completely blind to what is appearing on their television screens every single day about the ravages of this virus right across the world.
Believe you me, I've seen some stuff written by ostensibly sensible people that left me absolutely shaking my head. I don't know how anyone can believe that they are somehow immune to this virus because they are 35 or 40 years old.
No-one knows how your body is going to respond to the virus, but it's not just about you, you may survive it but you may be the instrument of another's demise because you passed it to someone who passed it on to them. That's the bit that some people just don't seem to get.
So if we can adhere to these protocols that have been put in place, we have a chance of being able to eliminate this in relatively short order. Otherwise it's going to be one of two things: Death by a thousand cuts because the virus just slowly creeps through the community and it takes months and we're under this set of restrictions or even more stringent ones for a much longer period of time. Or we move to a full 21 day lockdown like they've had to do in some other places where only one member of the household is allowed out once a week to get necessary supplies.
It's going to have to be one or the other because we can't get into July and August under these restrictive provisions that are currently in place which are constantly being breached by a minority. The majority of people are complying and are being very, very sensible but it doesn't take more than a few to cause this virus to spread.
Now I know a number of people are being encouraged because the numbers are still relatively small. The first case we had is now a month ago, today is twenty two days since we closed our borders and we have tested 580 people, we have 54 positives, we still have only the one death and we have a limited number of people in hospital.
So those stats might give people a sense of complacency but believe you me the situation that we have with the apartment complex in George Town that has just been reported should make everybody extremely concerned, it certainly makes us very concerned. And until we can go through the process of tracing and testing we all need to be absolutely on our guard.
Do not leave your home unless you absolutely have to, it is the safest place you can be. That is the simplest message I can deliver, the most straight forward I can deliver. Stay home Cayman, we keep saying it over and over again. If we can suppress this virus effectively, we will be able to start doing all the things that we want to do again.
If we continue the way we are with increasing positive cases, this is going to stretch out interminably and if you think you're frustrated now, if you feel your liberties are being impinged upon, it is only going to get worse because the Government is resolute and determined that we are not going to allow this virus to spread right through this community. We're going to give it every single effort we possibly can, employ every possible measure that we can, to keep that from happening.
Please my people work with us, I beg you, work with us. Let's collectively be the only country in the world that effectively eliminates this virus and to get on with our domestic activities while the virus burns itself out around the rest of the world.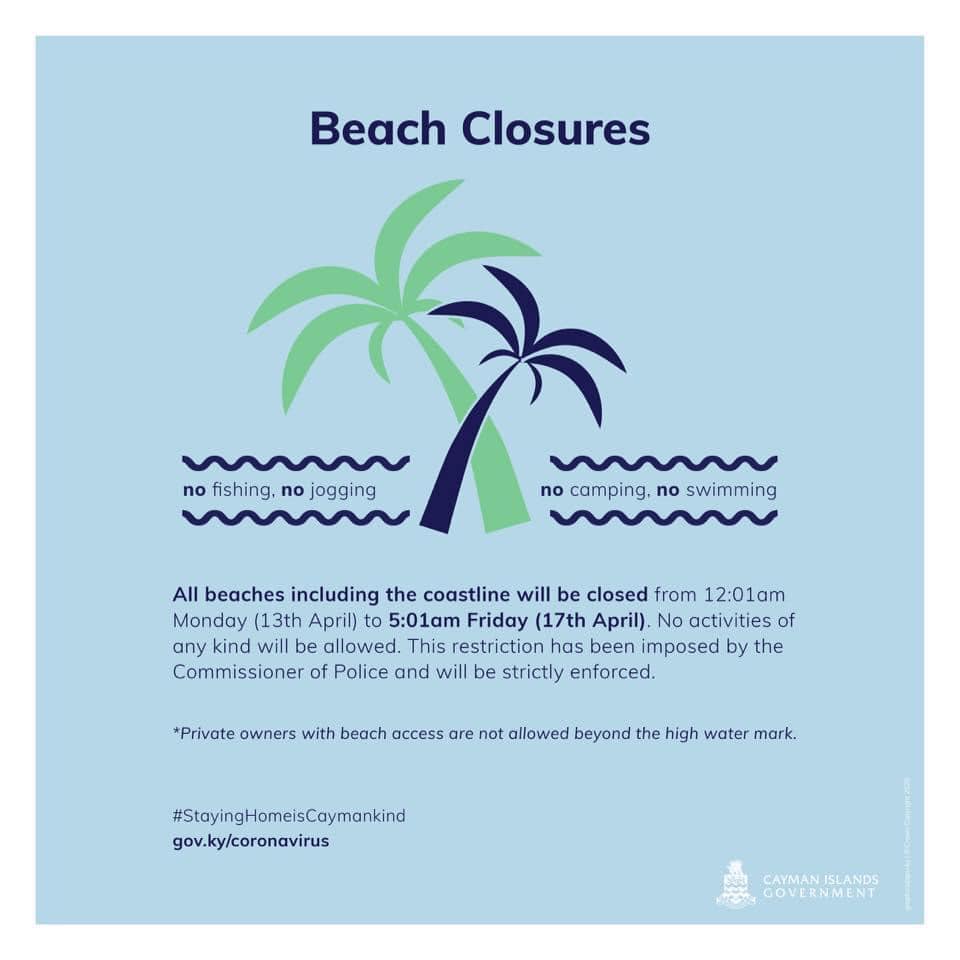 Coronavirus Update Press Briefing April 13 2020

All Beaches Closed on Easter Monday
The public is reminded that today, Easter Sunday, 12 April 2020, remains a hard curfew day. This means that without exception the only persons on the road should be essential workers carrying out their work-related duties.

Although soft curfew conditions resume tomorrow at 5 a.m., Monday, 13 April 2020, allowing non-essential workers movement only for essential tasks, a hard curfew condition has been imposed prohibiting all persons from accessing all beaches and the coastline.
All beaches, including the coastline, will remain closed from 12.01 a.m. tomorrow to 5am Tuesday, 14 April. There is to be no swimming, snorkeling, fishing, exercising or any activity on the beach or along the coastline during these times.

Private owners with beach access are not allowed beyond the high water mark.This restriction has been imposed by the Commissioner of Police and will be strictly enforced.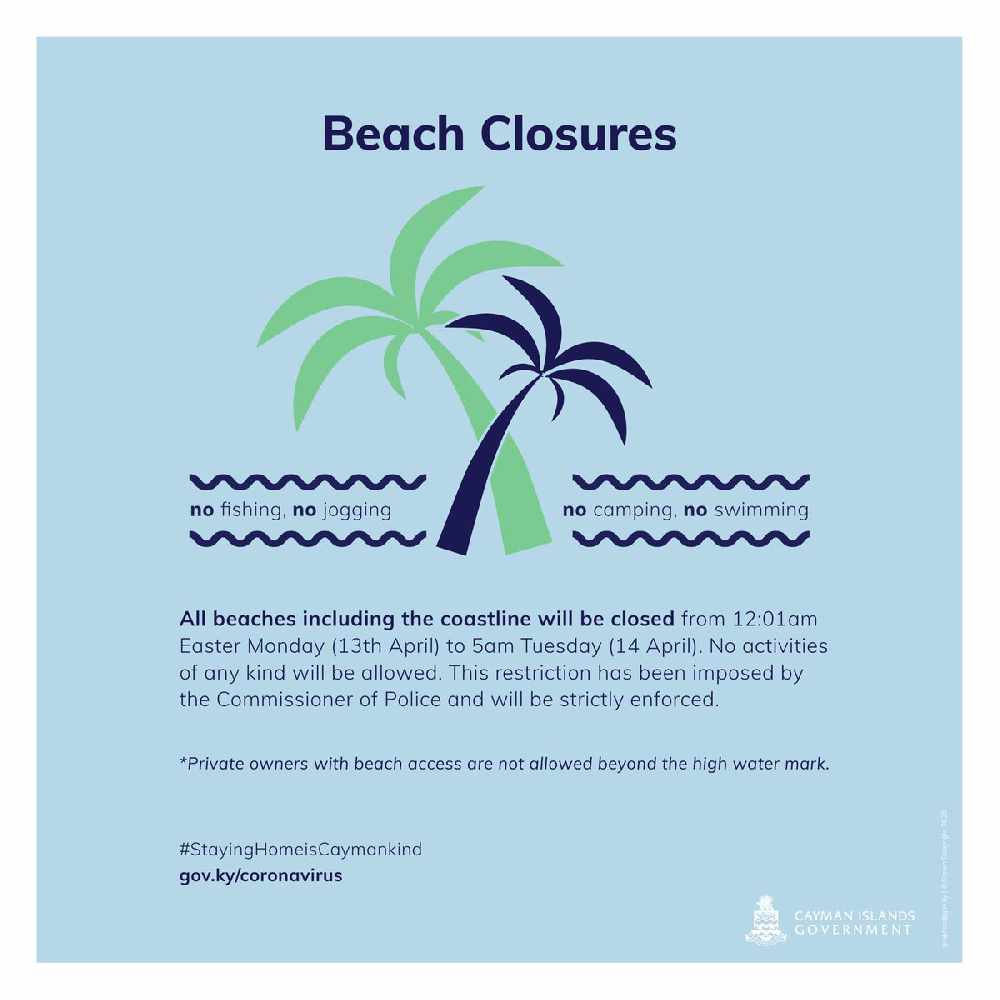 Easter Weekend Curfew Update April 12 2020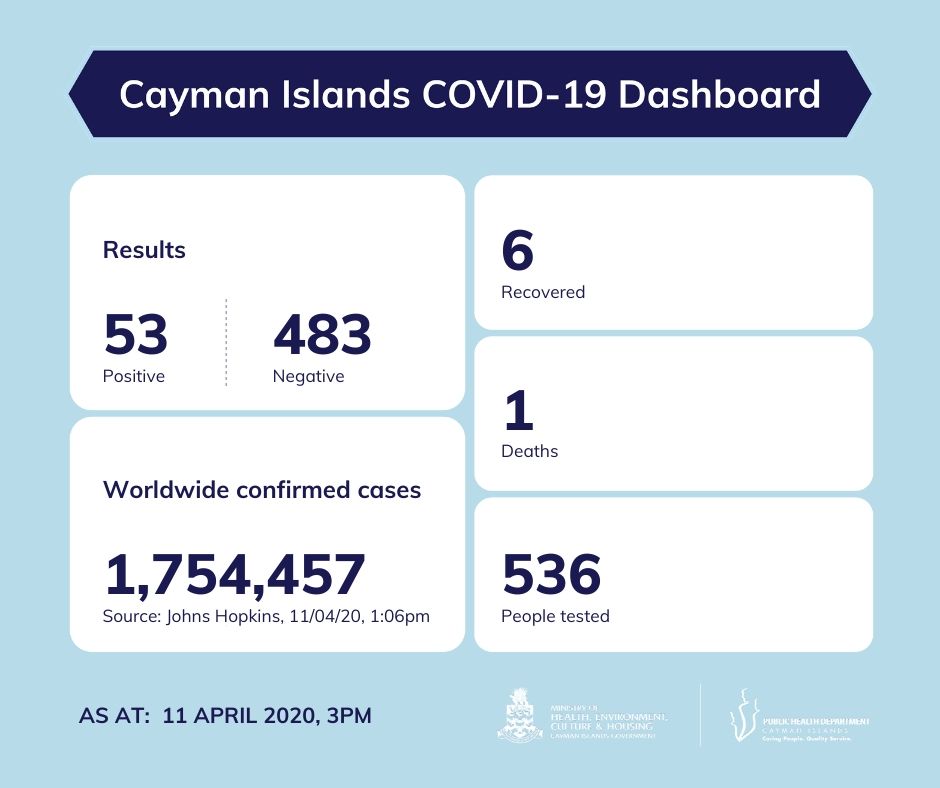 Coronavirus Update Press Briefing April 11 2020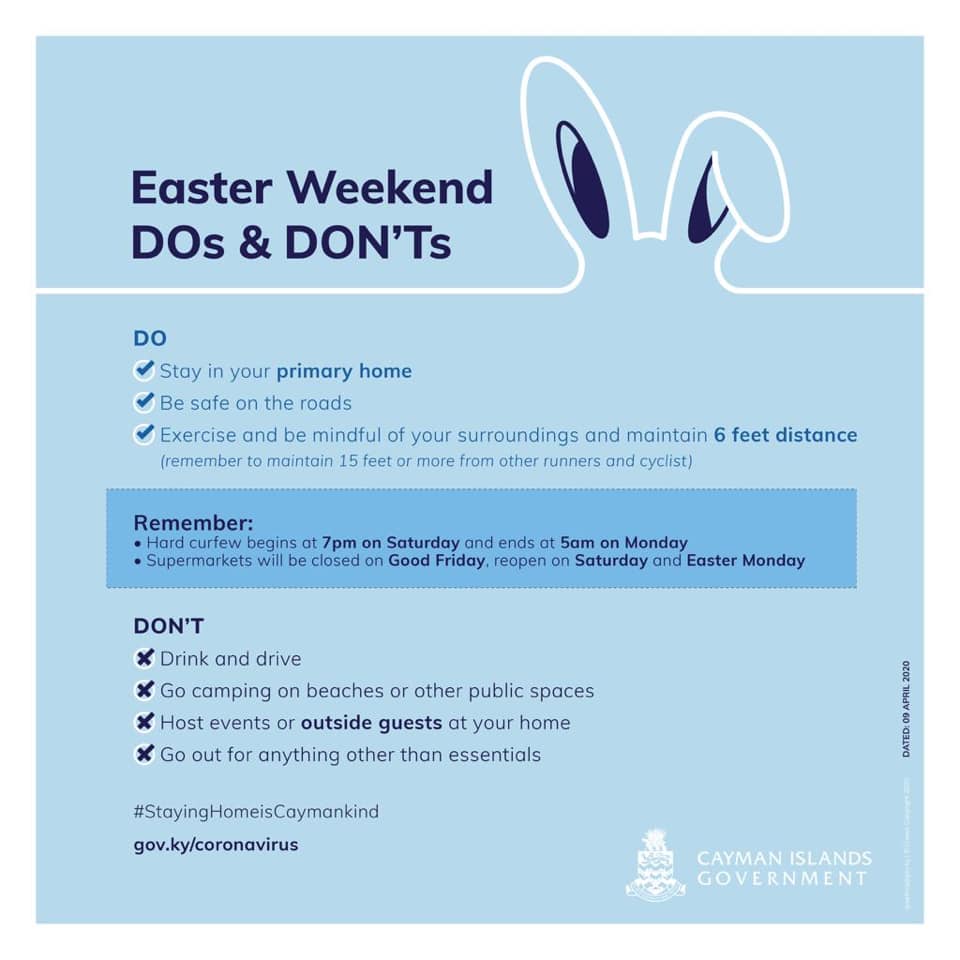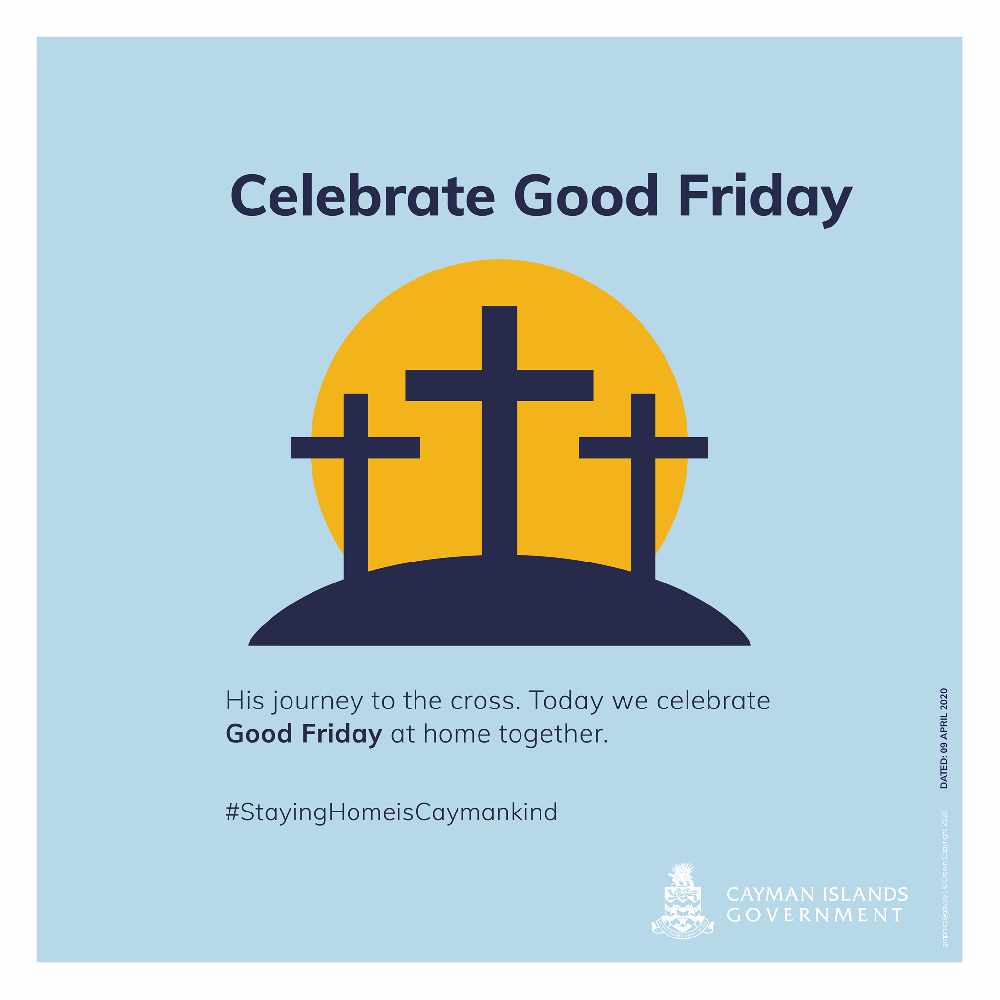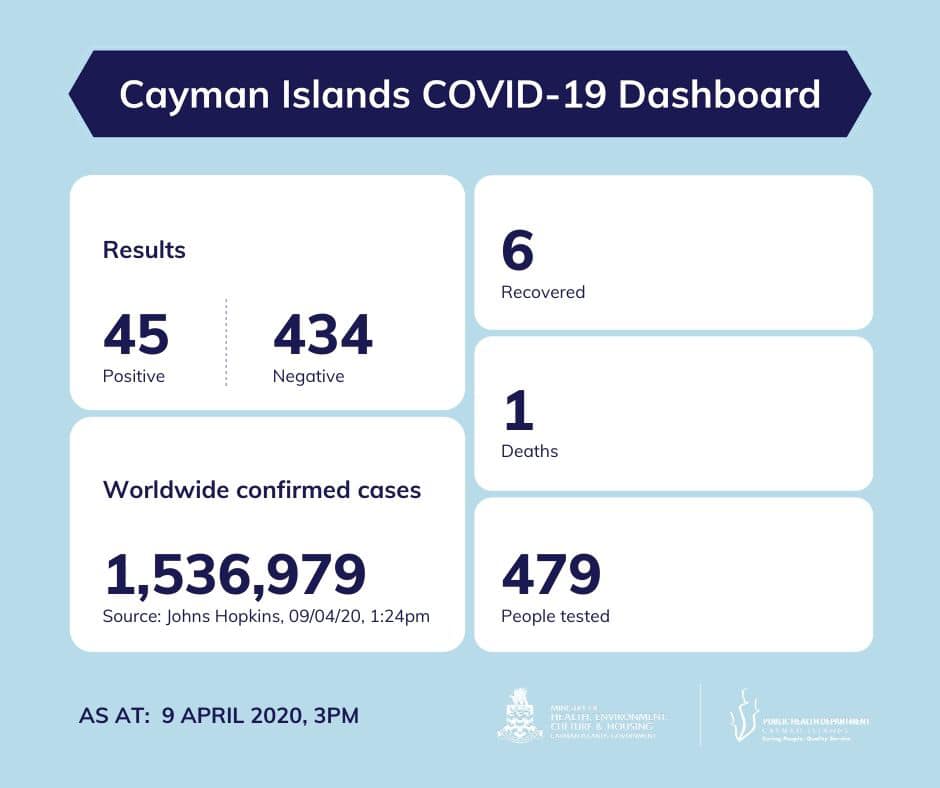 Coronavirus Update Press Briefing April 9 2020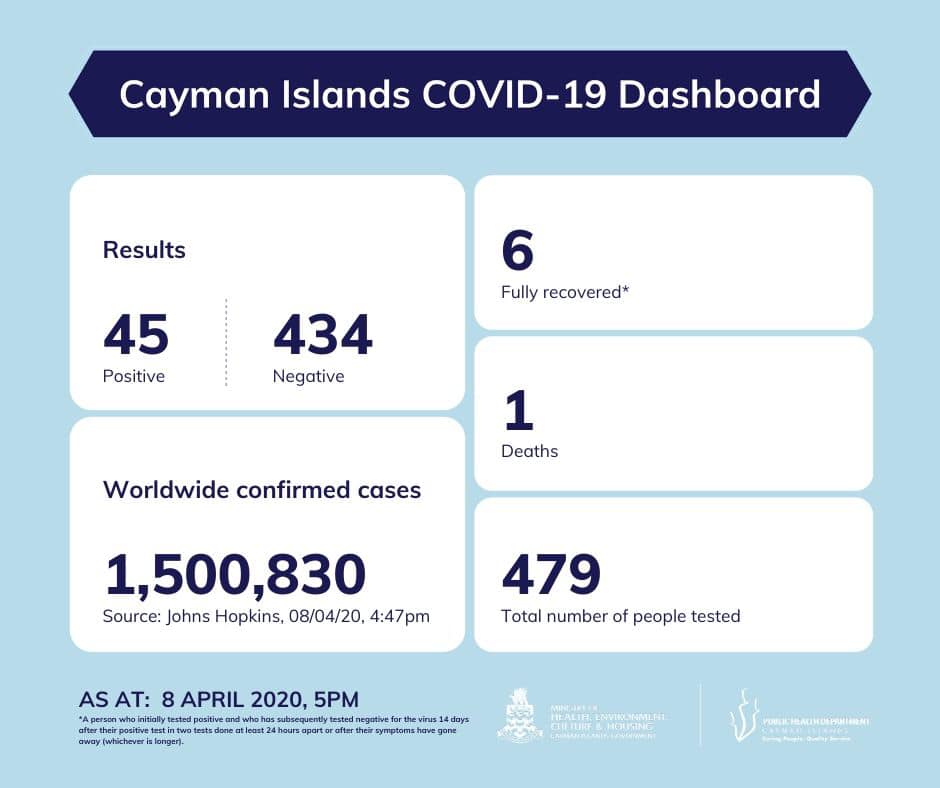 Coronavirus Update Press Briefing April 8 2020

COVID-19 Test Kits Arrive on Island
Date: Tuesday, 8 April 2020
Issued by: Office of the Governor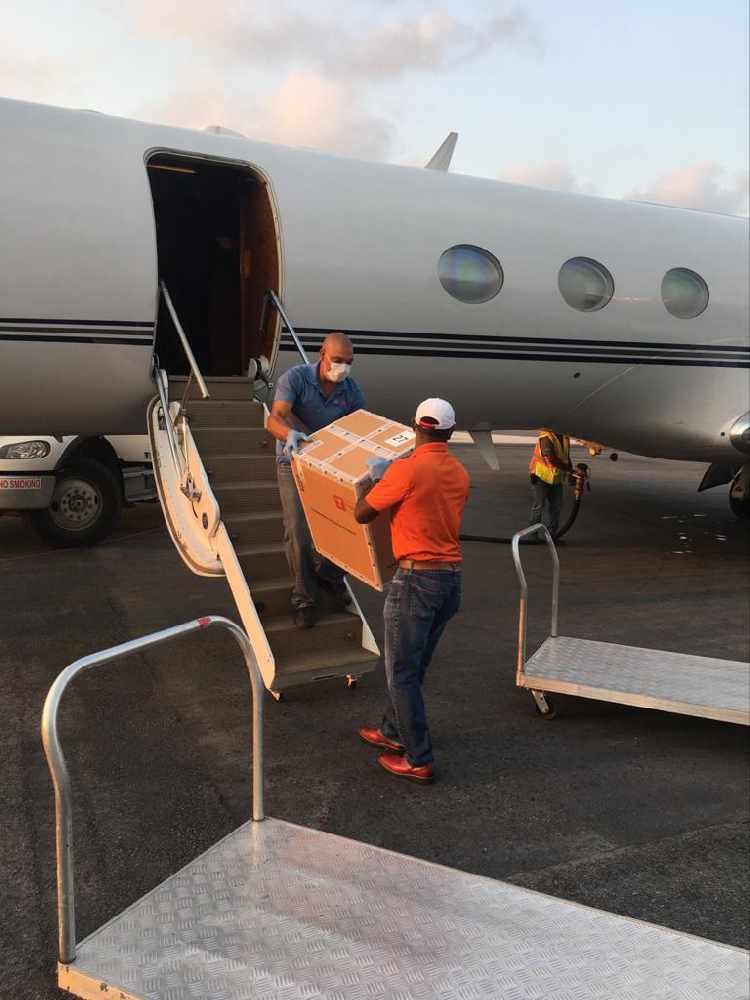 One hundred and sixty-five thousand Covid-19 test kits arrived on Grand Cayman this morning with a further 35,000 on their way via London. The consignment of tests kits was procured in South Korea and delivered here on a long-range jet.
The complex and challenging arrangements for the procurement and consignment were led by the Governor's Office in collaboration with the Cayman Regiment, the Ministry of International Trade, Investment, Aviation and Maritime Affairs, the private sector and the British Embassy in Seoul who undertook due diligence to assure the quality of the testing kits and helped with local logistics.
The team also worked closely with local businessmen Mr Vernie Coe and Mr Craig Merren who provided the initial contacts for the suppliers. The logistics were supported by the Dart Corporation who arranged and funded the aircraft charter to fly the consignment from Seoul via Anchorage to the Cayman Islands. Thirty-five thousand kits had to be sent via commercial means via London due to capacity constraints on the chartered aircraft and will arrive at a later date.
The overall cost of the kits was US$4.4 million. Representing a cost per kit of US$22. In an incredibly generous gesture, local philanthropist Mrs Susan Anne Olde OBE donated half of the amount for the purchase.
The Governor said: "Moving consignments around the world is proving extremely difficult at the moment, so I'm pleased we've been able to get these test kits here in such a short space of time. This consignment will enable our health professionals and front line workers, and large numbers of the public to be tested. This is a huge step in keeping on track with the containment part of our strategy. I would like to pay particular tribute the private sector collaborators we worked with. The generous donation from Mrs Olde and the financing of the aircraft by Dart demonstrate the real strength that we can bring to this fight when we combine government and private sector resources and expertise"
Premier Alden McLaughlin said: I would like to add my thanks to all involved in this operation. I know how challenging it was to source, procure and transport a consignment like this from the other side of the world in such challenging times. The work and generous donations from the private sector were instrumental. Cayman is now in a much better place in our ability to ramp up testing and keep everyone safe"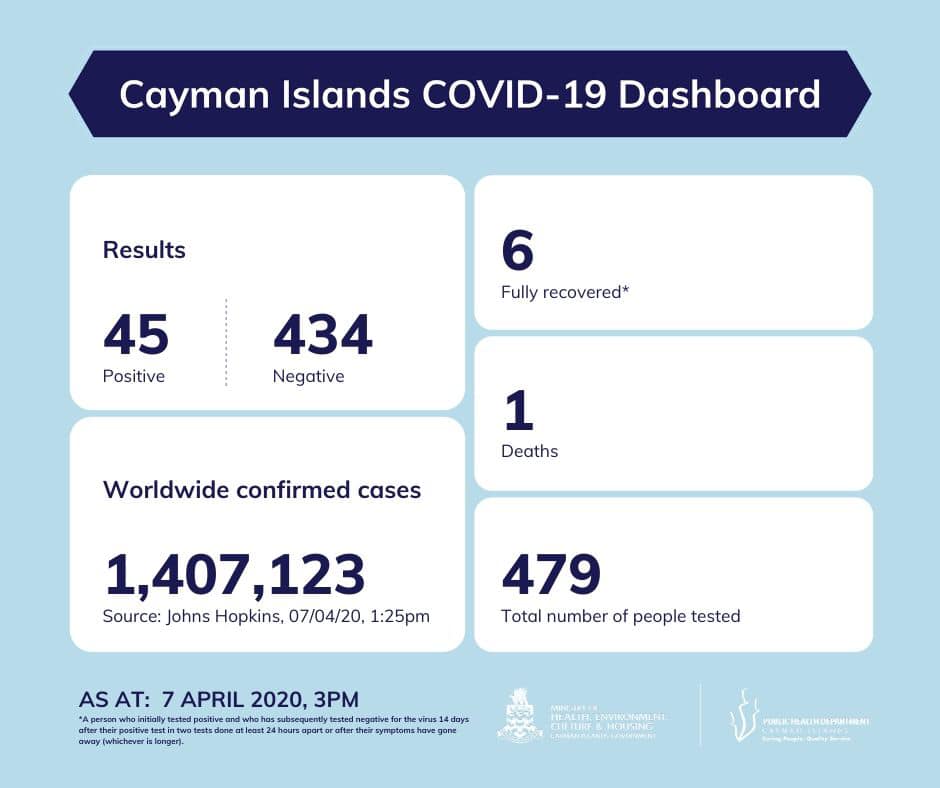 Coronavirus Update Press Briefing April 7 2020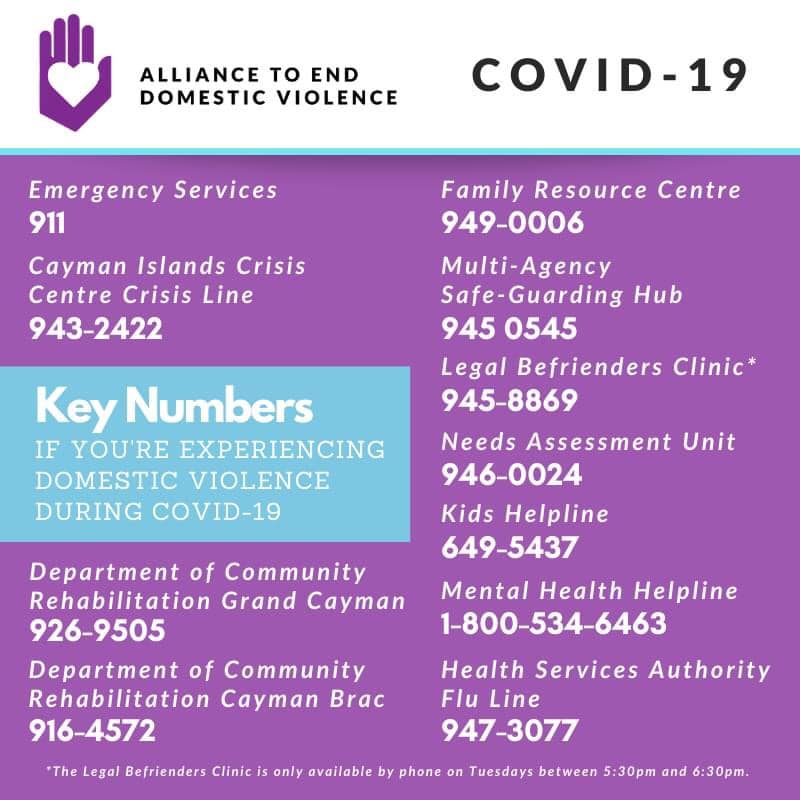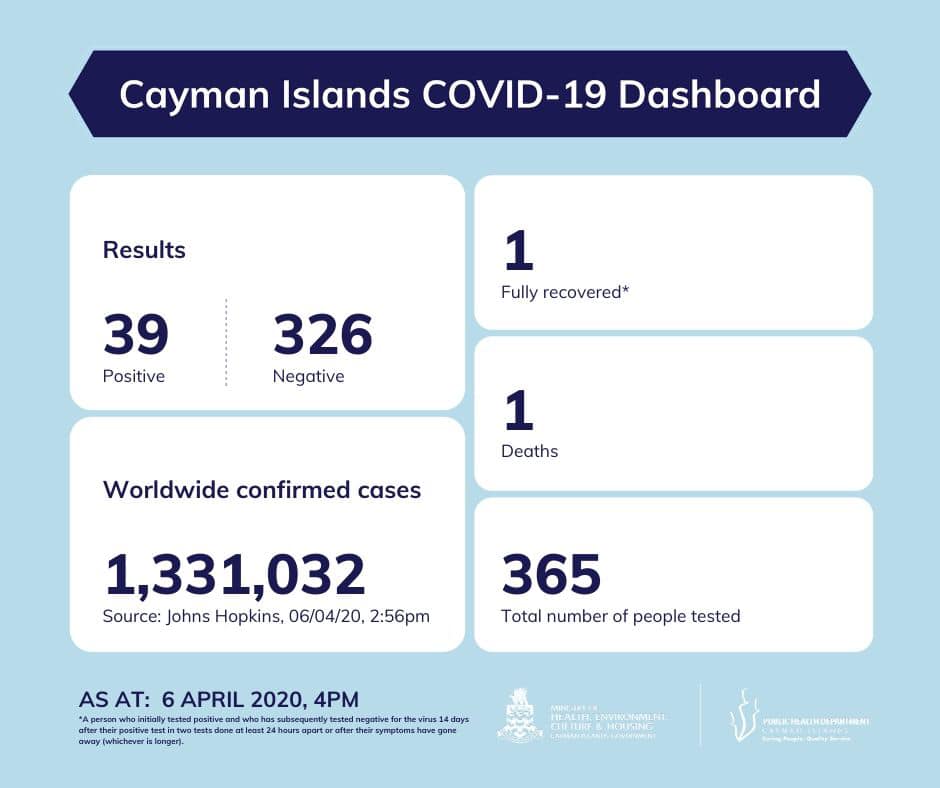 Coronavirus Update Press Briefing April 6 2020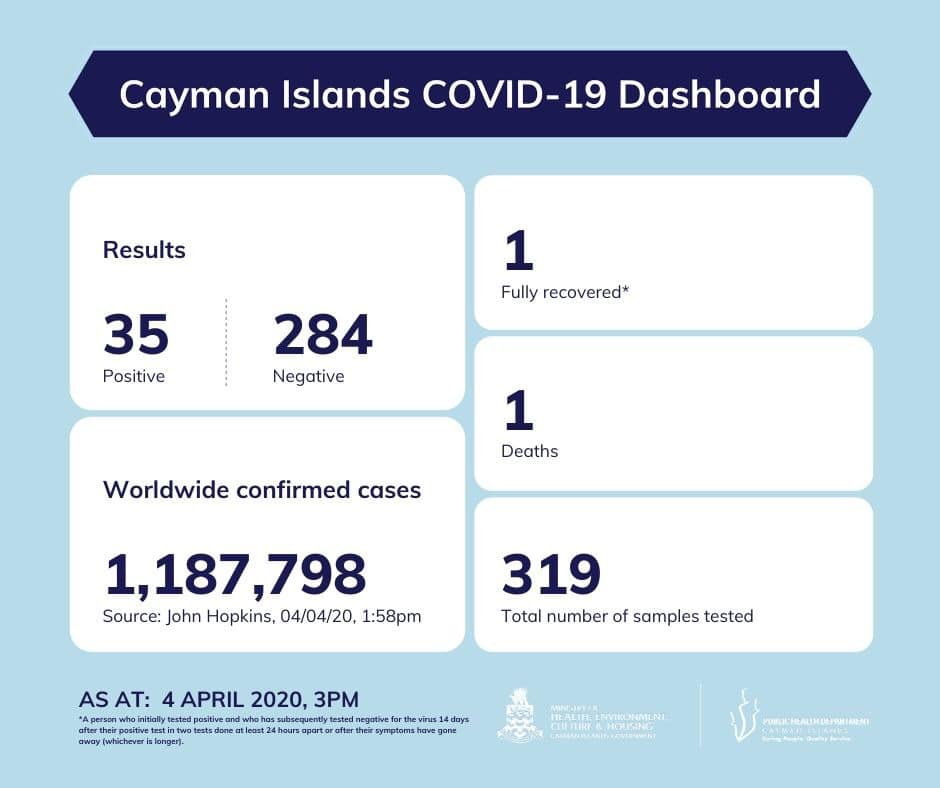 Coronavirus Update Press Briefing April 4 2020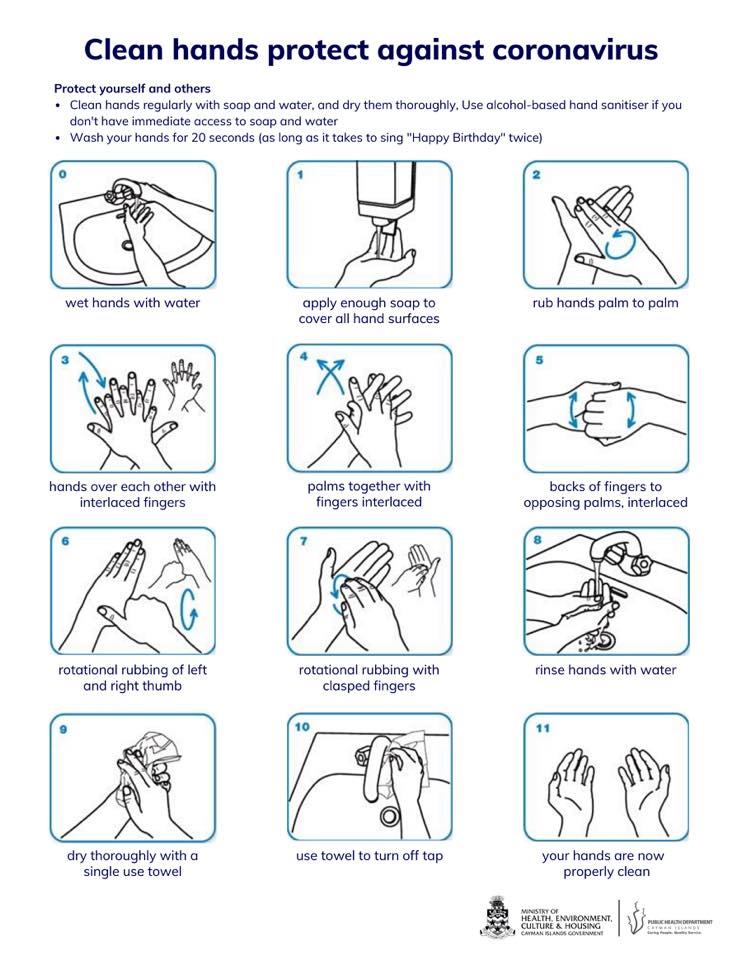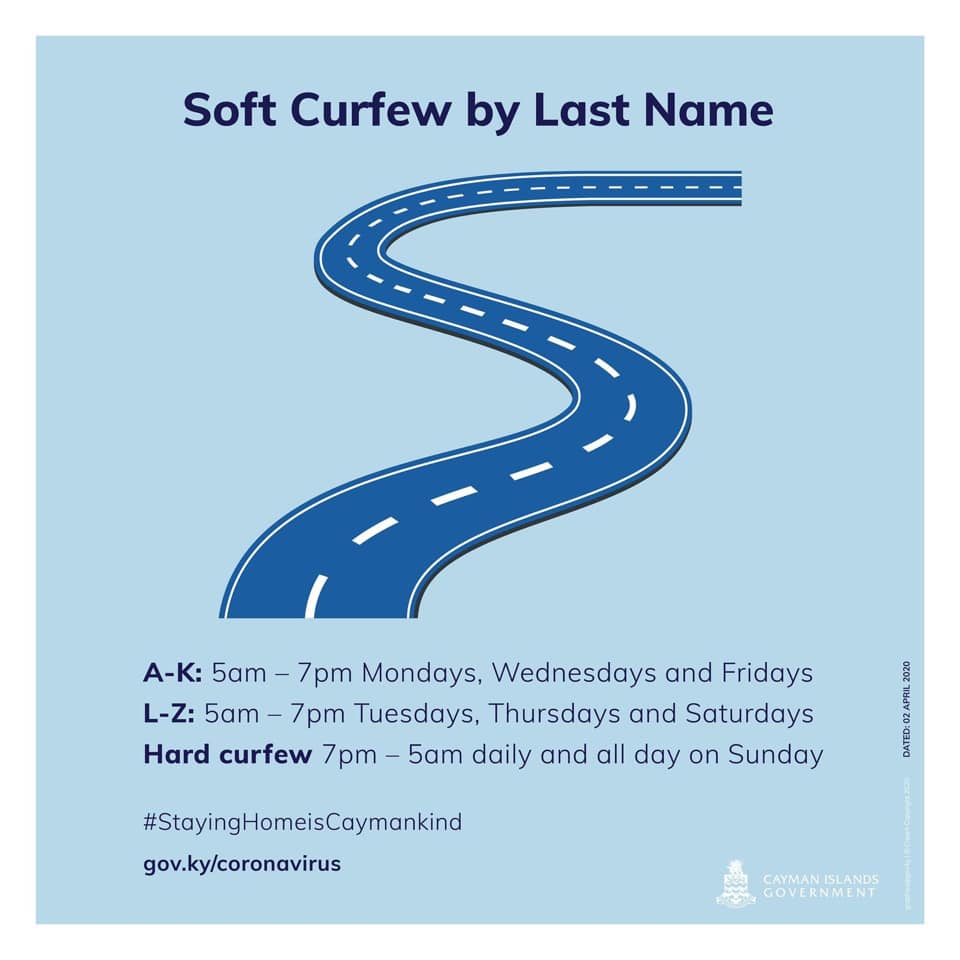 Link to Cayman COVID-19 Information Guide (Volume 1)
Released April 3 2020 4:55pm

Coronavirus Update Press Briefing April 3 2020

Restaurant Updates
The Cayman Islands Chamber of Commerce has over 70 members in the restaurant industry. The list below is being updated frequently to keep you informed about the availability of your favourite meals during COVID-19 developments.

COVID-19 Dashboard for April 2, 2020
Released April 2 2020 4pm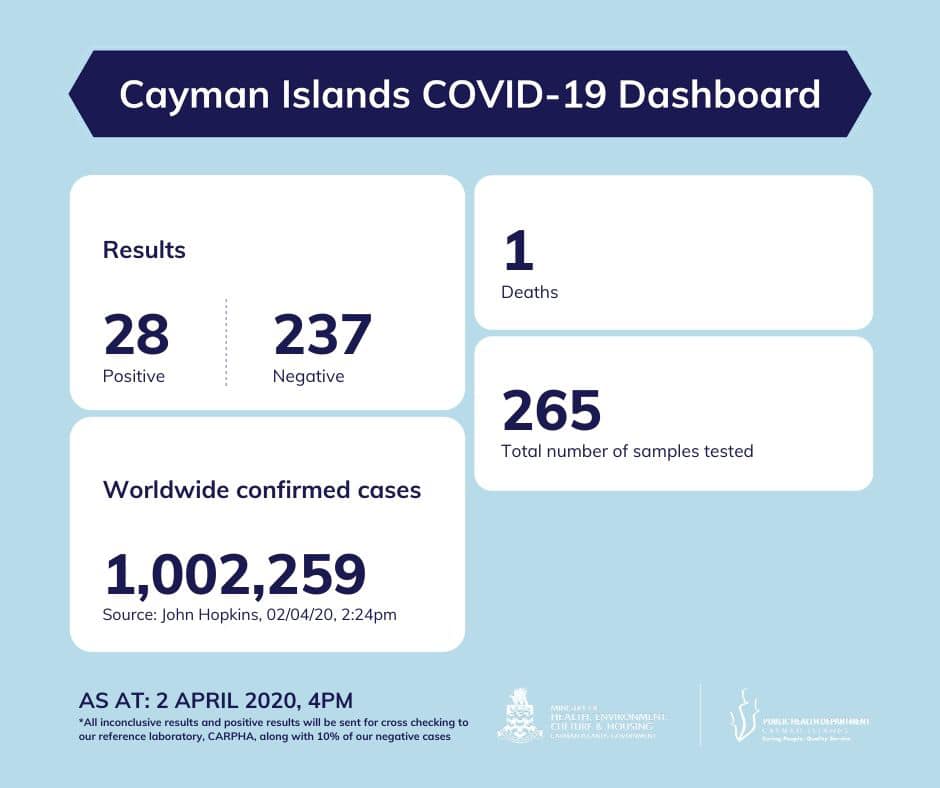 Coronavirus Update Press Briefing April 2 2020


FOSTER'S | RUMOR CONTROL
Released April 2, 2020 2:01pm
Foster's reassures that unsubstantiated rumors are false
Recently, a rumor has circulated that team members at Foster's have tested positive for COVID-19 and are still working. This rumor is unsubstantiated and completely false.
We take the health and safety of our team and community extremely seriously and would not knowingly put anyone at risk. To help ensure this, we've put the following policies in place.
Any team members who returned from leave overseas were asked to immediately self-quarantine for a period of two weeks before starting back at work.

Any team member living with someone who was quarantined, was also asked to self-quarantine for two weeks.

Any team member who does not feel well, is asked to stay home from work, and if they are presenting with flu-like symptoms, to call the HSA flu hotline or use the online self-assessment tool immediately.

Elderly and immuno-compromised team members have been given the option to stay home during this time should they wish.

All team members are required to wash their hands and sanitize their workstations frequently throughout the day.
On top of the measures put in place at our stores to keep customers and team members safe, healthy and socially distanced, plexiglass protective shields for each of our registers and customer service counters and protective face shields for our front end team have been ordered.
In these difficult times, we discourage the spread of rumors and fake news as they create unnecessary panic and stress within the community. Should rumors surface, and you feel unsure or have questions, we ask that you reach out to us directly at info@fosters.ky.


Coronavirus Update Press Briefing April 1 2020


Covid-19 Dashboard for March 31, 2020
Released March 31 2020 3:13pm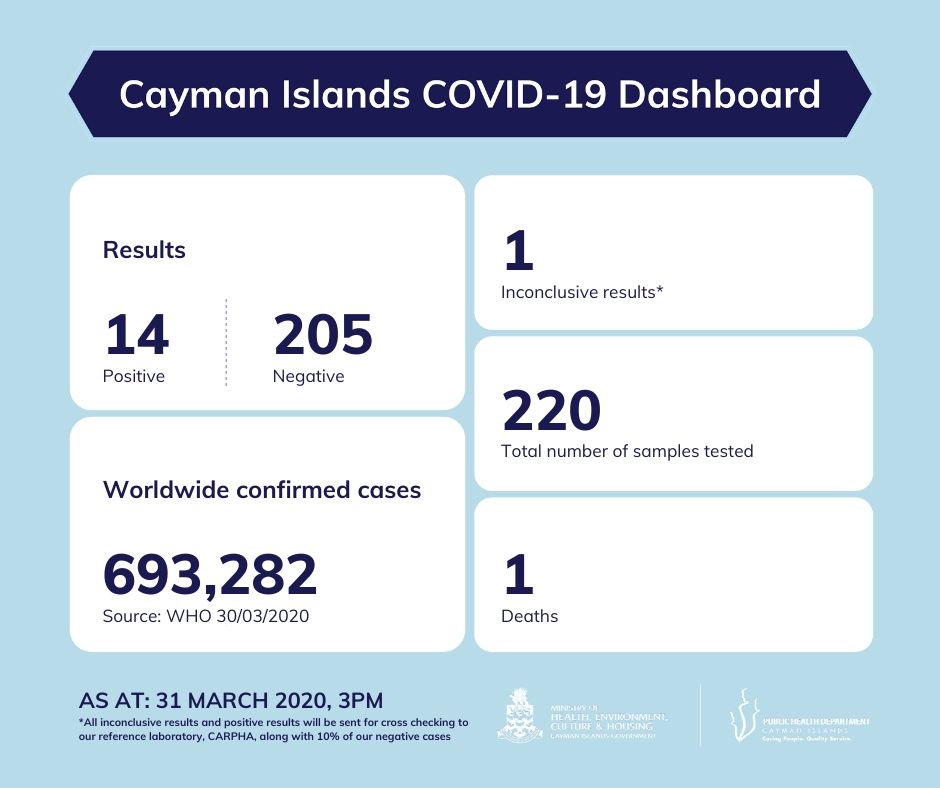 Coronavirus Update Press Briefing March 31 2020

Please stay home if you can
Released March 31 2020 11:05am

Update on banking by last name
Released March 31 2020 10:59am

New cough that won't go away? Feeling feverish? Visit https://t.co/2mvy98nWLp for the self-assessment tool to quickly check if your symptoms might be #coronavirus and what to do next. pic.twitter.com/9jphhOzr9X

— Cayman Islands Government (@caymangovt) March 30, 2020

Cayman Islands COVID-19 Dashboard
Released March 30 2020 3:54pm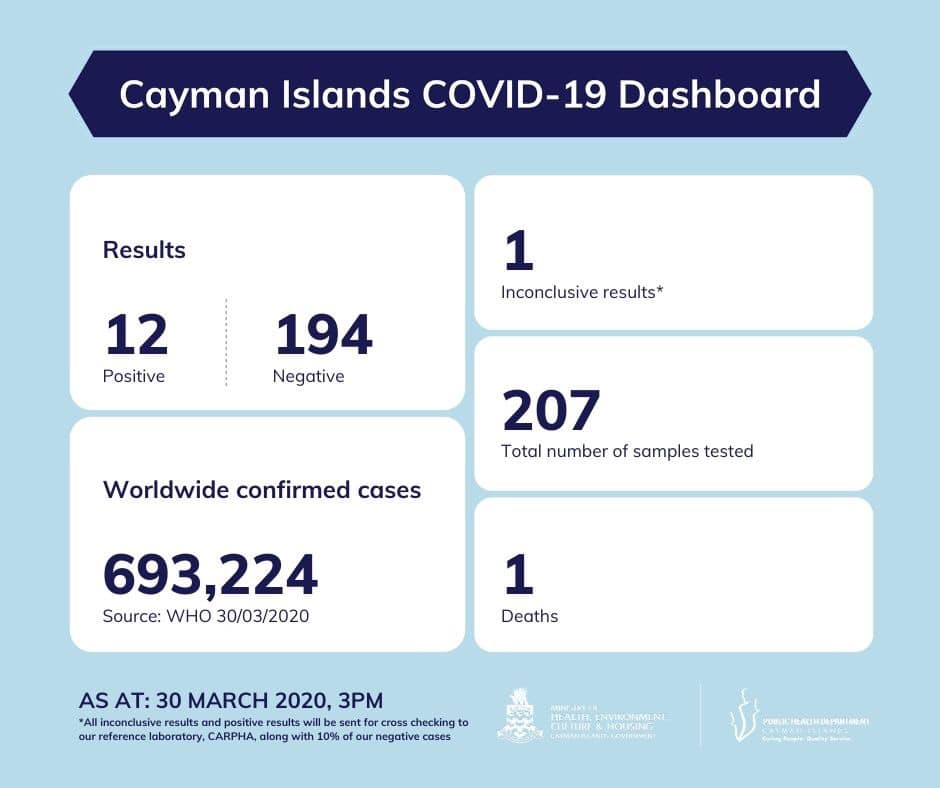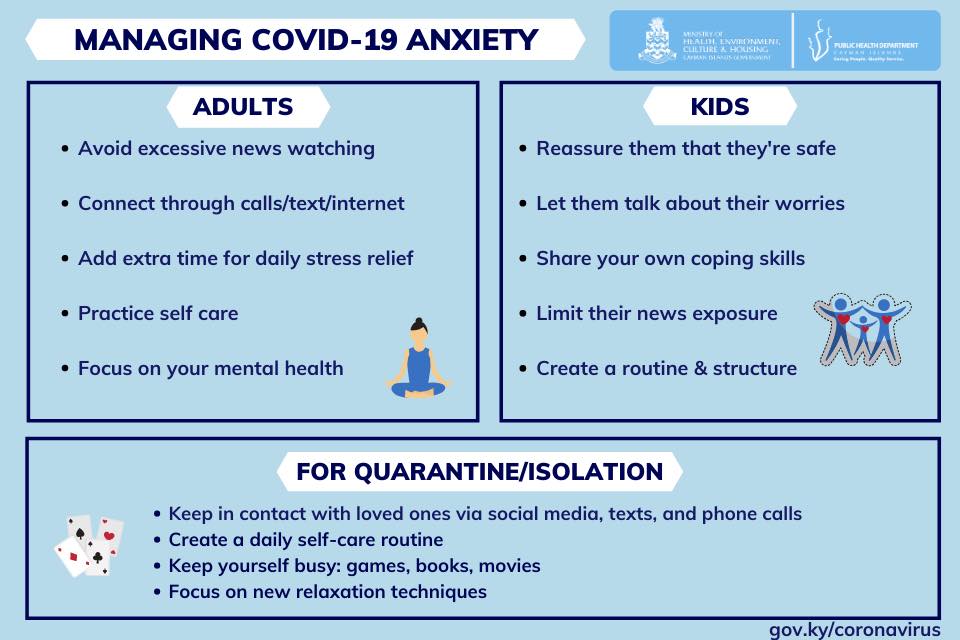 Coronavirus Update Press Briefing March 30 2020


Today's Dashboard
Released March 29 2020 4:48pm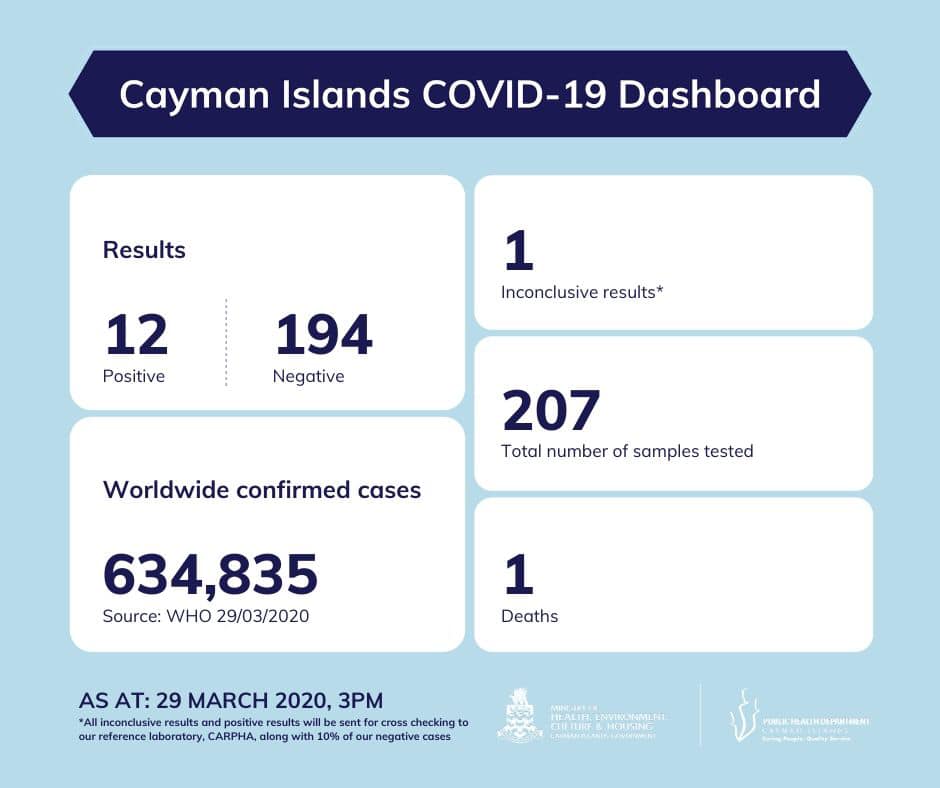 Coronavirus Update Press Briefing March 29 2020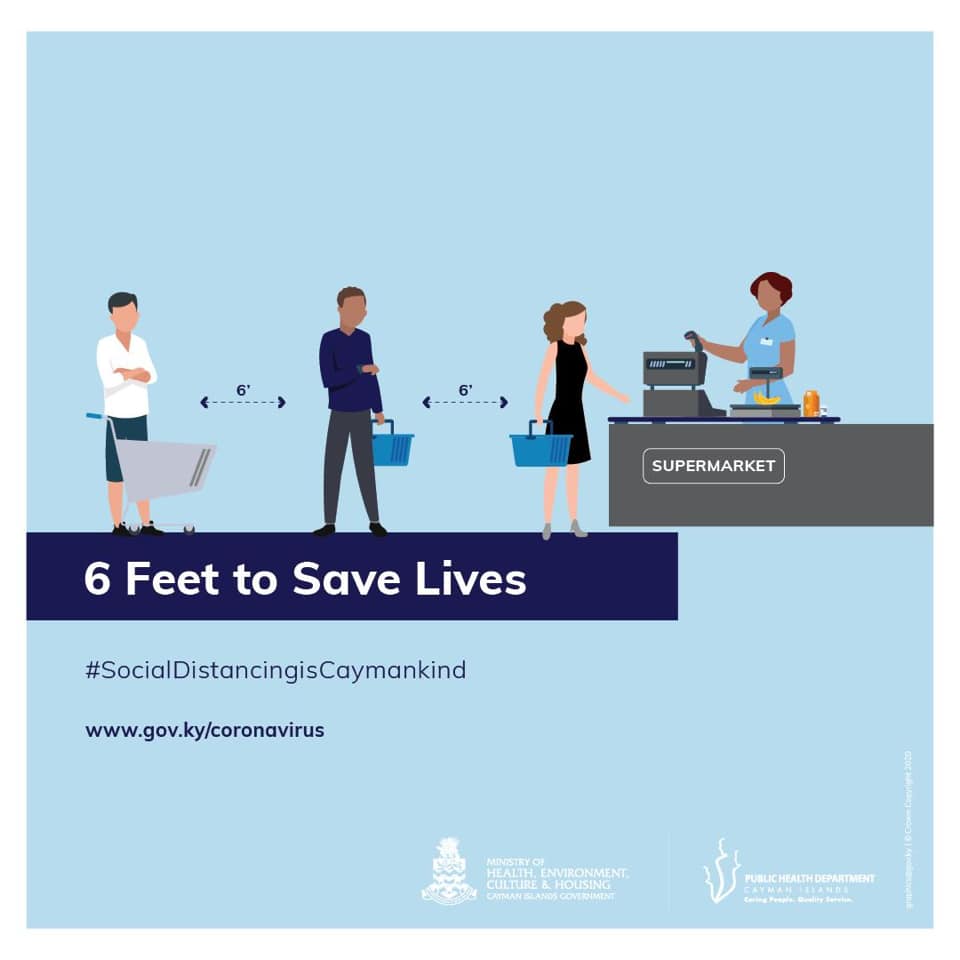 Coronavirus Update Press Briefing March 28 2020






Statement from the Governor's office
Released March 27 2020 4:45pm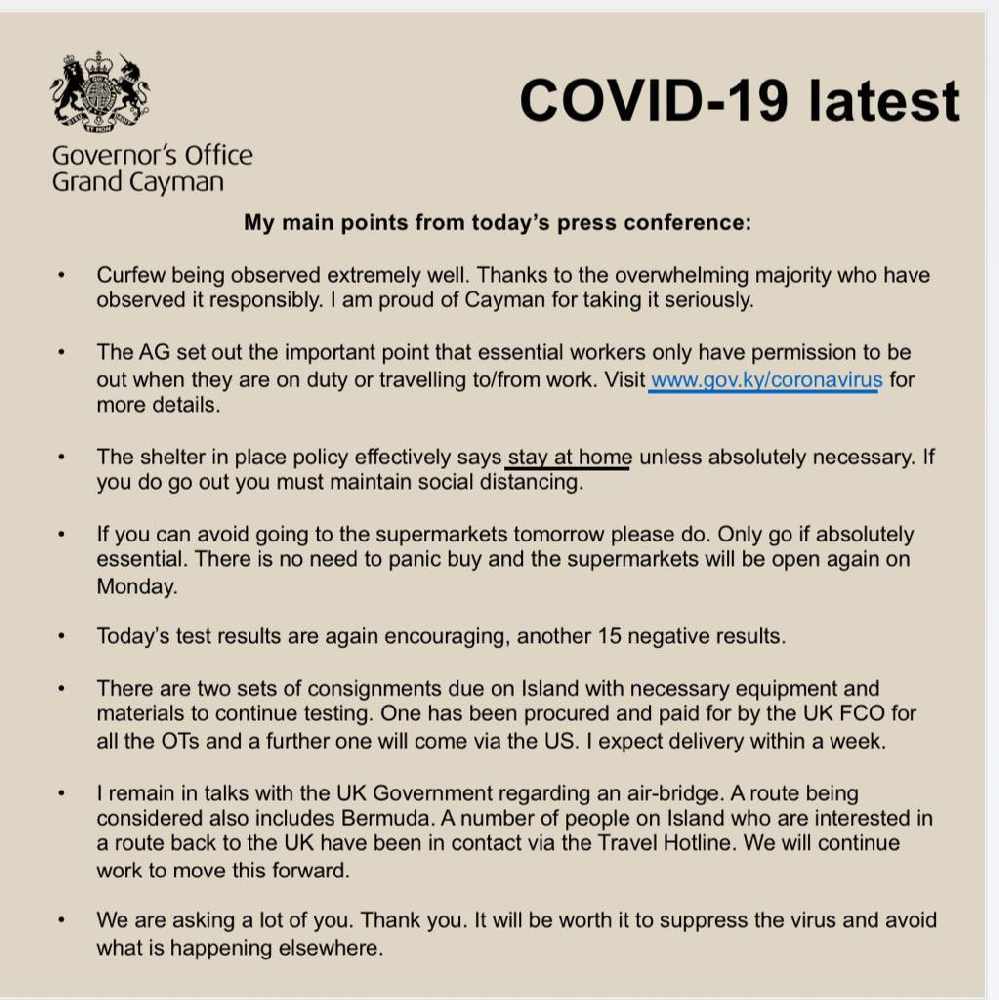 Coronavirus Update Press Briefing March 27 2020

Today's Dashboard (48 out of 48 negatives for virus returned)
Released March 26 2020 3:42pm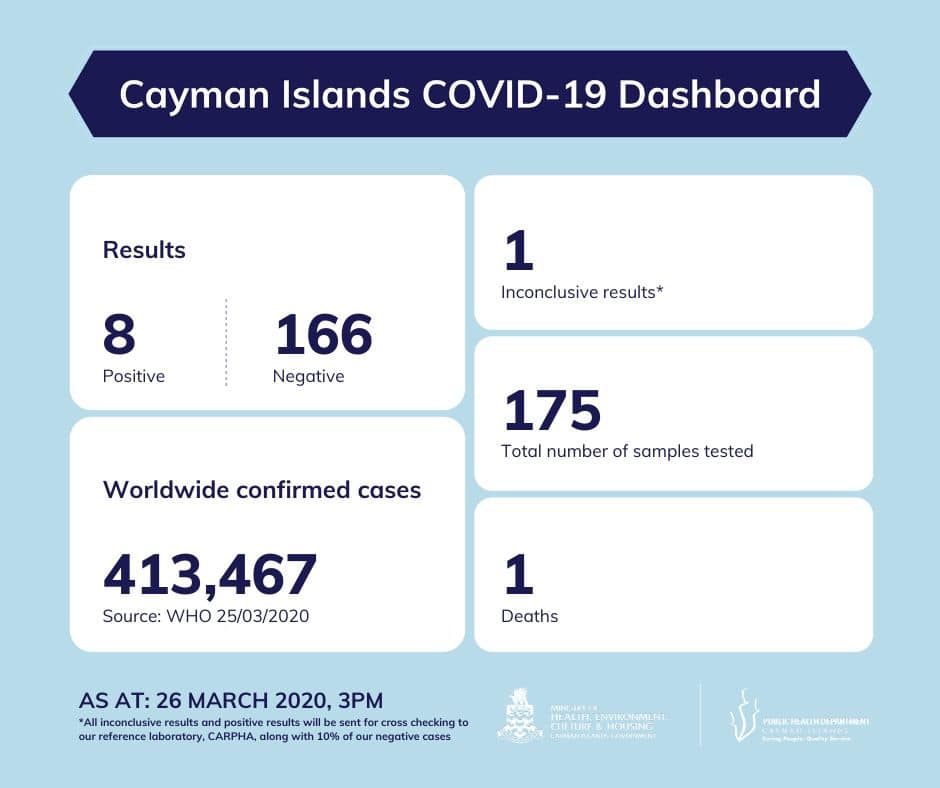 Coronavirus Update Press Briefing March 26 2020





COVID-19 in the Cayman Islands Update
March 25 2020
1. TWO (2) additional suspected cases have been confirmed as POSITIVE and another previously reported negative result has now been confirmed as POSITIVE. This brings the total now to NINE* (9) with 1 deceased.
(*This number includes 1 preliminary positive result tested locally but still awaiting confirmation from CARPHA.)
The 9 positive cases are broken down as follows:
- 6 related to Health City Cayman Islands (including the 1 deceased)
- 2 related to travel history outside the Cayman Islands
- 1 related to community transmission (still awaiting confirmation from CARPHA)
------------------
2. Effective 7:00pm tonight 25 March, the entire country will be placed on a 24-hour curfew ending at 5:00am on Saturday 28 March.
This is not for a 24-hour period, but for all hours in the day over the period of:
7:00pm 25 March -- 5:00am 28 March.
-------------------
3. No businesses will be allowed to be opened during the new curfew period save for exemptions below.
The following organisations are permitted to conduct business during the curfew period for specific reasons. Not all staff in the organisation will be considered essential. The businesses will need to seek approval for specific staff members by contacting curfewtime@gov.ky.
- All emergency services (Police Service, 911 Call Centre, Fire Service, Prison Service, private security firms, and Customs & Border Control)
- Government Departments namely: DOE (for marine enforcement), MRCU (for spraying and mosquito control), DCFS (for emergency family work), National Weather Service, CIAA (and Island Paving) (for continuing the runway works), CAA, DVES (for emergency vehicle service only)
- Solid waste (Department of Environmental Health, Island Waste Carriers, and JUNK)
- Medical facilities (Health Services Authority, Health City Cayman Islands, CTMH Doctor's Hospital, ambulance services, and all private doctor's offices for personal emergency care)
- Food & Warehouse Distributors (Only staff that are shipping, receiving, or warehouse processing)
- Restaurants (for delivery ONLY; staff including cooks and delivery drivers)
- Charity Organisations that provide emergency/urgent care: Meals on Wheels, Cayman Crisis Centre, Jasmine Hospice, and Feed Our Future.
- Specialist Care: Elderly/vulnerable; veterinary services (for emergency care only); care for animals in captivity;
- Utilities & Infrastructure (Port Authority, Water Authority - Cayman, Cayman Water Company, CUC, C3, Logic, Digicel, and FLOW)
- Members of the press and other media
- Minister/Members of Cabinet and the Legislative Assembly
- Office of the Premier staff
- Office of HE The Governor staff
- Cabinet Office staff
- Director of Public Prosecution staff
- Judicial Administration staff
- Attorney General Chambers staff
- NEOC Members

Coronavirus Update Press Briefing March 25 2020


March 24 2020 Update
Released March 24 2020 9:18pm



WORC Offices Closed due to COVID-19 – Advises persons to shelter in place at home
Released March 24 2020 8:20pm
Due to the COVID-19 "Shelter in place at home" suppression measures, the WORC offices will be closed from March 25th until April 5th 2020.
Individuals with work permit facilities that expire during this period may continue working on the same terms and will be required to report to WORC once the shelter in place at home measure is lifted.
Permanent Residency holders whose right to work fees become due during this period may also continue to work under the same terms and submit the requisite payment and documentation to WORC once the shelter in place at home measure is lifted.
For information email generalqueries@worc.gov.ky or WhatsApp 925-7199.
Do your part to save lives. #SocialDistancingisCaymanKind
For official government statements and information on COVID-19 visit www.gov.ky/coronavirus.

HSA Pharmacies expand refill services with WhatsApp
Released March 24 2020 4:56pm
The Cayman Islands Health Services Authority Pharmacy has launched a WhatsApp service allowing members of the public requiring prescription refills to submit them via WhatsApp for next day pick up across all HSA pharmacies. Persons utilizing this service are to take a photo of their prescription label and send it to 925-6534 (Grand Cayman) and 916-9555 (Sister Islands).
The Cayman Islands Hospital Pharmacy has new hours of operation 7am – 5:30pm Monday – Friday and 8:00am – 5:30pm Saturday & Sunday to accommodate the Government's mandatory island-wide curfew. Over the coming days an alternative collection point for refills will be announced to help reduce the amount of persons needing to come to the main pharmacy. "We have seen a spike in demand due to new guidance issued calling for social distancing and self-isolation," said Colin Medford, HSA Chief Pharmacist. "Similar to the protocol practiced during hurricane season, we are able to dispense one month of medication at a time and in most cases, persons with available refills, who have not received these medications in the past two weeks, can request an extra month's supply." We encourage persons who require a refill to avail of our refill resources in order reduce their need to travel or wait in line in public spaces."
Prescriptions refill options:
Phone – Call 244-2715 or 244-2716
WhatsApp - send a photo of your prescription label to the pharmacy is now 925-6534 (Grand Cayman) and 916-9555 (Sister Islands)
Online - fill out the online form on the HSA website www.hsa.ky
Dropbox - refill drop box service is located outside of the Cayman Islands Hospital Pharmacy
In person (same day refill)
Civil Servants at the Government Administration Building can call request refills which are delivered daily (Monday – Friday) to GAB
Refills can also be called into the General Practice Clinic 244-7520 or 244-7683.
All refills will be ready within 24 hours. If you have a new prescription, these can be submitted in the in person for same day pick up or in the drop box for next day pick-up. If you require a new prescription, please contact your doctor. Doctors may fax prescriptions to 244-2714 or email outpatient.pharmacy@hsa.ky
District Health Centre pharmacy locations which were previously opened until 8pm will now close at 5:00pm For more information and hours of operation visit www.hsa.ky

Coronavirus Update Press Briefing March 24 2020
Released March 24 2020 4:45pm
Supermarket Opening Hours With Effect Today 24th March 2020
Released March 24 2020 3:45pm
Hurleys Marketplace - Monday Through Saturday 7am - 6pm
Fosters - Monday Through Saturday 6am - 6pm / Sunday 9am - 5pm
Kirk Market - Monday Through Saturday 7am - 6pm
CostULess - Monday Through Saturday 8am - 6pm

Spreading Fake News Is A Criminal Offense
Released March 24 2020 1:45pm
The Governor @martynroper reiterated again today that spreading fake news is a criminal offence and should be reported to the police.

Remember: if it doesn't sound right or you haven't heard the information before, use a reliable source for verification https://t.co/2mvy98nWLp. pic.twitter.com/AKE1YvTNVN

— Cayman Islands Government (@caymangovt) March 24, 2020

Statement from the Governor's office
Released March 24 2020 11:45am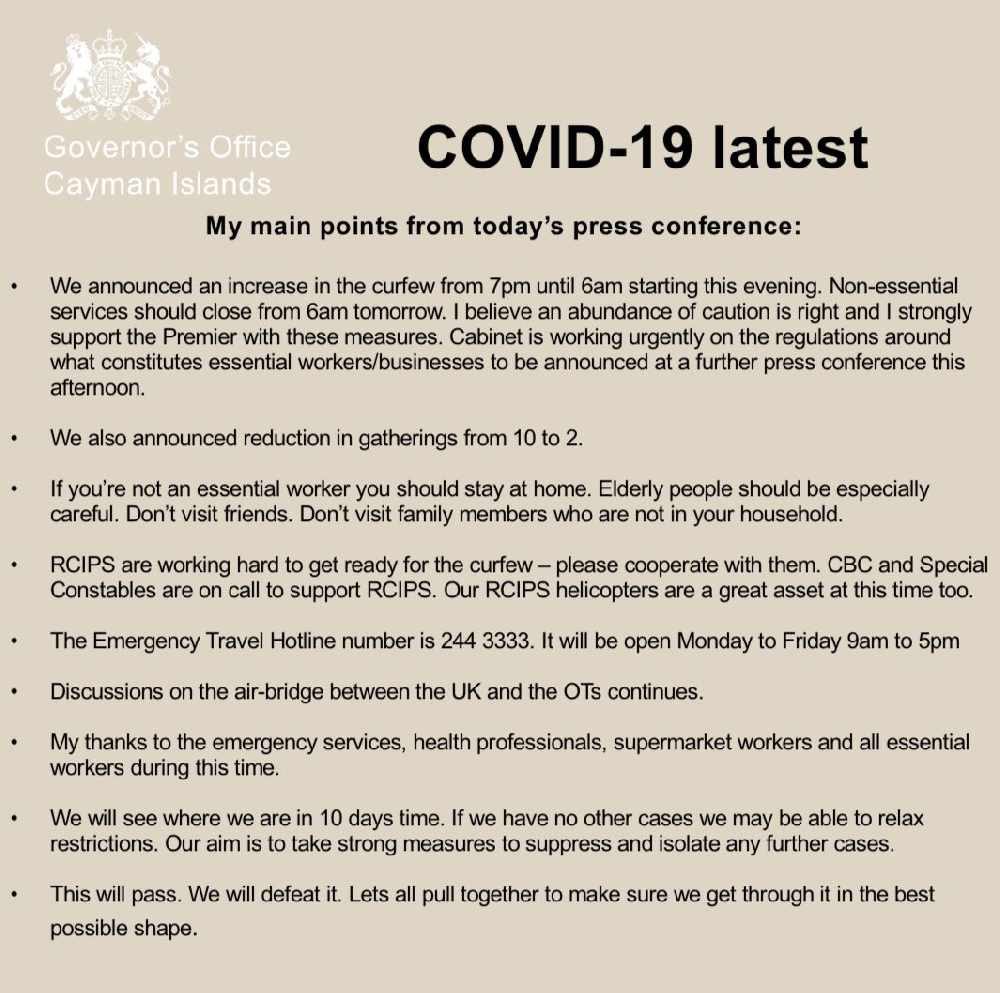 Coronavirus Update Press Briefing March 24 2020
Released March 24 2020 10:01am

Updates as of March 23 2020
Released March 23 2020 4:01pm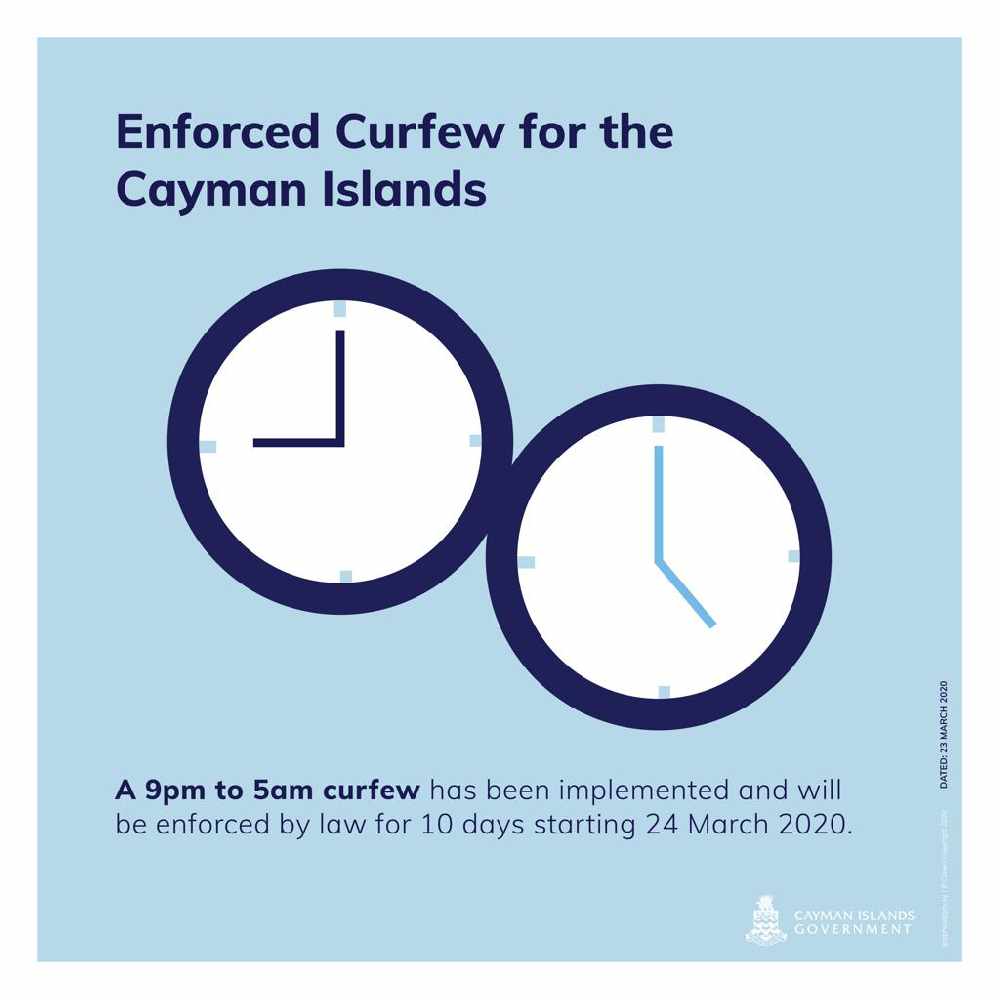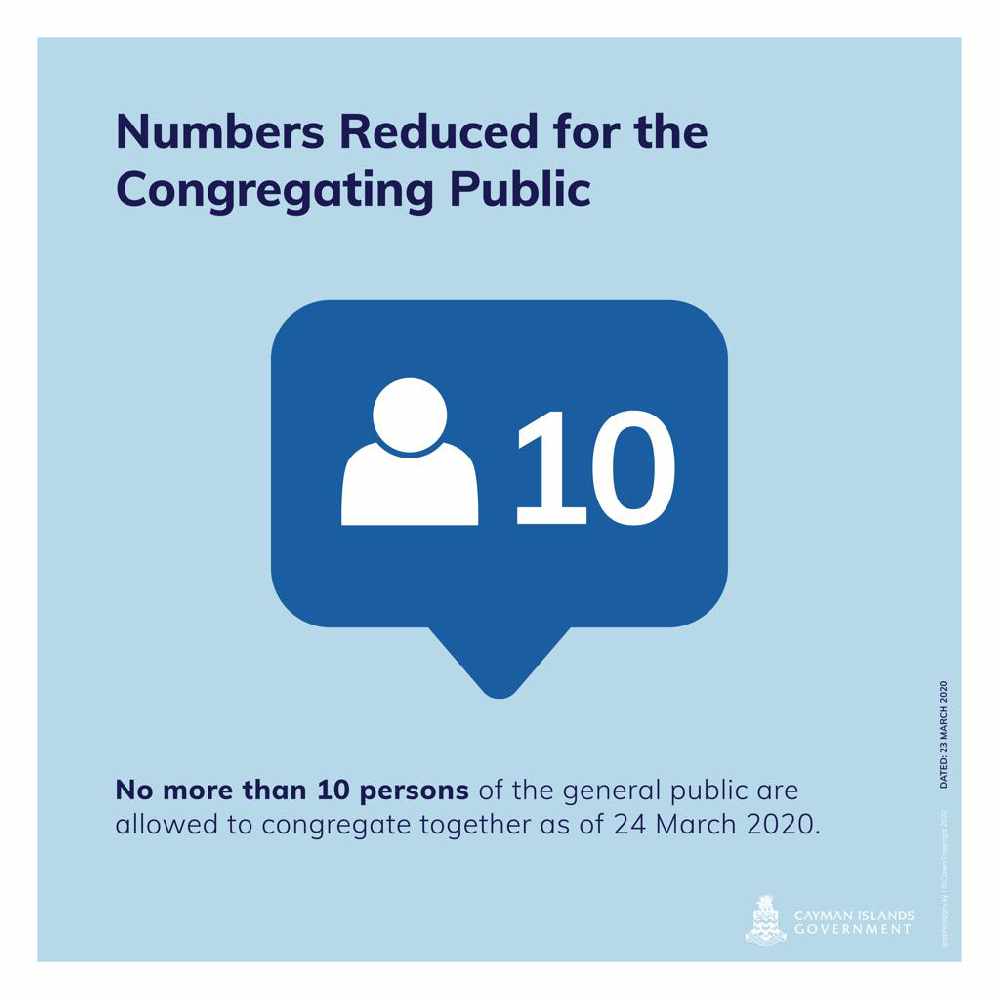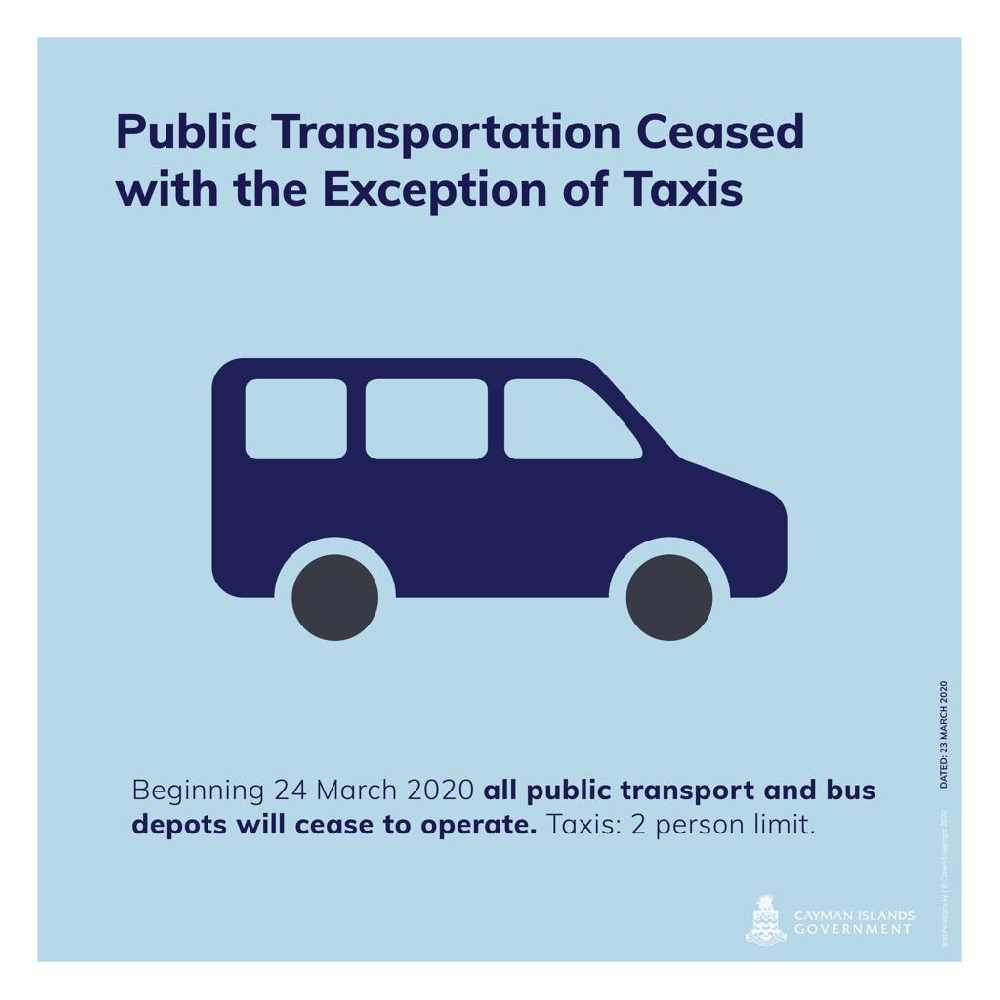 Coronavirus Update Press Briefing March 23 2020
Released March 23 2020 2:01pm

CIBC FIRSTCARIBBEAN OFFERS SPECIAL FINANCIAL ASSISTANCE TO CLIENTS AFFECTED BY COVID – 19
Released March 23nd 12:35pm

Cayman Supermarkets Set Product Limits
Released March 23nd 9:00am
Supermarkets set purchase limits on grocery, frozen and HBC department items.

Over the last two weeks, the island has watched as cases of COVID-19 spread across the globe forcing countries to close borders and take drastic measures to protect their citizens.

Around the world, disinfectants, shelf-stable grocery items and analgesics have been in extremely high demand putting strain on manufacturing and supply chains.Foster's Supermarket, Priced Right, Kirk Market, and Hurley's Marketplace have come together to address the effects COVID-19 has had on the production and supply of products.

While we're all still receiving multiple shipments per week, the challenges we continue to face to ensure products are on the shelves are many.In an effort to ensure product is available for as many of our country's citizens as possible, we have decided to implement the following product limits across all Foster's Supermarket, Priced Right, Kirk Market, and Hurley's Marketplace locations, effective Monday, March 23rd:

• Limit 2 products, per UPC, per customer on the entire grocery, frozen, and health & beauty care department items.
• The meat, seafood, produce, dairy, deli and bakery departments will remain limit free.

As an example, a customer can purchase two Quaker Instant Oatmeal Original Flavor, two Quaker Instant Oatmeal Variety Packs, and two Tombstone Frozen Pizzas at the same time.All Foster's Supermarket, Hurley's Marketplace, Kirk Market, and Priced Right locations will implement the above limits.

While this limit may seem like it could be cause for panic, it's not. Shipments are still coming in multiple times a week and the supermarkets are still sourcing product from any quality source we can.We've come together to help ensure product is available for as many people as possible during this uncertain time.

Putting the product limits in place stops panic buying and should keep products on the shelf longer.In speaking with our suppliers, we will continue to get product and shipping lines continue to say that the ships will sail.We continue to urge people to look at their shopping and consumption habits during this time, and plan for the coming weeks.

While the uncertainty around COVID-19 remains, customers can rest assured that the supermarkets in Cayman are taking action to keep shelves stocked and stores clean for customers.

We're committed to providing the best service possible, and we ask that the community remain calm, think rationally and use proper hygiene practices throughout the day. We recommend designating one shopper per household to reduce the number of people in store and avoid doubling up on items.

When in store, maintain safe social distancing, use a debit or credit card to pay when possible, and sanitize your hands and the shopping cart or basket handles when entering the store.

Customers with questions on product availability can speak to team members in store, email the store directly or reach out to the supermarket's respective social media channels.

Isolation Order For Returning Travelers
Released March 22nd 5:00pm

Cayman Islands COVID 19 Dashboard
Released March 22nd 3:00pm

New Confidential Mental Health Helpline Launches
Released March 22nd 2:00pm

Travelers returning from Abroad and Sister Islands travel
Released March 22nd 12:56pm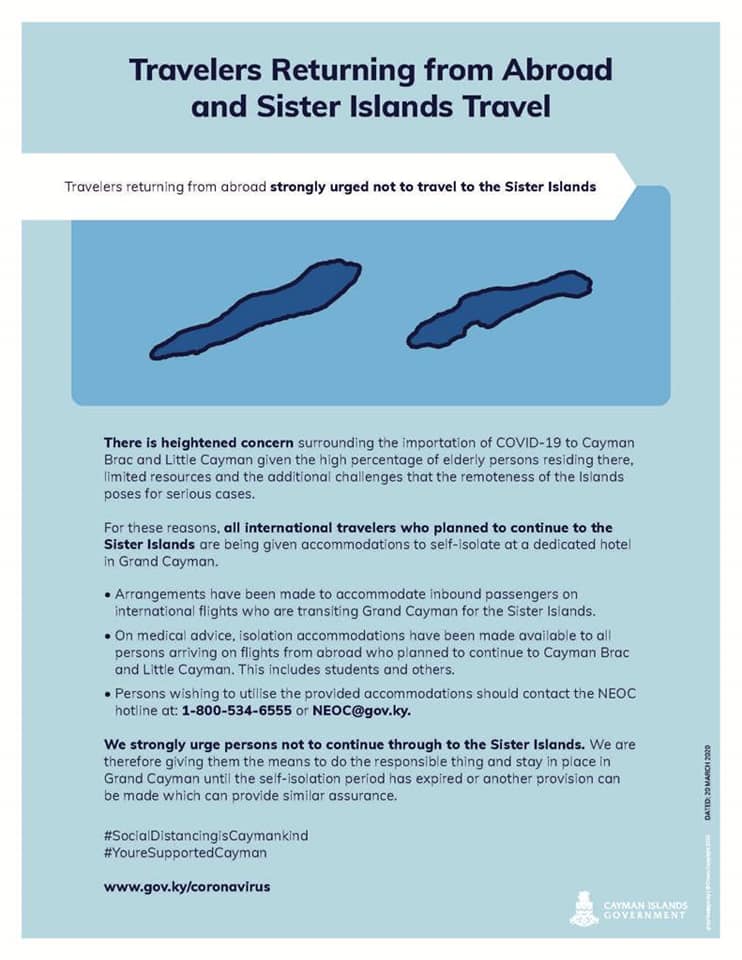 From John Lee (CMO Cayman)
Released March 22nd 12:39pm

CMO Orders Self-isolation
Released March 22nd 10:04am

World Water Day
Released March 22nd 9:01am

Education, Agriculture Updates for COVID-19
Released March 21st 7:09pm

Ministry Considers Support for Non-Caymanians
Released March 21st 7:05pm

Statement from the Chief Medical Officer, Dr John Lee
Released March 21st 1:49pm

Isolation Facility Drop-off Hours Change
Released March 21st 1:48pm

Student Taken To Hospital For Assessment
Released March 21st 12:54pm

No further COVID-19 cases among Health City staff
Released March 20th 4:15pm

Centre for Business Development To Open
Released March 20th 3:50pm

CBC Extensions & Visa Counters Closing 23 March
Released March 20th 3:45pm

Press Conference - Key Details
Released March 20th 3:15pm

Press conference from the CI Government on the Coronavirus Update - March 20th 2020 2:10pm

Updated Travel Advisory
Released March 19th 9:41pm

Update for March 19th 2020
Released March 19th 9:39pm

Water Authority Office Closure
Released March 19th 5:07pm

Government Schools Outline Plans for Continuation of Learning
Released March 19th 5:20pm

An update from H.E. The Governor Martyn Roper
Released March 19th 5:15pm
March 19, 2020

Cayman Port Authority COVID-19 Update
Released March 19th 2020
This is to advise that the Port Authority of the Cayman Islands is proactively monitoring the COVID-19 situation. As the situation continues to evolve, the Port Authority is focused on the health and well-being of our staff and customers. The following hygiene recommendations, which have been circulated by the Public Health Authorities, are reproduced below:
Wash your hands frequently and thoroughly.

Cover your nose and mouth when sneezing or coughing.

Maintain a social distance of 6 feet between persons.

Stay at home if you feel ill; call the Flu Hotline (1-800-534-8600 or (345) 947-3077) if you are uncertain of your condition.
To assist with maintaining the 6 feet distance between customers in line there will be indicators on the floor at our Billing Office on Portland Road and our Customer Service Office at the Berkley Bush Cargo Distribution Centre.
In addition, we encourage that customers who have established accounts with us to use the online facility to make payments and clear cargo, instead of visiting the Billing Office. If you do not have an account and would like one, please visit our website at www.caymanport.com to sign up. For questions, please email support@caymanport.com.
We strongly encourage our customers to remain calm and sensitive and avoid unnecessary panic and misinformation. We will keep everyone informed of changes via postings to our website and social media platforms. We have developed our contingency plan to ensure the continuous flow of cargo into the Cayman Islands and the continuous operation of our offices.

Press conference from the CI Government on the Coronavirus Update - March 19th 2020 2:10pm

Returning From Overseas To The Cayman Islands
Students Returning From Overseas
Released March 18th 9:20pm

March 18 Press Conference
Released March 18th 5:43pm

Press conference from the CI Government on the Coronavirus Update - March 18th 2020 3:25pm

Water Authority Payment Deferral Policy in response to COVID-19
Released March 18th 3:15pm

Island Grub still offering food delivery
Released March 18th 2:15pm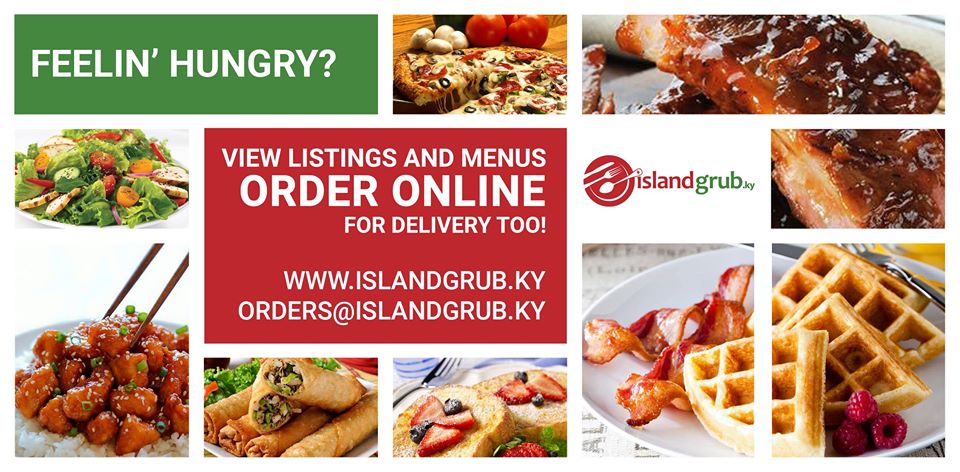 Island Grub will be offering food and beverage businesses who would like to offer delivery and takeout a turnkey local online ordering platform.
Use this online platform and transform your wait staff to drivers or dispatchers!
Keep your staff on island and stay connected to your customers
Reach out to info@islandgrub.ky today
and find out how you can keep your customers fed and happy!
Feelin' hungry? Check out www.islandgrub.ky
The number one source for food and beverage listings on Grand Cayman!

Wendy's take-out still available
Released March 18th 2:00pm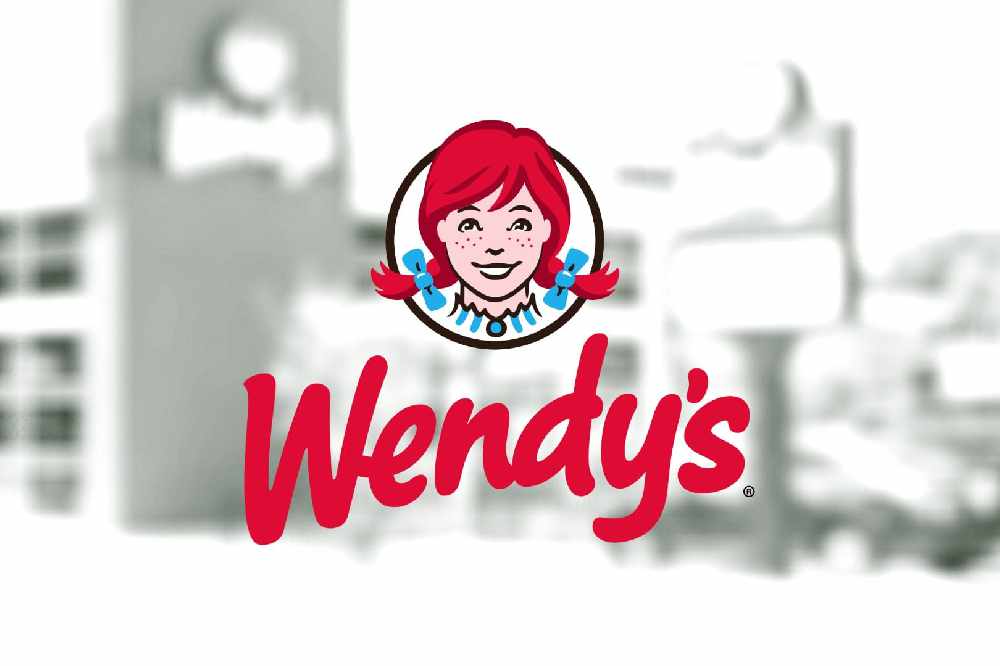 The Awesome Baconator and other Wendy's favourites are still available for take out and drive through at Wendy's Seven Mile Beach and Savannah locations
http://wendyscayman.com/locations-cayman-wendys.html

Travel Advisory Information
Released March 17th 10:27pm

Clarification on Self-Isolation
Released March 17th 8:18pm

HMCIPS Takes Steps to Protect Prisoners against COVID-19
Released March 17th 7:57pm

CBC Visitor Extension Process Varied – COVID-19 Measures
Released March 17th 7:53pm
Released

DCI's Counter will Close Earlier to the Public
Released March 17th 7:52pm
The Department of Commerce and Investment (DCI) wishes to advise the public of the following:
Counter at the Government Administration Building will be closed one hour earlier to the public each day, starting Wednesday, March 18, 3:00 p.m.;
The Trade and Business Licensing Board meeting scheduled for today, March 17 is cancelled and has been tentatively rescheduled for Tuesday, March 31, 2020; and
DCI is unable to guarantee its usual express services for trade and business licence applications.
Members of the public are reminded to use the government online platforms, www.eservices.gov.ky or www.dci.gov.ky to apply for or renew trade or business licences. They can also email info@dci.gov.ky for trade and business and other licensing information.
The main industries of the Cayman Islands include Financial Services, Tourism, Real Estate and Development to which DCI provides business licensing services. Learn more.

All International Mail Services Suspended
Released March 17th 7:55pm

Cayman Airways - Flight Availability to leave Island
Released March 17th 4:30pm
Cayman Airways assures the public that seats are available for persons wishing to leave the Cayman, and for those seeking to return home to Cayman, before the closure of the country's airports at 11:59pm on Sunday March 22, 2020. See link to learn more: https://t.co/z5CQVcGGLW pic.twitter.com/f3Z1pmTcsE

— Cayman Airways (@CaymanAirways) March 17, 2020

Information on self isolation
Released March 17th 4:17pm

Government Press Briefing - Key Details
Released March 17th 3.00pm

Press conference from the CI Government on the Coronavirus Update - March 17th 2020 2:30pm

Judicial Administration Coronavirus COVID-19 Update
Released March 17th 2.00pm

Ministry Suspends Visitors to Group Homes
Released March 17th 10.30am

Regiment Officers Assisting HMCI
Released March 17th 10.22am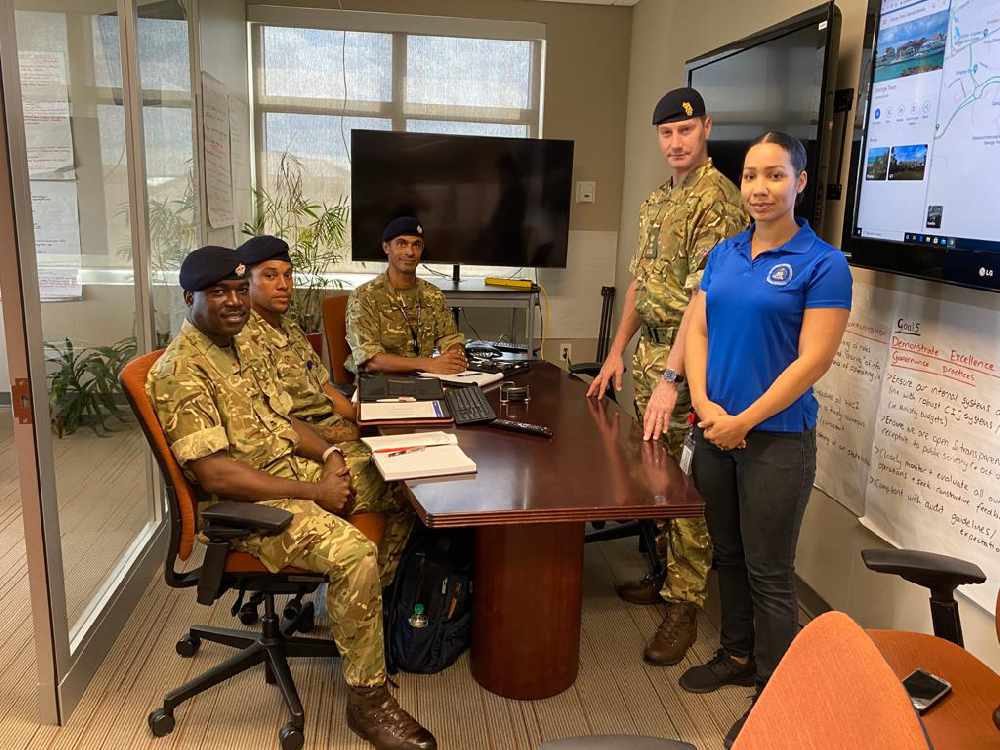 Officers from the new Cayman Islands Regiment have been deployed to support the staff in Hazard Management Cayman Islands (HMCI) as the department works hard on planning to assist with the Government's response to COVID 19. The officers have recently returned from training in Bermuda and will assist HMCI with logistical planning and support.
The Regiment team is also drawing up plans to take forward the recruitment of the first 50 volunteer reservists for the Regiment and more details on this will be released shortly.
Governor Martyn Roper said: "Although the COVID 19 emergency has come before we have been able to recruit reservists for the Cayman Regiment, it is great that the officers that were recently trained in Bermuda are able to support the planning work that is going on. We will also continue to plan recruitment for the Regiment in the coming months. Current events underline the usefulness of having a military team that can assist us in times of need."

Premier's update on COVID 19
Released March 16th 5.20pm

DEH Advises Food Business Operators, Food Handlers on Preventative Measures to Minimise the Future Spread of Coronavirus
Released March 16th 5:15pm

Fosters - Dedicated Shopping Hour
Released March 16th 2020 3:00pm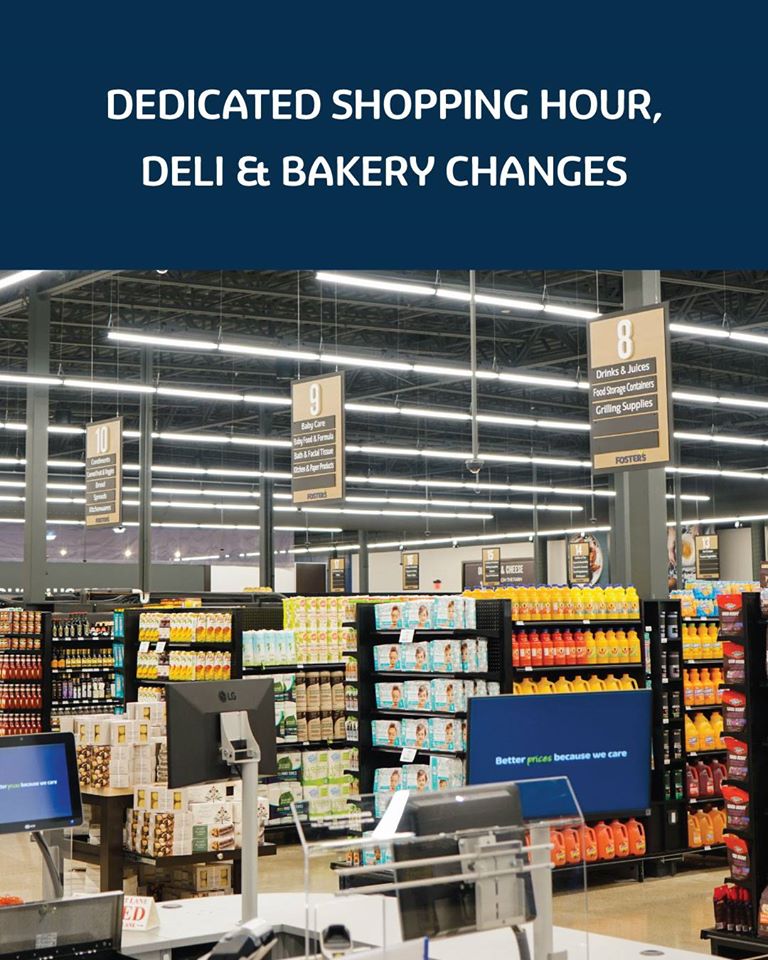 To assist those who are more vulnerable within our community, we will have a dedicated shopping hour from 6AM-7AM for the elderly and those with a disability. This will come into effect from tomorrow (Tuesday 17th March), at all Foster's Supermarket and Priced Right locations.
The wider public are asked to respect this hour as it has been allocated for the elderly and disabled.
DELI & BAKERY CHANGES
During this unprecedented time, we have decided to make changes to our deli and food bar areas. From tomorrow (Tuesday 17th March), the following changes come into effect:
Salad bars at all Foster's locations will be closed, replaced with pre-packaged salads.
Hot bars at all Foster's locations will be changed from self-serve to service only, with a reduced menu offering. We will continue to sanitize and replace serving utensils every 20-30 minutes.
All items in the self-serve pastry cases will be pre-packaged in individual bags.
Thank you for your support and understanding during this time, and we encourage you to continue to follow best hygiene practices, support each other over the next few weeks, and avoid panic buying. As we continue through these uncertain times, we encourage you to responsibly consume the product you've purchased to help conserve stock levels for others in the community.

CAL adjusts booking processes and limits cash transactions
Released March 16, 2020 2:03PM

Press conference from the CI Government on the Coronavirus Update - March 16th 2020 2:15pm

First Coronavirus Patient Passes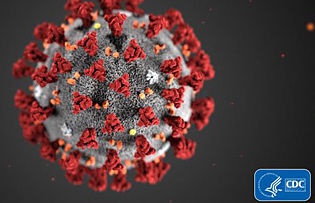 Published 14th March 2020, 10:25am
Government Statement on Passing of COVID-19 Patient
CAYMAN ISLANDS (GIS) – Health City Cayman Islands today Saturday 14 March 2020 announced the passing of the 68-year-old patient who was confirmed as the first COVID-19 case in the Cayman Islands.
Government, including His Excellency the Governor, the Premier, Hon. Alden McLaughlin and Minister Dwayne Seymour, extend condolences to the wife and family of the cardiac patient who was travelling on a cruise ship when he was admitted to Health City in critical condition for urgent cardiac treatment on 29 February.
On the way to the Cayman Islands, the patient had two cardiac arrests and was resuscitated. He had a prior medical history of cardiac issues. On arrival in George Town, he was rushed by ambulance to Health City where he was being treated in isolation at the tertiary care facility's Medical Intensive Care Unit (MICU).

Health City Statement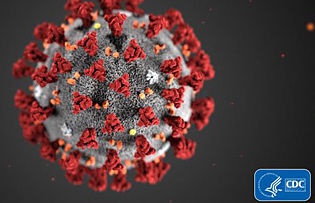 Published 13th March 2020, 11:8am
HEALTH CITY ISSUES COVID-19 UPDATE
CAYMAN ISLANDS (March 13, 2020) – Health City Cayman Islands is reporting a positive result for COVID-19 in a patient being treated in isolation at the tertiary care facility's Medical Intensive Care Unit (MICU).
The 68-year-old man is an emergency patient traveling on a cruise ship, who was admitted to Health City in critical condition for lifesaving cardiac treatment. On the way to the Cayman Islands, the patient had two cardiac arrests and was resuscitated. He had a prior medical history of cardiac issues.
On arrival in George Town, he was rushed by ambulance to Health City.
The man embarked on his cruise on February 25 and arrived in the Cayman Islands on February 29.

First Case of COVID-19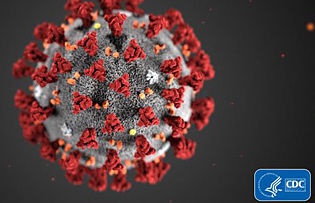 Published 12th March 2020, 5:53pm
First Case of COVID-19 in Cayman Islands Confirmed
CAYMAN ISLANDS (GIS) – The Public Health Department confirms that one of the persons tested recently for the novel coronavirus has tested positive.
"The patient is a visitor who was transferred from a cruise ship for a critical cardiac issue," said Medical Health Officer, Dr. Samuel Williams-Rodriguez. The ship did not disembark visitors.
Dr. Williams continued, "The patient was doing well but subsequently developed breathing difficulties, was isolated and a test taken has confirmed is suffering with the novel coronavirus."
The remainder of the samples sent to the Caribbean Public Health Agency (CARPHA) for testing on Monday, 9 March came back negative today (Thursday, 12 March 2020).

Coronavirus Information Resource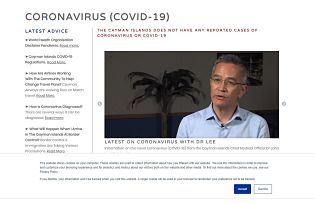 Published 12th March 2020, 2:28pm
For all the latest information on the Covid-19 (Coronavirus) Government has set up a stand alone site.
Please visit https://www.exploregov.ky/coronavirus for practical advice about what you should do if you feel unwell and many other questions relating to the virus.
There is also a frequently asked questions section and many other areas.
If you have a health related question about Coronavirus you can call the Flu Hotlines on 1 800 534 8600 (Flow) or 947 3077 (Digicel).

No Suspected Cases of Virus at CIFEC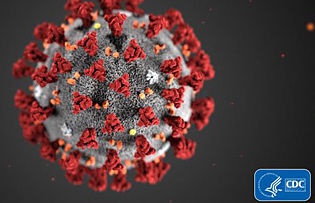 Published 11th March 2020, 6:31pm
Department of Education Services (DES) Dispels Rumours of
Any Coronavirus Cases in Government Schools
The Department of Education Services (DES) assures the public that there are currently no suspected cases of COVID-19 Coronavirus at the Cayman Islands Further Education Centre (CIFEC). Further, Government schools remain open and fully operational despite false information that is currently being circulated in the community.
"All schools have received Coronavirus Response Procedures as a precautionary measure and will adhere to these procedures to ensure the well-being of students and staff. We are committed to keeping parents, guardians and the wider public well-informed of any developments as they arise. As educators, we are also child-care practitioners, therefore we take this matter very seriously as our priority is always what is best for our students, including their health and safety. We also urge members of the public to desist from spreading unsubstantiated information that will only incite fear and panic among the general population. We must all strive to act responsibly while we remain vigilant and proactive as concerned citizens, " commented DES Acting Director Tammy Hopkins.

Samples being sent for Virus Test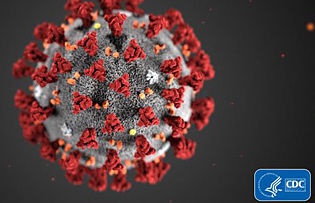 Published 9th March 2020, 5:20pm
First Samples Sent for Testing
The Public Health Department is sending five samples to the Caribbean Public Health Agency (CARPHA) to be tested for the coronavirus, (COVID-19) for a number of people who are feeling unwell and have recently travelled to countries who are experiencing an outbreak. They remain isolated at home, except for one visitor who is an inpatient at Health City Cayman Islands.
The citizens are being monitored by Public Health officials. The inpatient at Health City Cayman Islands is a visitor who was admitted for a cardiac-event, but has subsequently developed respiratory symptoms typical with cardiac recovery however out of an abundance of caution is being isolated as a result.
Sample tests will be sent to CARPHA today (Monday, 9 March 2020), which is the agreed schedule for sending infectious material by courier between the Health Services Authority and the CARPHA laboratory. The results are expected within six days.

Cruise Cancellation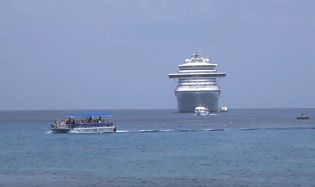 Published 9th March 2020, 1:15pm
COVID-19: Cruise line cancels call to the Cayman Islands
GRAND CAYMAN (GIS) - The Ministry of Health, Public Health Department and the management of the Health Services Authority (HSA) are aware that reports are being received that the Caribbean Princess has been ordered to return to port in Miami by the Centers of Disease Control (CDC) in the USA due to concerns over two crew members who are physically well but may have been exposed to COVID-19.
This ship has anchored in Grand Cayman in order to offload two people who are critically ill with issues that appear unrelated to the COVID-19 outbreak. These two passengers will be transported directly to the airport for medical evacuation to Florida. Some clinical samples will also be travelling with them. All appropriate measures are being undertaken to ensure the safety of staff involved, and the vehicles being deployed. Ambulance crews routinely manage patients who have infectious conditions and are aware of the required action.
TONS OF NEW HITS ON IN THE MIX WITH HK™️

In The Mix With HK

Drake dropped a new album without any pre-release hype or fanfare and what a surprise it was. Kinda has a chill EDM vibe to it. Beyonce' just dropped "Break My Soul" a dance track with a classic House feel and speaking of dance, let's not forget the new Calvin Harris/Dua Lipa collab called "Potion". But wait…there's more.

JUSTIN BIEBER GETTING BETTER AND AN HK REMIX

In The Mix With HK

Justin Bieber let fans know he continues to get better while he's dealing with Ramsay Hunt Syndrome, a virus in his ear that has left one side of his face paralyzed.

POST MALONE GOING FOR THIRD #1 ALBUM

In The Mix With HK

They say lightning never strikes twice, but Post Malone doesn't have that problem and this week it could strike for a third time. His first two album releases both went to #1 on the Billboard Top 200 and now Post's third album, released last week could be doing the same shortly. Sales figures so far show he's got a great shot.